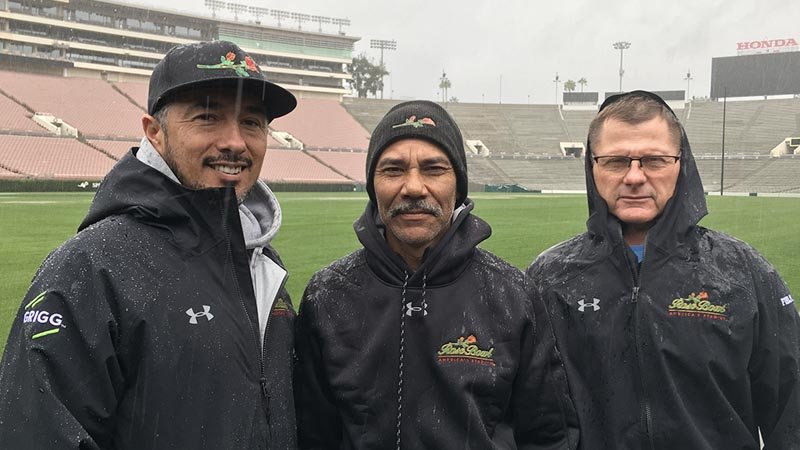 Since Warren Harding occupied the White House almost 100 years ago, playing in the Rose Bowl - the game and the stadium - has been a dream for countless kids across the country.
It's a legacy turf superintendent Will Schnell takes seriously at the world's most iconic stadium that opened in Pasadena, California in 1923.
"Kids work their whole lives to get to this point," Schnell said. "We try to provide a surface where they can maximize their talents."
Schnell has plenty of experience doing just that. For the past 18 years, he has been the man in charge of the most famous field in sports. Before that, Schnell, a Missouri native and graduate of Central Missouri State (now the University of Central Missouri), worked for the Cleveland Browns and several professional baseball stadiums, including three years across town as the sports turf manager at Dodger Stadium.
He has a lot in common with golf course superintendents. Although the Rose Bowl game is played once a year, many other events are held there, and the turf must be in championship condition all the time. He has issues with shade, drought and traffic and even has to rope off access points so players and others don't wear a path from the locker room onto the field of play.
He's been accused during most of the past two decades of managing the Rose Bowl turf like a 2.5-acre putting green. His field is held to such high standards that it often is compared favorably with that at Augusta National Golf Club - which opened in 1933, a full decade after the Rose Bowl.
"That's what people tell me," Schnell said. "That's what we try to do. We try to make this field something special."
There can be a game on Saturday, a corporate event on Sunday and another one on Monday, and guess what I want? I want the field to look perfect like I know the Rose Bowl always does. That's the challenge; people have no idea the conditions people want here day in and day out.
It was just after 9/11 when Schnell made the move 10 miles from Dodger Stadium to Pasadena. College football's BCS National Championship system was in its infancy and the Dodgers had not been to the Major League playoffs in five years.
"I had worked for the Browns and I like football," Schnell said. "The Dodgers weren't doing so well, and I wanted to be part of something new."
Since then, Schnell has overseen 18 Rose Bowl games and four BCS National Championships.
One thing that has been constant since Miami beat Nebraska for the BCS championship on Jan. 3, 2002, the field at the Rose Bowl, which Schnell and his team, which includes Miguel Yepez and Martin Rodriguez, resod several times per year and maintain anywhere from one-quarter to three-fourths of an inch depending on the next event, is nearly flawless every day.
It has to be.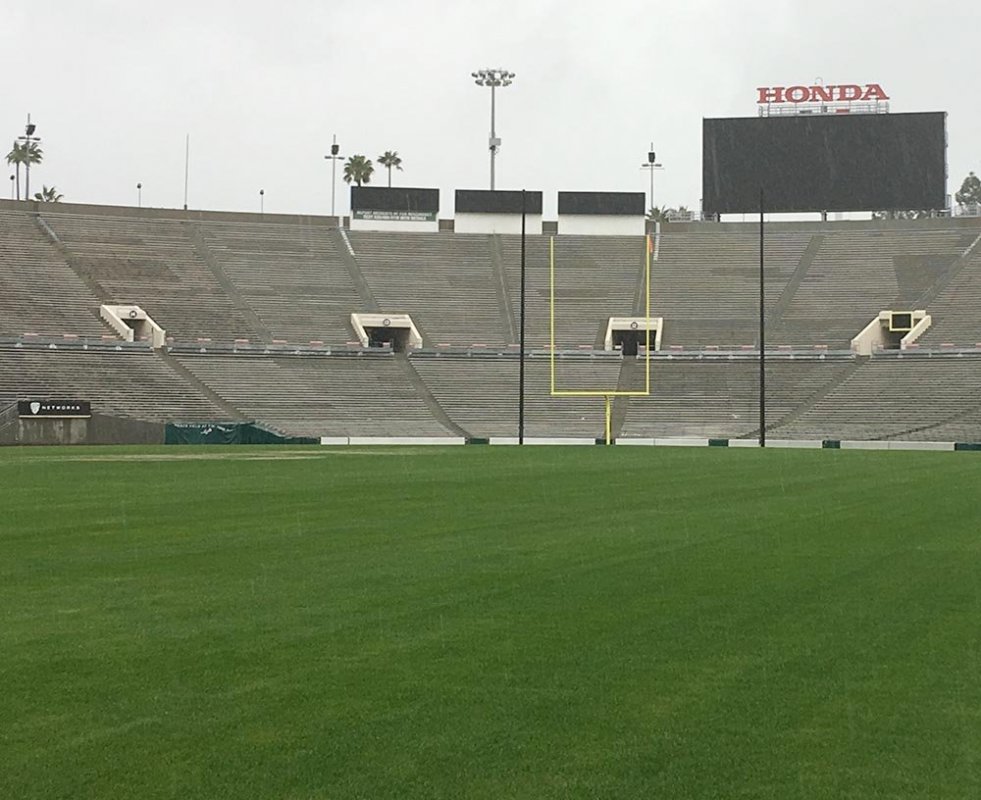 Much like in golf, the Rose Bowl field must be in championship condition every day. Even when college football's best teams aren't competing there, the stadium is an important revenue-generating tool for the city of Pasadena that owns it and the adjacent Brookside Golf Course, and some part of it is used nearly every day.
"The press box is important, the locker rooms are important," Schnell said. "There is not an area here that we don't rent out to raise revenue."
And everyone who rents out space for a corporate event or wedding or whatever wants one thing - a field worthy of a Rose Bowl game.
"UCLA plays seven homes games here, and there are events out here all the time every week," said Mike Steve, territory manager for Grigg/Brandt and a longtime partner in helping maintain the Rose Bowl look. "There can be a game on Saturday, a corporate event on Sunday and another one on Monday, and guess what I want? I want the field to look perfect like I know the Rose Bowl always does. That's the challenge; people have no idea the conditions people want here day in and day out."
To achieve that, Schnell sods at least four times a year, including immediately after every concert with Bandera Bermuda grass from West Coast Turf. Grown an hour-and-a-half away in Palm Desert, it's the same overseeded sod used at historic sports venues across Southern California, such as Dodger Stadium, Los Angeles Memorial Coliseum and Los Angeles Country Club, and is noted for its resistance to shade, cold, traffic and drought.
While the press box might be the site of a wedding one day, the field might be the site of a concert the next. In fact, the Rolling Stones are scheduled to appear there May 11.
Such an event, including setup and teardown, usually is about a nine-day window where the field is covered with a floor capable of supporting 10s of thousands of fans and several 18-wheelers delivering and hauling away concert infrastructure.
As the trucks are pulling out, Schnell and his team are going in behind them stripping off the top 2 inches of the field with a Koro Field Topmaker. The process takes 20 hours over two days.
"We have to resod after concerts because there is nothing left when you have a driveable terra floor on that turf for eight or nine days," Schnell said. "As they are going out, we are right behind them ripping up the field."
After we resod, we'll have another event seven days later.
Like a golf course superintendent, Schnell often has little time between establishing new turf and when it has to be not only playable, but perfect.
"After we resod, we'll have another event seven days later," he said.
"Our timelines are short. We usually finish resodding on a Friday or Saturday and then have a game the next week. Our goal at the Rose Bowl is that when we sod you cannot tell we resodded. If a coach or player sees a seam, the focus is not on football. We don't want them to think there is anything wrong with the field."
And, like a superintendent, Schnell often has to throw out the turf management playbook to produce conditions that have to be perfect not only for 200 football players on the field, but more than 15 million viewers watching on TV.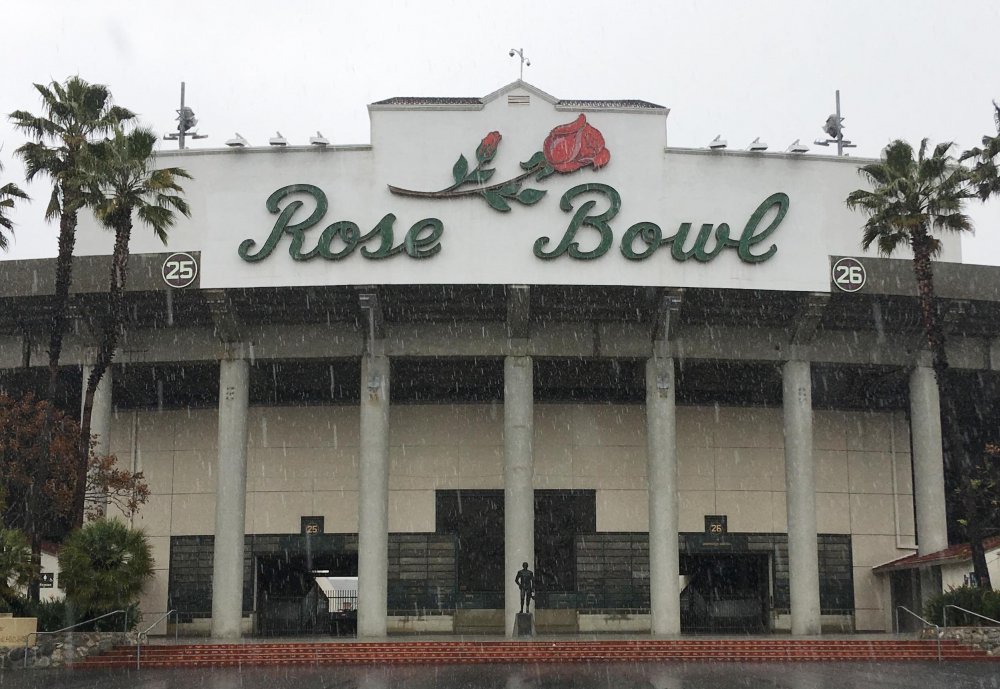 "We're constantly asking for information, asking for help. 'Will this work? If I use a product this way, will it work. Maybe it will, maybe it won't,' " Schnell said. "I keep a lot of calcium in the soil profile. Most people aren't doing that, but here we have to think outside the box. We have so many events and our timelines are so short that we have to. If a game is at 1 o'clock and something is wrong, I can't call ESPN and say 'Hey, can you delay?' No, that game is going to be at 1 o'clock."
When Schnell took the job at the Rose Bowl almost two decades ago, one of the first things he noticed was bare soil where players would enter the field from the locker room. Like a superintendent who must manage entry and exit points on putting greens, he immediately devised a plan manage traffic onto and off the field. He ropes off those entry points and directs players and anyone else onto a different path that changes daily.
"Those are the hardest places to keep grass. We don't ever walk in those areas," said Yepez, the Rose Bowl's assistant turf superintendent. "The only time we use (the real entry point) is the day of an event."
There's always room for improvement. We're always looking to learn what we can do better for next year.
While nearly 100,000 in person and millions more watch on TV admire the work of Schnell and his team, they rarely stop to enjoy the contest before them. Instead, they are monitoring the field and looking for ways to make the world's best playing surface even better for the next event. The team rates the field on a scale of 1-10 for visual quality and playability.
"There's always room for improvement," Yepez said. "We're always looking to learn what we can do better for next year."
Martin Rodriguez records the English and Spanish broadcasts of the Rose Bowl game to listen to what announcer say about playing conditions and the visual quality of the turf. And while aerial views from the Goodyear blimp make for great theater on TV, the overhead shots of the field are fodder for improvement for those who maintain the field. 
"This year, I altered the overseed rate. When I saw those shots from the blimp, I could see more Bermuda than usual. There was a blockiness that I did not like," Schnell said. "No one mentioned a thing, but the three of us saw it. I should have overseeded a little heavier. The field was a 9. Next year, we'll look for a 9-and-a-half."
Such scrutiny, self-imposed an otherwise, is a small price to pay for the privilege of taking care of the turf at the most iconic venue in sports.
"I remember as a kid watching the Rose Bowl on TV. At home, it was cold and snowing and you turn on the TV and see people in shorts and short-sleeve shirts," Schnell said. "Then you actually get here, and wherever you go and people ask where you work, they all say 'Oh, the Rose Bowl.' It's an honor and a privilege to work here."