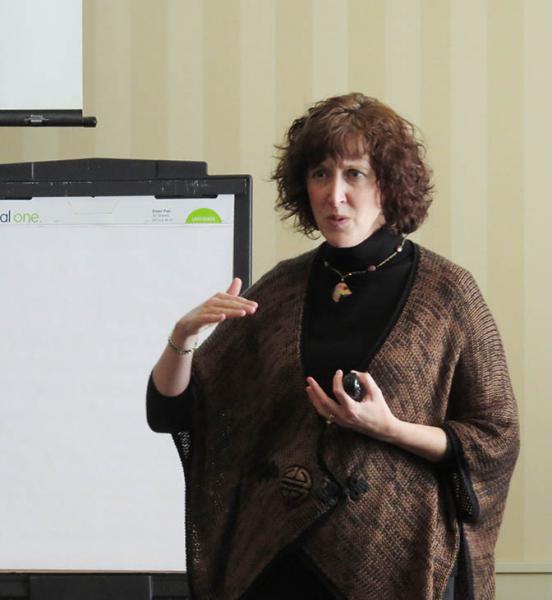 The next time a 20-something assistant arrives late for work, or a new intern is more concerned with sipping coffee with his buddies in the break room when he's supposed to be on a mower on the back nine, don't blame him or his upbringing. Instead, it might make more sense to blame tech toys like his iPhone or some traumatic event such as 9/11, according to an expert on managing people across cultural and generational lines. 
An overly active social life nurtured by electronic devices that easily keep one connected to friends and family, as well as stressful childhood events such as a climbing divorce rate among their parents' generation and the terror attacks of 15 years ago, are just a few examples of some of the experiences that might have helped shape the lives of Generation Y, defined as those born between 1980-1995, said Amy Wallis, Ph.D., of Wake Forest University during the recent
Syngenta Business Institute
. That doesn't mean Gen Y'ers cannot be convinced to carry out the duties for which they are being paid, it just means their supervisors likely will have to meet them halfway, or more.
"Things that are important to you are not important to them, so trying to use what is important to you as an incentive is not going to help them change their behavior," Wallis said.
"The observation with this group is they are less achievement oriented. Is it more important to you to be the best at what you do, or enjoy what they are doing? With this group, it's more important to enjoy what they are doing. It doesn't mean they are not competitive, but competitiveness is not what is most important to them."
Oh, there is one other problem.
"Millennials are fundamentally narcissistic," Wallis said. "This gets in the way of their ability to adapt."
An intensive four-day educational and professional-development program presented by faculty from the
Wake Forest School of Business
, the Syngenta Business Institute is designed to help superintendents expand their knowledge in non-turf curriculum like management, negotiating and accounting principles.
Wallis's discussion on managing employees from varying cultures and generations generated a lot of feedback from many of the two-dozen superintendents in attendance, some of whom expressed frustration with what they perceive as a lack of work ethic from those hailing from Generation Y. Complaints ranged from being late to work to being lazy once they get there.
"Some people think that being an assistant (superintendent) means wearing Oakley sunglasses and driving around the golf course all day with a dog in the cart," said one attendee who, for the sake of his (former?) assistant, will remain nameless. "There's a lot more to it than that."
But what those from one generation view as lazy or even disrespectful, those from another view it as perfectly normal.
"Very few people walk into their supervisor's office and say 'how can I make this person angry today?' " Wallis said.
Those who manage others should think of culture (yes, generations are cultures) the way a sea captain might view an iceberg.
"What we don't see below the surface is far bigger and more significant than what we see above the surface," Wallis said. "The culture we see tends to be behavioral and reflects the beliefs people enact on a day-to-day basis. What we don't see are people's values and what they think about things. Those might be subconscious values, bias and thoughts and ways of conceptualizing the world."
You were all 20. You know how likely you were to adapt to something an older person is telling you. It's just developmentally difficult to trigger someone to do that."
Generally speaking, Wallis said, those who make up Generation Y (also known as Millennials), exhibit dramatically different traits, compared with Generation X (born between 1965-1980) and Baby Boomers (1946-1964). That can be problematic for those who don't have a doctorate degree in psychology, but nonetheless must manage Millennials on a daily basis.
"Typically, the argument for finding ways to adapt and meet in the middle is a stronger argument than this is my house, and we are going to do it my way,' " she said. 
"You were all 20. You know how likely you were to adapt to something an older person is telling you. It's just developmentally difficult to trigger someone to do that."
Economic factors also have helped influence how people from different generations behave, Wallis said. Baby Boomers lived through three distinct economic periods, industrial, service and knowledge-based, while Gen Xers have experienced the latter two. Millennials, however, have lived only in a society marked by the exchange of information through digital media. This group also grew up with a more relaxed attitude toward authority figures, meaning they have a different take on the relationships between employer and employee, often viewing themselves as equal to their superiors.
Baby Boomers and Gen X'ers are characterised by traits such as independence and loyalty to their profession, but those coming after them are not.
Some on-the-job characteristics of Millennials are:
> want a job that lets them exercise personal values and beliefs,
> are not willing to give up their lifestyle for a career, 
> multitasking (i.e., checking Twitter or texts while talking to you) is a way of life,
> want to be part of a team,
> need constant feedback (especially praise),
> have little patience for ambiguity,
> loyalty to their boss is No. 1 reason they stay in a job.
Many at SBI admitted they find it far easier to manage those from different cultures than Millennials, even if a language barrier exists. One superintendent (who also shall remain anonymous to protect his staff from shame) admitted that the Spanish-speaking members of his crew openly mock their American counterparts for what they also perceive as a lack of work ethic.
Very few people walk into their supervisor's office and say 'how can I make this person angry today?' "
Convincing or coercing them to change their lifestyle habits, Wallis said, pretty much is a fruitless labor. The key to getting them to work on time and to work harder when they are there is to tap into what makes them tick. In fact, in the case above, she said Millennials likely would be far more motivated if they knew others were poking fun at them than by a scolding from their superintendent.
"The social pressure of showing them how they embarrass themselves probably has more weight than saying you are going to write them up if they come in late," she said. "They are more concerned about their social image and relationships than any monetary rewards.
"How do you use that relational style to get people to change their behavior? Because you're not going to do it by pushing on the task." 
All hope, however, is not lost for Gen X'ers and Baby Boomers managing a staff of 20-something ne'er-do-wells, Wallis said. But whereas a 50-year-old superintendent might be fixated on making sure all greens are mowed and bunkers are raked before the first foursome of the day goes out, Millennials might be equally concerned, or more, with their morning cup of Starbucks and whether that oh-so-clever Tweet from the night before has any "likes". Finding the key to unlocking that untapped potential likely will be the job of the supervisor, not the employee. And showing some willingness to change might be just the ticket to convincing them to follow suit.
"The dilemma is that I can change what I do, but I can't change what you do," she said. "We all have a responsibility to meet people halfway and adapt on both sides. You need to consider that being in a leadership position, you are role models that people look to see what they are supposed to do. You are in a better place to adapt and model that than a person a generation (or two) behind you."