Don't look now, but players might actually be having some fun this week at the PGA Championship. After 99 years, it's about time.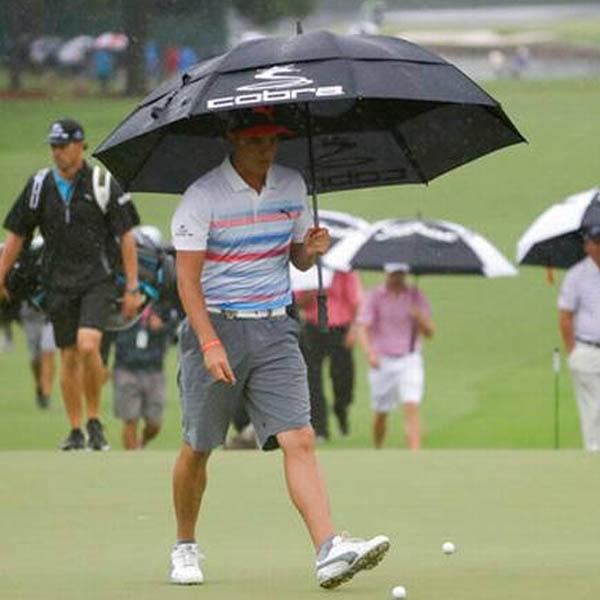 In a century-old break with tradition, players were allowed to wear
shorts
during practice rounds,
Rickie Fowler and Rory McIlroy
hosted hosted an impromptu Q&A session for hundreds of junior players and
Justin Bieber
was caught on social media inside the ropes hanging out with golfers.
PGA Tour commissioner Jay Monahan deserves some credit for trying to make the game more appealing to a younger generation of potential players. The question is, how many of them are paying attention to even notice?
Although such things might make Old Tom Morris spin in his grave, golf needs to show that even at its highest level it is still a game that has to be fun - even for the best players in the world.
There is no denying that golf is a game of tradition. There is some good and bad that comes with that label.
The game is built on values such as sportsmanship, honesty and integrity. In fact, those are just three of the nine values The First Tee tries to impart on kids when introducing the game to them. The others are respect, confidence, judgment, perseverance, responsibility and courtesy.
Those are some positive unwritten rules that, for the most part, help players self-govern the game.
Golf also is a game in trouble, and many of its other unwritten rules are perceived as a barrier to entry by those it so desperately needs if it is to survive in the future.
As an avid golfer who also brokers deals between golf course owners and prospective buyers, Larry Hirsh spends a lot of time on the links.
The principal of
Golf Property Analysts
, Hirsh sees what is good about the game, and what is not so good, and he believes there are a lot of areas where the game can change if it those with a vested interest in its future want to attract new players whose only exposure to the game is what they see on TV.
"I think golf has some big, fundamental problems as it relates to the younger generation," Hirsh said. "I like to say my daughter is the poster child for why golf is struggling. She's 23 years old, she's athletic, she has a father and two brothers who play golf, and she doesn't want anything to do with it. And the reason she doesn't want anything to do with it is there are too many rules. They tell her what she can't wear. They tell her she can't use her cell phone. You can't have fun. I think a lot of millennials see that kind of stuffiness that is projected when you turn on the Masters or the U.S. Open."
The number of golfers in the game dropped from 22 million to 21 million in 2015, a steady trend that been reflected every year since 2002 when nearly 30 million people played the game. Of the million or so people who dropped out in 2015, a total of 700,000 of those losses were among players between the ages of 7 and 34, and a half-million were women. The game also is turn off for minorities.
The game, according to Stuart Lindsay of
Edgehill Golf Advisors
, says the game is reverting to its roots, whether anyone likes it or not.  
"Until the late 1950s, early 1960s, golf was a cult sport played by rich, old white guys and some of their wives," Lindsay said. "Until then, that's what golf was since the late 1800s when the USGA was founded.
"Golf is going back to what golf has always been. There was a 40-year period where we tried to make it into something else."
It doesn't have to be that way, says Lindsay, who agrees that TV golf paints an ugly portrait of the game in more ways than one.
"The messages golf sends out aren't the right message," he said. "And people are running."
As a consultant to golf course owners around the country, Lindsay is a proponent of match play and credits it with converting him from someone who plays a dozen rounds a year to as many as 70 rounds a year.
"If I go out to play stroke play and get an 8 on the first hole, how invested am I going to be in that round?" he asked. "If I'm playing match play, I'm only 1 down and move on to the next hole.
"We're missing the boat."
"The reason we don't see match play is because it's bad TV. The PGA Tour wants to show you 70 players, instead of four."
Lindsay points to efforts like the Golf Board and Top Golf that reflect the desire for social interaction among other demographics that the golf industry wants to target. He also points to other sports competing directly with golf for participation.
His son, Jackson, grew up playing junior golf. Like so many, he eventually drifted away from the game to participate in other sports, including baseball and later bicycling.
Cycling, says Lindsay, has a lot in common with golf.
Good equipment is expensive, the clothes are ugly and there are a lot of traditional rules (of the road) that govern the sport that millenials enjoy breaking.
"Part of the enjoyment for them is seeing how many people they can piss off and running every stop sign," Lindsay said. 
"My son says golf is expensive, but owns a $5,000 bike. And the irony is, they will ride in groups 30 miles out and 30 miles back. And how long does that take to complete? About four hours. What does that tell you? It tells you millenials are voting with their wallets to spend their time in other ways.
"We're beating our heads against a wall trying to attract people who aren't interested in the sport."
So, will Bieber, Rory, Rickie and shorts have an impact?
"Maybe. If any millenials are even watching," said Lindsay.
"The problem is, these groups aren't being exposed to the game in the right way and things that make people play more golf. We're killing it one day at a time."