GreenSight acquires drone service
GreenSight Agronomics
, a 3-year-old drone services and solutions provider, has acquired the digital-transformation firm Turf Cloud Inc., thereby expanding GreenSight's ability to deliver more data, actionable information and efficiencies to turf managers across North America. 

GreenSight's primary business centers on remote sensing and analysis, whereby daily drone flights deploying thermal and multispectral cameras deliver actionable data that enable course superintendents to reduce water consumption, better task labor associated with irrigation and moisture measurement, and achieve better outcomes with less fungicide, pesticide, and fertilizer applications. The firm's proprietary software also interprets drone-gathered data relating to thermal mapping and soil temperature. 
GreenSight drones (www.GreenSightAg.com) fly autonomously. Data is uploaded and processed automatically using GreenSight's Cloud service. Client superintendents can access that data on any device and monitor changing turf conditions and stress levels on a day-to-day basis. All-in drone service packages from GreenSight start at $500 per month, with lease commitments ranging from 3 months to 12 months.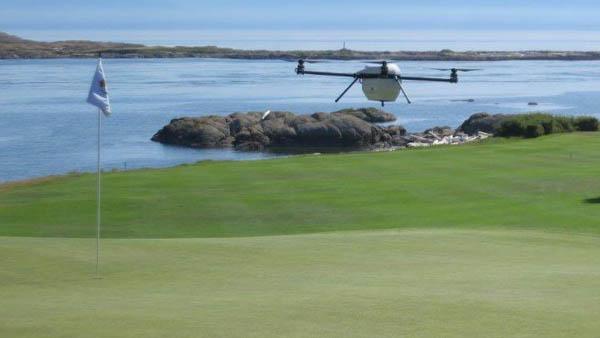 Greenworks expands line of battery-powered equipment
Greenworks Commercial
, a maker of battery-powered outdoor equipment for landscaping, turf management and golf maintenance professionals, introduced Greenworks Elite, a new product line available through the company's distributor network. 
The new 40-Volt Elite system complements Greenworks' popular Commercial 82-Volt system. Greenworks' line of mowers, blowers, trimmers, edgers and more are powered by cordless lithium ion Smart Batteries that allow users to track battery charge status on smart phones, monitoring the tool's energy efficiency and run time.  
The Smart Battery system utilizes a proprietary 40-Volt lithium-ion platform and are interchangeable between tools throughout the 40-Volt system. They also feature a USB connection so they can also be used to power other smart devices on-the-go, such as phones and tablets. 
Like the Greenworks Commercial 82-Volt system, the Greenworks Elite 40-Volt tools combine brushless motor technology and a lithium-ion battery power plant to ensure run time and power that the company says is comparable to gas-powered alternatives.
Carolinas GCSA honors Clemson's McCarty
Bert McCarty, Ph.D., of Clemson University has been named the recipient of the 2018 Distinguished Service Award from the Carolinas Golf Course Superintendents Association. McCarty, professor of horticulture specializing in turfgrass science and management at Clemson, will receive the association's highest honor in November at the Carolinas GCSA Conference and Show in Myrtle Beach.
A native of Batesburg, South Carolina, McCarty is a graduate of Clemson and earned a doctorate degree in plant physiology and plant pathology from North Carolina State University. He has worked at Clemson since 1996 after nearly a decade at the University of Florida.
In 2014, he received the Fred Grau Award as the top national and international turfgrass science researcher from the 5,000-plus member Crop Science Society of America. He is also a Societal Fellow, the highest recognition the society bestows. In 2016, he was also selected as a Fellow by the American Society of Agronomy. In 2012, he won the prestigious Godley-Snell Award for Excellence as the top agriculture researcher at Clemson University, and is a three-time winner of the university's Board of Trustees Award for Excellence.
He is a frequent speaker at regional, national and international conferences and has authored or co-authored 11 books, as well as hundreds of book chapters, journal articles, research reports and nearly 600 scientific presentations and abstracts. In 2010 and 2013, his works received the Notable State Document Award from the South Carolina State Documents Depository System.