E-Z-GO goes high-tech with TXT vehicle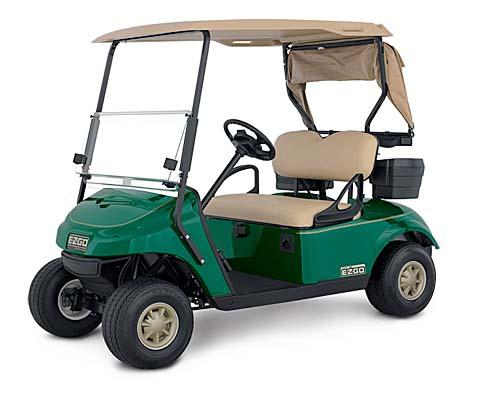 E-Z-GO recently launched its newly redesigned TXT golf car.
The TXT combines classic golf car style with a host of new features designed to simplify operation and improve the customer golf experience.
The TXT features larger cup holders, larger seatbacks, increased bagwell capacity.
The golf care also has increased dashboard storage capacity to accommodate an iPad or other mobile tablet.  An optional dashboard-mounted USB port compatible for use with range finders and mobile devices is available. 
From a performance perspective the vehicle has more durable front struts, and an optional front bumper is constructed to withstand impacts of up to 5 mph.
Hunter wants to send you to the Irrigation Show
While on the Hunter Web site, users also have the opportunity to join the discussion about smart irrigation and share photos of their best conservation-focused projects for a chance to win a trip to this year's show, scheduled for Nov. 6-7 in Austin, Texas. 
Visitors also can watch a new in-depth video about retrofitting existing irrigation systems with water-saving products and practices and try out the Hunter Water Savings Calculator.
Dow offers online product training
Product training is available online for professional turf managers who want to brush up on Dow AgroSciences Turf and Ornamental products and services. This three-part, interactive course provides key insights on pre-emergent and post-emergent herbicides and applications, as well as insecticides and fungicides.
Each course takes approximately 30 minutes to complete and includes educational training followed by a 20-question quiz. 
Participants can learn the many benefits of pre-emergent herbicides for golf courses and athletic fields, brush up on the difference between selective and nonselective post-emergent herbicides and learn about disease and insect control and prevention in a variety of settings.
Valent names new VP
Valent USA Corp. recently named Eric Johnson, Ph.D., as its vice president of technology.
Johnson, who has led a wide range of business and technology initiatives during a three-decade career in global agriculture that includes the past 29 years with Monsanto, will oversee all research and development functions and all regulatory activities for Valent.
While at Monsanto, Johnson was recognized for advancements in innovative technologies in crop protection and biotechnology.
He will be based at the company's headquarters in Walnut Creek, Calif.