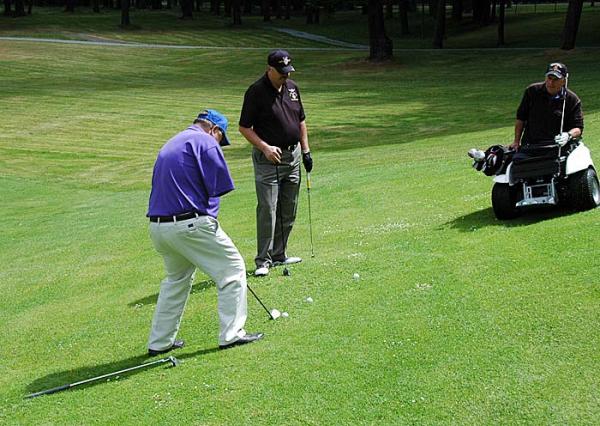 After three years of planning, the talk is over and work finally has begun on the expansion of American Lakes Golf Course.
Jack Nicklaus, who has donated his design services for the nine-hole expansion of the course, was on hand Sept. 6 for the groundbreaking ceremony. Actual construction of the new nine holes will begin later this year.
Located on the campus of the Veteran's Administration Puget Sound Healthcare System in Tacoma, Wash., American Lake is a modest nine-hole course that has one goal to provide healing therapy for veterans through golf. 
"Our primary purpose is healing through the power of golf regardless of whatever wounds they have, mental or physical," said American Lake manager Bruce McKenty, himself a Vietnam War veteran. "And we take pride in that."
The Friends of American Lake, a 501c3 organization that manages the course, has raised about $1.4 million of the estimated $5 million it will take to expand the nine-hole operation. A total of $600,000 already has been spent on installation of an irrigation pond that will be used to irrigate all 18 holes.
"I never had the privilege to serve our country, but I have such a deep-rooted respect and appreciation for the men and women who have," Nicklaus said in a statement released by his North Palm Beach, Fla.-based company. "For what these men and women have given to us and for us the sacrifices of life and limb for our country you can count me in to help out in any way I can. Just to be asked to be involved, be it with programs like Patriot Golf Day or American Lake Veterans Golf Course, is a privilege."
A glimpse around the course offers a quick reminder of the sacrifice veterans make every day while serving their country.
At American Lake there are golfers with brain injuries who need the assistance of service dogs, amputees, double-amputees and those with spinal injuries or who because they are paralyzed from the waist down only can play from a specially designed golf cart with a seat that lifts them into a standing position to strike the ball or even putt.
A former Army sergeant, 24-year-old Aaron Boyle is a double-amputee who lost his right arm above the elbow and right leg above the knee in September 2010 after he tripped a rig wired to two land mines and several homemade explosives near Kandahar, Afghanistan. In all, the explosion injured 10 U.S. soldiers.
A native of the Tacoma area, Boyle grew up playing golf at American Lake. Today, as he undergoes rehab at the Puget Sound VA hospital, Boyle still plays at American Lake three or four times per week thanks to a prosthetic leg.
"This place means a lot. It represents the opportunity to get out and function, but learn what your body can do and can't do," Boyle said. "It also lets you know that you're not the only one who has gone through something like this.
"You don't realize how much golf brings people together. It's a great place to learn what you are capable of doing and to meet other people in a similar situation."