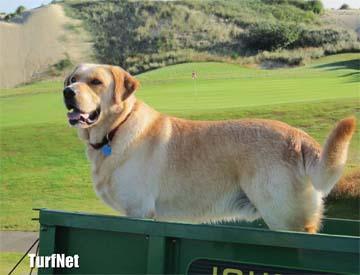 "The most important job in golf." That's the label given to golf course dogs in one of Randy Wilson's TurfNet videos.
Each year, superintendents list the reasons their dogs are so important in their quest to manage day-to-day golf course operations. They keep geese and other nuisance animals on the run, provide reliable companionship throughout the day and are effective at running PR interference against overzealous golfers. As one superintendent said of his dog: "My members think more of him than they do of me." 
Every year since 2002, the TurfNet Superintendent's Best Friend Calendar has highlighted 14 golf course dogs for their tireless contributions to golf courses across the country and around the world. If this describes your golf course dog, then nominate your canine friend for a place in the 
2014 TurfNet Superintendent's Best Friend Calendar, presented by Syngenta
.
A panel of judges will select the 14 dogs for the calendar, including the cover and December 2013. Images should be taken horizontally at your camera's highest resolution setting. Also, try not to center your dog in the frame, as left or right orientation often can result in a more dramatic photograph. Nomination deadline is July 31.
To nominate your dog, email HIGH-RESOLUTION photos to 
Laura Salinas
 and be sure to include the dog's name, age and breed; photographer's name; owner's name, phone number, email address; and the name of the golf course where the owner and dog both work.