It is doubtful that anyone has seen more of Ohio during the past three decades than Joe Rimelspach.
An extension agent and program specialist in Ohio State's turf pathology department, Rimelspach has criss-crossed the state hundreds of times during his 39-year career in Columbus, helping golf course superintendents, sports field managers, lawn care operators, homeowners and arborists diagnose countless plant diseases and help them on the road to recovery.

That all comes to an end this month when Rimelspach, 70, will officially retire.
"I've never not gone to work before," Rimelspach said as he was cleaning out the only office he has occupied at Ohio State. "It's going to be different. I'm having a hard time getting my head around this."
For much of his tenure at Ohio State, Rimelspach has been one-half of Ohio State's 1-2-punch turf pathology team that also includes Todd Hicks. The traveling roadshow of "Joe and Todd" has been almost inseparable both professionally and personally for the past 20 years. Together, they have taught at Ohio Turfgrass Foundation events and annual field days and they have criss-crossed the state giving talks to professional associations, making site visits and building immeasurable good will from Akron to Zanesville and everywhere in between. They have produced a series of educational videos that prove chemistry in the turf business is not only about spray products, but also about how well two people can work together.
"Our personalities are so different, but they complement each other," Rimelspach said of his two-decade history of working alongside Hicks. "Most people don't have jobs like ours. We play off each other's strengths. He makes me laugh, I make him laugh. That improves the quality of life in the workplace."
Often, their workplace was in a car driving to one corner of the state or another, in a lab diagnosing a pathogen or teaching at a field day at the OTF research facility in Columbus.
"Joe is the go-to guy at The Ohio State University for disease," said Tim Glorioso, superintendent at Toledo Country Club and a past president of the Ohio Turfgrass Foundation. "He is always available for help and loves to educate everyone on disease identification and management. Whenever we needed a speaker for a Northwest Ohio GCSA event, Joe always made time for us superintendents.
"The Joe and Todd pathology show at OTF just won't be the same without both of them doing presentations and their online turf tips. Joe will be missed."
A native of Fremont in north-central Ohio, Rimelspach grew up eyeing a career in farming. After a few years of working his uncle's farm, he left for a job on the crew at Fremont Country Club. That was in 1967.
"That job was a blast," Rimelspach said. "I enjoyed the people and being outside."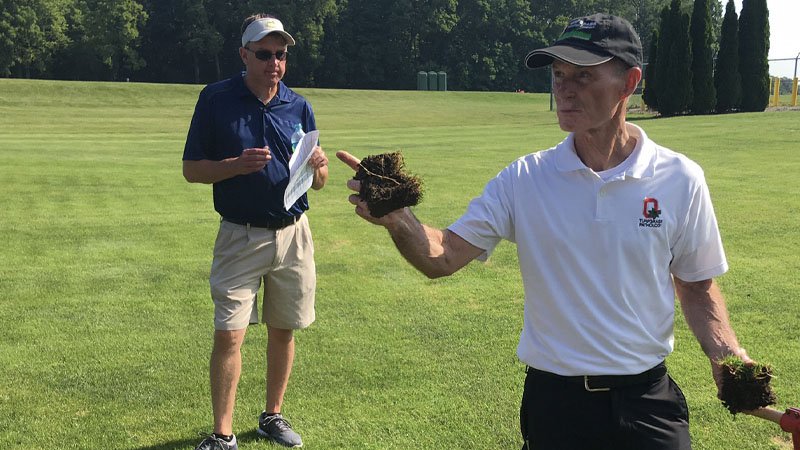 After a year of night school through Bowling Green State University, he went on to Ohio State for a career in turf, but eventually changed majors to landscape horticulture because he enjoyed working with shrubs and trees. His career included 19 years at Chemlawn, where he trained technicians and established a pathology lab before finally joining the turf pathology program at Ohio State under pathologist Phil Larsen, beginning a career that lasted 29 years, including the past 20 alongside Hicks. Together their work has included instruction, extension work, field research and operating a pathology lab. 
"Everybody likes Joe. He has a lot of information," Hicks said. "And you can't find a person who has a bad thing to say about him.
"The key to his success has been his attitude. People rely on you to make things right, and maybe even save their job. A great lesson I learned from Joe is it's not always what you tell, but how you tell them. It goes beach to him being that nice guy. He never met a stranger."
That became evident about a decade ago when Hicks and Rimelspach attended a friend's funeral. When they arrived, the viewing room was so crowded, Rimelspach wandered about the funeral home and ducked into another person's viewing. There he talked to and consoled the family of the deceased.
"He was talking to those people trying to make them feel better," Hicks said. "That's Joe."
His position at Ohio State originally was partially funded by OTF.
"I am guessing, but he must have done 40 talks a year, and they all were current and useful," said Todd Voss, superintendent at Double Eagle Club in Galena, Ohio, and a past president of OTF.

"He would do as many talks as we wanted and would take whatever time slot we gave him and it was amazing, the room was always full.
"In today's university world, Joe will be impossible to replace."
Retirement is something Rimelspach has been pondering for some time. Covid got in the way last year and led him to delay his announcement several times. It was not until about a month ago that he finally decided the time was right, with a little urging from wife, July.
"She asked me 'how long are you going to work, anyway?' " he said. "I have to admit, working at home during Covid has been a transition. Judy has made it known that she hates me taking over the dining room table as an office."
Although Rimelspach will no longer be on the OSU payroll, he will remain on Hicks' speed dial.
"There will be times I will have to reach out to my old friend and see if he can help me out," Hicks said. 
"You normally don't have this kind of relationship with someone you work with. He's family. He's my mentor and father figure."