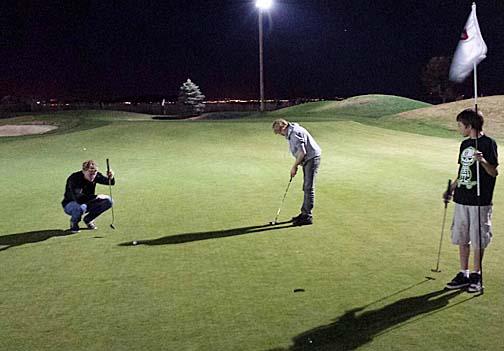 Denim-clad golfers, playing under the lights at night, pop-up tees on the practice range, glow-in-the-dark golf balls. It's enough to make Old Tom Morris spin in his grave. Still, in an area flush with golf tradition, Mariners Point Golf Center in Foster City, Calif., has carved out a niche by catering to the game's non-traditional side.
Located on bayfront property in the shadows of the San Mateo Bridge, which links the east and west sides of San Francisco Bay, Mariners Point sits on some pricey real estate. Unlike other courses throughout the San Francisco Bay area that indulge some of the world's most affluent business professionals and retirees, Mariners Point is a nine-holer that reaches to the area's working class. Instead of a membership that costs tens of thousands per year, anyone can walk on at Mariners Point, throw down 16 bucks and go play even.
The Mariners Point clientele includes golfers who are more likely to sport cargo shorts than the latest in logoed attire, those whose main interest is the frequency at which the beverage cart circulates throughout the property, commuters who would rather hit a bucket of balls than sit in traffic and even avid golfers who stop in to hone their skills at the 2-acre practice area.
"We get all different kinds of people here," said Ross Brownlie, superintendent at Mariners Point for the past 17 years.
"East Bay residents will come here rather than sit in traffic on the San Mateo Bridge. We even get a lot of private club members who like to come here to practice."
But it is at night when Mariners Point really comes to life.
Once the sun goes down, rather than lock up until morning, banks of 1,000-watt halogen bulbs are switched on for nighttime golf. More than a gimmick, the concept has broadened the appeal of the game throughout the Bay area. Mariners Point even has a night golf league that plays several times per week under the lights, and lights-out play with golf balls that glow in the dark.
"That's a whole different crowd," Brownlie said. "It's a party atmosphere at night."
Night golf also leads to some challenges that are common at Mariners Point, but unheard of at traditional courses.
One morning, while making the rounds on the course Brownlie discovered a patch of browned turf he thought might be either the onset of disease or the result of a hydraulic leak. Instead, it was a problem he'd never encountered before, but has seen many times since.
"It was vodka-tonic disease," he said. "It burns the grass and looks just like recovering damage from a hydraulic leak."
Owned by Chris Aliaga's VB Golf LLC, Mariners Point has no committees or chairmen, "and no club politics," said Brownlie who also oversees company-owned practice ranges in nearby San Bruno and Burlingame. 
"It's just Chris and I working together since Day 1. That's one of the reasons I came here," said Brownlie, superintendent at Mariners Point for 17 years. "It makes my job so much easier."
In this area, just a few minutes from the San Francisco International Airport and a half-hour from the city's bustling downtown, Brownlie is as local as as they come. After all, he's lived virtually his whole life within a 10- to 15-mile radius of Foster City and San Mateo.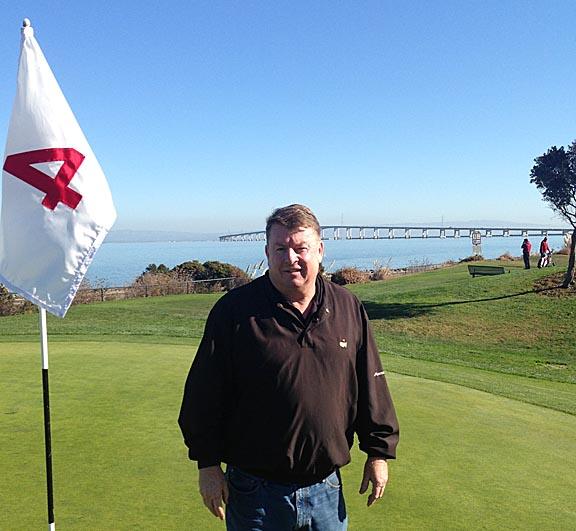 Brownlie, 55, was an accomplished high school and college golfer in the area. In fact, it seems the farthest he has ventured from home, other than to attend the Golf Industry Show or play at Pebble Beach with the son of the tournament founder in what then was called the Bing Crosby National Pro-Am, was when he went 10 or so miles down U.S. 101 to Menlo Park where he spent 10 years as superintendent at Sharon Heights Golf and Country Club.
"I've always been around golf in this area," said Brownlie. "Whether it's been junior golf, high school or college, I'm sort of known in this area for being around the game."
So does a reciprocal relationship with Poplar Creek Golf Course, an 18-hole VB Golf sister property in San Mateo.
The four properties share equipment such as spreaders and aerifiers as needed.
"Just yesterday, they were aerating their greens at Poplar when the topdresser broke down with four or five holes left to sand, and their mechanic was out sick. (Superintendent) Tim (Sedgely) called asking to use our topdresser.
"You have to be reciprocal in this business. You never know when you might need some help down the road. You know that time is coming. You just don't know when."
That's especially important for someone like Brownlie, who has deep roots in the area. 
He played on the golf teams at Hillsdale High School and later at the College of San Mateo where he studied horticulture. During his high school days he befriended a player from rival Burlingame High School who happened to be Nathaniel Crosby, son of Bing Crosby, the singer and actor who in 1937 founded the pro-am tournament that bared his name past his death in 1977 until 1985 when it became the AT&T National Pro-Am.
The two met during a high school match at Crystal Springs Golf Course in Burlingame. They became fast friends and played together in a best-ball tournament in Palo Alto, finishing third.
"Our friendship really started after that," said Brownlie, whose game was so good that the younger Crosby extended a pro-am invitation to him from 1979 through 1983. Some of his fondest memories include bunking with Crosby in a room at Cypress Point and playing in the tournament with the game's best players and some of the biggest acting and recording stars of the day. He remembers as 
"It was really special," he said.
Like his more famous friend, Brownlie comes from a golf-playing family. His father, who was an avid golfer, first put a club in his hand at age 8, and brother Alan, a pilot for American Airlines, also is a frequent player. All of which makes his position at a place like Mariners Point all the more poignant.
The 22-acre facility includes a 2-acre practice area that offers grass tees for accomplished players, mats for beginners and automatic pop-up tees for casual golfers into the latest gimmick. Despite nighttime golf, glow-in-the-dark balls and pop-up range tees, Mariners Point has a serious side.
Five teaching pros work out of the facility and instructional bays include the latest in video and swing-analysis equipment.
"It's can be pretty easy for beginners," Brownlie said. "But it can be pretty challenging for good players when it's windy."
And it's windy a lot in San Francisco.
"All in all," he said, "I think it's a pretty well-rounded place."