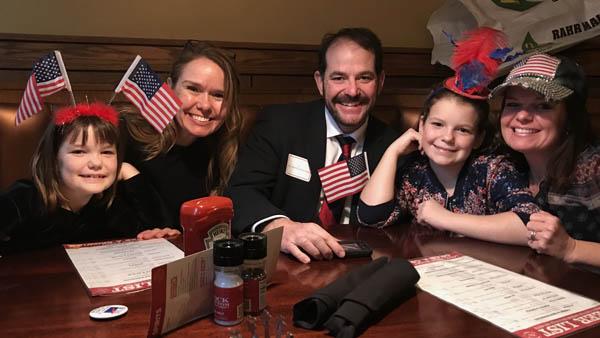 Before administering the naturalization oath of allegiance to a recent class of new U.S. citizens, federal judge Stephanie K. Bowman reminded them never to take for granted what she was about to bestow upon them.
"She told us that that Americans often forget how important U.S. citizenship is, and that we have to remember how great it is to be a citizen of this country," said Pat O'Brien, superintendent of Hyde Park Golf and Country Club in Cincinnati, and a U.S. citizen since January. "I agree with her. 
"This country is phenomenal. It's the best place to be, and we forget sometimes how great it is. That's the moral of the story for me anyway."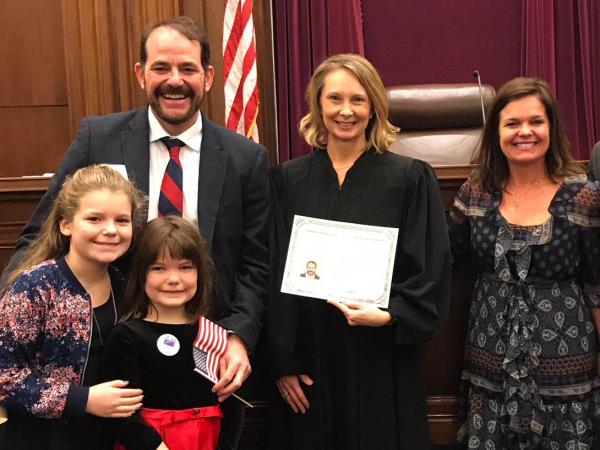 A native of London, Ontario, the 47-year-old O'Brien has been living in the U.S. for most of the past 20 years. On Jan. 12, he closed the book on a 2-year naturalization process when he and 67 others took the oath in Bowman's courtroom in U.S. District Court in Cincinnati.
The experience was a life-altering moment for O'Brien and his wife, Jen, and even for the couple's daughters Brynna and Maeve, who, after the ceremony, were enlisted by the League of Women Voters to distribute voter-registration cards to the group of newly minted citizens.
"My wife even had tears in her eyes," said O'Brien. "She's a tough woman. Our kids call her the ice lady."
Throughout the naturalization process that began in 2016, O'Brien has had to develop a thicker skin, as well.
"I get a lot of ribbing from Canadians," he said. "They don't like it when Canadians become U.S. citizens. They don't get it."
There was a time when O'Brien and his wife were open to moving wherever his career took him, even if it meant returning to Canada. Those days are gone.
"As we started to have kids, we realized this is the place and it didn't make sense anymore to look elsewhere," he said. "A couple of years ago, my wife told me 'I feel bad for you, because we're not moving.' That's OK. This is a great city with great schools."
He decided two years ago, when President Trump was elected on a platform that included promises of a crackdown on immigration, that it was time to start the naturalization process. Despite cable TV news claims of a loose immigration policy, O'Brien said, the process is exhaustive. So much so that U.S. Citizenship and Immigration Services delayed the date of his swearing-in while they checked out his travel history that includes numerous crossings of the border between the U.S. and Canada.
"I was in limbo for a couple of weeks," he said. "I really thought I had messed up, because I had forgotten to document some travel. 
"There is so much scrutiny. They make sure your marriage is legitimate and not just something to get you into the country. They go through everything. The vetting is phenomenal. A lot of people are immigrating here, and immigration (services) does an incredible job."
For O'Brien, it has been a long journey to Hyde Park, a century-old Donald Ross design on Cincinnati's upper crust east side, where he has been superintendent since 2004. 
I was in limbo for a couple of weeks. I really thought I had messed up, because I had forgotten to document some travel."
He's been working on golf courses since 1993, and it was a career path that happened almost by accident. 
O'Brien had been working on a cousin's dairy farm in Ontario when a spot opened closer to home on the grounds crew at Westminster Trails Golf Club in his hometown.
"The superintendent asked me what I could do, and I told him I knew how to drive a tractor, you know, because I had been working on a farm," he said. "He hired me to run a mower.
"The last year I was there I was the assistant. I think there were only six of us working there. It was a different world. It was all I'd ever seen, so I didn't know any different. I enjoyed working there. Some of the best times I ever had was as a night waterman."
By that time, the golf course had become O'Brien's passion, and he realized the bachelor's degree in geography he had earned at the Western University in Ontario wasn't going to help him much. It did, however, help him find his way to State College, Pennsylvania, where he enrolled in George Hamilton's two-year turf program.
"George was very soft spoken and humble. But he was also very direct," O'Brien said. "He talked in class about real-life things, like club politics. As students, we get hung up on grass and don't know how to relate to the real stuff."
O'Brien's long-term plan to stay in the U.S. almost went off the rails after a return to Canada nearly 20 years ago. During his Penn State days, O'Brien interned at Kirtland Country Club in suburban Cleveland and was hired on as Todd Bidlespacher's assistant after graduation in 2000.He went back to Canada, but after some self-reflection, realized he belonged in the states.
He made some calls to look for work in the U.S., and that's when he connected, through Matt Shaffer, with Doug Norwell at Camargo Club, a 1927 Seth Raynor classic in Cincinnati's ritzy east side suburb of Indian Hill. But securing a work visa that allowed him back into the U.S. was a hard process, and Norwell recalls completing a lot of paperwork to guarantee O'Brien's return.
"They want to make sure you're not writing up a job description with just that person in mind," Norwell said. "The visa process seemed pretty difficult at the time, but the years have a way of making things less painful.
"It's worth the hassle for a good assistant."