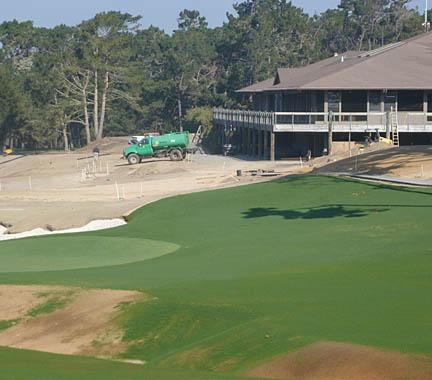 Since it became part of the AT&T National Pro-Am rotation in more than 20 years ago, Poppy Hills Golf Course has faced one stiff challenge after another, not the least of which was eventually getting bumped from its lofty tournament perch.
The greatest obstacles facing the 1986 Robert Trent Jones Jr. design on California's Monterey Peninsula have included an effort to make the routing relevant and navigating a grow-in through significant local water-use issues.
Poppy Hills replaced highly regarded Cypress Point Club on the AT&T circuit in 1991. Supplanting the Alister MacKenzie classic was like an opening act following the Beatles on stage - no matter how good you are, it's not going to be good enough. And Poppy was never good enough.
Other layouts on the three-course AT&T circuit that include Pebble Beach and Spyglass Hill are either on or near the Pacific. But the heavily forested and inland Poppy Hills course failed to wow the pros from the start and quickly earned the moniker
"Sloppy Poppy" or "Sloppy Hills"
from PGA Tour players who bemoaned drainage issues on the course and dogged some holes as being downright
"goofy"
.
By 2010, Poppy was out of the rotation in favor of the Shore Course at Monterey Peninsula Country Club, a 1959 Bob Baldock/Jack Neville oceanfront masterpiece made even better 10 years ago by the late Mike Strantz.
With its high-class neighbors setting the bar higher and higher, the road to relevancy has been a long one for Poppy Hills.
Last spring, construction began on an RTJ II redesign, the scope of which is matched in magnitude only by some of the challenges confronting it. As such, parts of the project have become an exercise in patience and being a good neighbor.
The project included moving a total of 115,000-120,000 cubic yards of earth, taking out trees in some areas and creating new forested corridors in others, raising some areas and dropping others, some by as much as 10 feet. 
"This opportunity presented itself as an adventure in renovation and restoration," said Tom Huesgen of Frontier Golf, contractor on the project, during this year's Northern California Golf Association Assistant Superintendent Boot Camp education event in October.
"I still struggle, with all the work that has been done out here, to call this a renovation or restoration," said Huesgen, the former golf course superintendent, whose resume includes a stint at Pebble Beach. "I'd almost categorize this as a new golf course on top of an old site."
Moving earth, filling in ponds and relocating a practice area were only a few of the challenges associated with the project. 
Water is a precious resource on golf courses around the country, and nowhere is that more evident than on the Monterey Peninsula where average annual rainfall is a scant 18 inches.
Residents, businesses and golf courses have been asked to conserve water for a long time, about 20 years, according to Poppy Hills superintendent Manny Sousa. In an effort to be a good environmental neighbor, the Poppy Hills project included reducing the amount of irrigated turf from 82 acres to 62 acres. But it also included carpeting the fairways with a 5-inch blanket of sand.
That was a source of great concern for other courses in the area.
Seven courses inside the 17-Mile Drive loop, Poppy Hills included, draw water from the Forest Lake reservoir, a 325-acre-feet reclaimed water impoundment in the Del Monte Forest that is managed by the Carmel Area Wastewater District. There is a finite allotment of water for those courses that is self-managed by the honor system. With rainfall totals for the year running behind already arid historic averages and a lagging tourism industry further stifling the output of reclaimed water, levels in Forest Lake were running low before a single seed had gone into the ground on Poppy Hills' sand-covered fairways. The original plans for the project called for seeding to begin in late May. But the fear was that the grow-in at Poppy would require too much water at a time when other courses needed it most. Not to mention a spike in the cost of reclaimed water.
The price of water also had gone up - a lot - from about $175,000 per year in 2012 to $500,000 for the same amount of water this year, Sousa said. 
"How can you grow-in a golf course without water?" Sousa said. 
Representatives from all courses drawing from the pipe met to seek a solution.
"The demand for water was higher than what (the wastewater district) was producing. Nothing was going into the reservoir, and it was operating at a deficit for months. It was a panic" Huesgen said. 
"We had half the place tore up and no water to grow grass."
The solution included delaying seeding at Poppy Hills by two months and voluntary cutbacks by the other courses.
A mid-summer bump in tourism meant more toilets flushing at area hotels and provided enough reclaimed water to go ahead with seeding on July 27, which also was the first day on the job site for grow-in superintendent Matt Muhlenbruch who will take over for the retiring Sousa next year. 
"There were questions about where would the water come from, how much would we have and how much would it cost," Huesgen said.
"We could have seeded earlier, but we waited because there was not enough water for everyone," Sousa said. "This project was not without its challenges."
The new-look Poppy Hills will open in April, and though it is isn't scheduled to return to the AT&T any time soon, it will be worthy of such an event and with vast sandy waste areas will remind players of Pinehurst No. 2 or Pine Valley, Huesgen said.
"The goal there of course is, in the long run as the course grows in and matures, to use less water in the future and maintain a golf course that is still acceptable for this area," Huesgen said. "It's not going to be target golf like desert golf. It will be a target-type, limited turf golf course in a forested area."