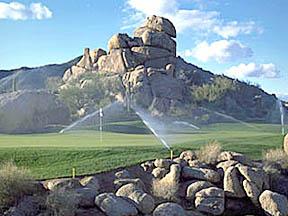 Rain Bird Services
recently announced its beefed up training season with educational sessions scheduled for more than
90 locations
nationwide throughout the remainder of this year and next.
All classes, including Rain Bird's Factory Trained Program and the Rain Bird Academy, are pre-approved by the Irrigation Association for continuing education units.
"Our training programs are very different from some of the other educational offerings in the industry today," said Robert Pfeil, Marketing Group Manager Services.  "Our classes are designed to train irrigation professionals on proven practices and techniques that can help them take their careers to the next level.  We emphasize professionalism and expertise; we are not trying to sell them products."
The Rain Bird Factory Trained Program teaches installation, operation and maintenance best practices for Rain Bird systems. Contractors who earn Installer,' Operator,' Technician' and Expert' designations through this program must re-test every three years to ensure that they are current with new technology and techniques.  Response to this relatively new program has been overwhelmingly positive.
Rain Bird Academy provides technical, college-level training for green industry professionals of all skill levels, helping them launch new careers or hone their skills in just days instead of weeks or months. Attendees can choose from five preparatory classes that can help them earn the following Irrigation Association certifications: certified irrigation auditor; certified irrigation contractor, certified irrigation designer, ceritified irrigation technician.
Individuals new to the industry can quickly learn how to install and maintain irrigation systems by attending Rain Bird Academy's Boot Camp. This four-and-a-half-day event is a hands-on necessity for beginners or those who simply want to acquire more tricks of the trade. Covering products from a variety of manufacturers, the camp includes classes on irrigation installation, technical skills, landscape irrigation design and efficient irrigation scheduling.