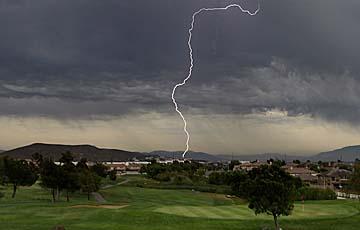 There are times when it is difficult to ignore the link between weather and golf rounds played. April was one of those times.
Year-over-year rounds played were down by nearly 15 percent in April, according to Golf Datatech's monthly report that solicits information from more than 3,700 private and daily-fee facilities nationwide. And in each section of the country where rounds were down compared with April 2012, there was either an accompanying dip in the average temperature or increase in precipitation, or both.
For example, rounds played were down by 41 percent in the country's mid-section, where the average temperature was down by 10 degrees and precipitation was up by 16 percent compared with April 2012. In the coastal southeast, rounds were down by nearly 5 percent even though temperatures were relatively unchanged compared with the same month last year. Rainfall amounts in that region, however, were up by 56 percent.
The only area of the country showing an increase in rounds played was the Pacific coast (up 2 percent), where coincidentally the average monthly temperature was flat and precipitation was down by 32 percent.
Play was down in 44 states (excluding Alaska, which is not included in the survey). The greatest losses were in Minnesota, where play in April was down by 70 percent. Other double-digit losers were North Dakota, South Dakota (58 percent); Wisconsin (51 percent); Colorado (41 percent); Illinois, Iowa (33 percent); Arkansas (30 percent); Kansas (28 percent); Idaho, Michigan, Montana and Wyoming (27 percent); Indiana, Missouri (26 percent); Nebraska (25 percent); Oklahoma (24 percent); Louisiana (23 percent); Ohio 19 percent; New York, Tennessee (17 percent); Mississippi (16 percent); Georgia, West Virginia (14 percent); Alabama (12 percent); Connecticut, Massachusetts, Rhode Island (11 percent).
The biggest gains were in made in California and Oregon, where play was up by 4 percent compared with April 2012.
The 14.8 percent downward trend in rounds played in April marked the fifth straight month of decreased play, dating back to December 2012. Year-to-date rounds played are down by roughly the same margin 15.1 percent, according to Golf Datatech.