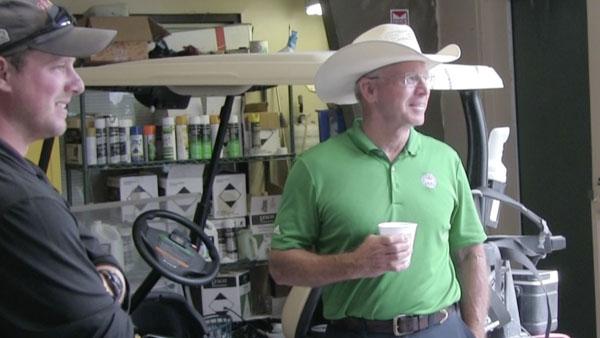 Talk about going out with a bang.
In one of his last official duties as the TurfNet Superintendent of the Year, Dick Gray recently rolled out a renovated and refreshed Ryder Course at PGA Golf Club.
New TifEagle greens, paspalum tees, Celebration Bermudagrass fairways and new drainage adorn the Tom Fazio design. At first glance, the project is no big deal; after all renovations occur all the time. But this is not your run-of-the-mill golf course upgrade project.
Gray, who is 74, is coming off his fourth renovation project in four years since he was hired by the PGA of America in 2013 to bring its 72-hole property in Port St. Lucie, Florida up to standard.
Yes, 74.
The aggressive $10 million plan actually started in 2013 when new management took over the PGA's flagship property located about an hour north of West Palm Beach along Interstate 95. That change in management included Gray, the property's director of agronomy, and general manager Jimmy Terry. 
Both were brought in as part of a plan to usher in a new era as PGA Golf Club, which includes four 18-hole courses, a six-hole short course and one of the largest practice areas anywhere, approached its 20th anniversary in 2016.
The project included a renovated and expanded clubhouse and covered all or part of the Ryder, Wanamaker, Dye and St. Lucie Trail courses and put to the test Gray's philosophy of being "tournament ready every day," a mantra he has embraced since the early days of his career dating to the 1960s in his native Indiana at Pete Dye's famed Crooked Stick. And it's a philosophy he has maintained throughout his career at some of the best courses in South Florida, including Sailfish Point and Jupiter Hills, and the Dye-designed Loblolly Pines in Hobe Sound, where he was the construction and grow-in superintendent. Gray, who has a masters degree in restaurant, hotel and institutional management, also was the architect and general manager as well as construction and grow-in superintendent at the Florida Club in Stuart.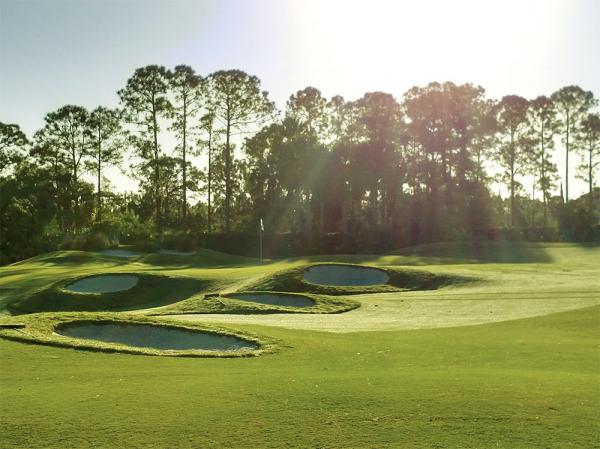 When it comes to building and rebuilding golf courses, Gray clearly knows a thing or two. But even his patience was tried at PGA, where he said conditions throughout were so bad when he arrived that he might not have accepted the job if not for his close relationship with the Dye family and an intense desire to help the PGA upgrade its brand.
"Dick Gray and his dedicated team have accomplished an impressive transformation that cements PGA Golf Club as a top golf destination in Florida," Terry said. "The renovations are shining examples of our dedication and commitment to provide great course conditions day in and day out to our club and PGA members, as well as guests."
PGA Golf Club opened in 1996, just about the same time Gray was carving out the Florida Club in Stuart and the Jack Nicklaus-designed Hammock Creek opened in Palm City, both just 20 miles south on I-95. Those three properties were the cornerstones of a building boom that ushered in a windfall of high-end daily fee golf along Florida's golf-crazed Treasure Coast a solid year before Tiger Woods became a household name. 
Long after the Tiger effect has come - and gone - and after a recession that continues to gobble up distressed golf courses at breakneck speed, play dropped off and so did conditions. Enter Terry and Gray.
The project was a labor of love for Gray, whose commitment to fitness belies his age, and whose work ethic knows no peer. Gray knows a lot about growing grass and construction and he lives for sharing what he knows to make his team and the golf courses they manage the best they can be. So dedicated to the project was Gray that in the final run-up to the reopening of the Ryder Course and the impending winter golf season that Florida tracks depend on to make their hay, he declined the prize he'd won a year ago for being named the TurfNet Superintendent of the Year, a trip for two to Ireland and week of free golf, courtesy of Syngenta, the award's sponsor.
His handiwork is gaining notice.
The Fazio-designed Wanamaker Course, which was restored in 2015, today is ranked No. 12 on the Golfweek's Best list of resort courses in Florida. The Dye Course made the list at No. 16. Time will tell if the Ryder layout will make the list.
The collection of golf courses that opened as the pride of the PGA to only become an embarrassment due to substandard conditions, finally has swung back in the right direction.
Now, that's going out in style.
The finalists vying to succeed Gray as Superintendent of the Year will be announced next week.