It is difficult to imagine blowing up a Thomas Bendelow-designed golf course, starting over from scratch and making the contemporary version not just a new, but an improved experience for golfers. That is exactly what is happening in Denver, where the City Park Golf Course, a 1913 Bendelow classic, is being completely reinvented by architect Todd Schoeder and Hale Irwin so the property also can be utilized as a stormwater-detention area to alleviate flooding in the adjacent Park Hill neighborhood.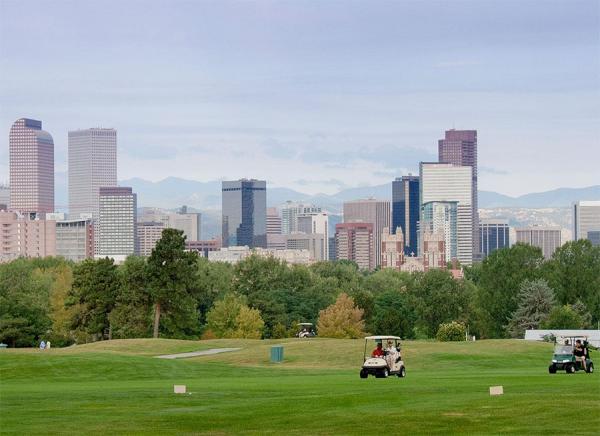 "Its principal function is to remain an 18-hole public golf course," said Pamela Smith, CGCS, director of agronomy for the city and county of Denver's golf division that includes eight properties. "And every once in awhile, a few holes will serve as stormwater detention for a brief period of time."
City Park Golf Course's construction closely coincides with the installation of the city's original stormwater drainage system. Although both historically have helped move water into the Platte River and eventually downstream and away from the city, each is inadequate to handle 100-year or even 10-year flooding events. 
Rebuilding the course and reconfiguring the layout so it can accommodate state-of-the-art drainage technology and hold excess water during what otherwise would be catastrophic flooding for surrounding neighborhoods is a key component for the city's long-term flood-control plan.
"There is a 102-inch drainpipe out on the golf course, but it is underground," City Park superintendent John Madden, Jr said. " During a significant rain that pipe fills to capacity and there is nowhere for the water to go except out on the street."
The course closed in November for construction to begin and will reopen in May 2019. The redesign will include a stream meandering through the property as part of the detention system that promises to move water off the course after a 100-year event in a matter of hours, Madden said.
Schoeder, of iCon Golf Studio, is an expert on Bendelow architecture, and players there might be hard-pressed to tell the difference between the new City Park layout and a classic-era Bendelow design, said the 47-year-old Madden, a veteran of several major construction projects throughout his career.
"Conversations always occur around change. There is a lot of history at City Park Golf Course. A lot of people play there and have made a lot memories," Madden said. "I'm not an architect, but I know what I like, and when I go from a Tillinghast course to a Bendelow course, obviously there are some differences.
"Todd is really trying to save and incorporate Bendelow characteristics into the new design, honoring and respecting that traditional Bendelow feel and deliver that into the new project."
Just as important in the current golf climate, there are aspects of the project that will help Madden and Smith adopt a more sustainable management system at City Park. USGA-spec greens with T1 creeping bentgrass - selected for its drought and heat tolerance - will replace the old push-up greens. Turf selection, along with new drainage, new bunker construction and state of the art irrigation will help Madden use water more efficiently.
"That represents a whole other level of management and ease of operation," Madden said. "With the new irrigation system, we are going from field controllers to decoders and we'll be utilizing current industry standards to help Denver golf meet its goal of providing affordable and sustainable golf where we can conserve water and energy."
New putting green construction also will result in a golf course that is more player friendly and has more pin options, said Smith, a 10-year veteran of Denver municipal golf.
"Over the years, we've received a lot of complaints that the slopes on the greens are too steep, and golfers can't keep their ball on the green. If we push green speeds past 8.5 we don't have very many pinnable locations."
Irwin, a Colorado native who reportedly played City Park as a youngster, wanted to get involved in the project when he heard about the well-publicized plans.
The project will include removing more than 200 mature trees, and planting more than 700 new trees. That, along with closing the course for a year-and-a-half, has been a source of anxiety for some Denver residents, but mitigating flood damage is of utmost importance to city leaders.
"It's part of being a good neighbor," Smith said. "Taking an existing property and having it function as a golf course and redesigning it for stormwater detention is part of the landscape for many metropolitan areas. City Park Golf Course will provide an exceptional 18-hole golf experience while protecting our community from uncontrolled storm water."