Nearly 50 years ago, Ted Smith Jr. started a company with one product, a multi-purpose vehicle called the Red Rider utility truck.
During the next several decades, Smith molded his modest start-up into
Smithco
, a multi-million dollar manufacturing and engineering company that distributes turf care products to athletic fields and golf courses around the globe.
Smith died June 10 at his home near Philadelphia. The turf care industry pioneer was 98 years old. 
Smith officially retired just a few years ago from the business he started in 1967, but remained active in company affairs, according to Smithco vice president Bill Kenney.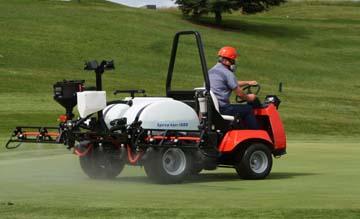 A native of Radnor, Pa., Smith is remembered not only as a successful businessman and entrepreneur, but also for his enthusiasm in making his business a success by helping customers fulfill their needs.
Today, Smithco's portfolio has grown to include utility vehicles, greens rollers, aerators, bunker rakes, sweepers, sprayers, field conditioners and lining vehicles. The company's headquarters still is located in Wayne, Pa., with manufacturing facilities in Kansas and Wisconsin.
The company's Web site touts "products with new ideas and technology that will make caring for your turf easier, more efficient and safer. . . . brought to you by a family of experienced professionals who care about the quality and reliability of the products they build."
Survivors include wife Helen Hannan Smith, sons Ted Smith III (Rose), Donald Smith (Joan), daughter Cynthia Sharpe (Bill), 10 grandchildren and eight great-grandchildren.