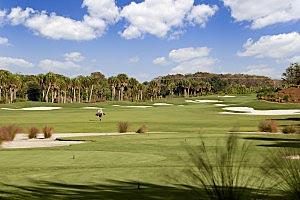 The news isn't good, but it's not as bad as it has been.
Rounds played across the country were down 3.8 percent in June, according to Golf Datatech's National Golf Rounds Played Report. The news marks the seventh straight month of decreased rounds when compared to the same month from the previous year, according to the report that surveys 3,410 public-access and private facilities across the country.
When compared with statistics from June 2012, rounds played were up in 10 states, including the golf destinations of Hawaii (up 10.2 percent), Florida (6.7 percent), California (2.7 percent) and Texas (1.6 percent). Washington had the greatest year-over-year gain of 11.4 percent.
The greatest year-over-year losses compared with June 2012 were in Arkansas (down 14.5 percent), New York (11.6 percent), Illinois (10.7 percent) and North Carolina (10.5 percent).
Some of the drop off, but not much, is attributable to weather, according to Pellucid Corp. The Chicago firm reports a 1 percent loss of golf playable hours throughout the period. Golf playable hours are Pellucid's measure of the total number of daylight hours compared with factors that influence play such as precipitation, humidity, daylight variances, etc.
Play is down by 9.8 percent nationwide for the first six months of the year, including a 13.7 percent drop off at private clubs, according to Golf Datatech.