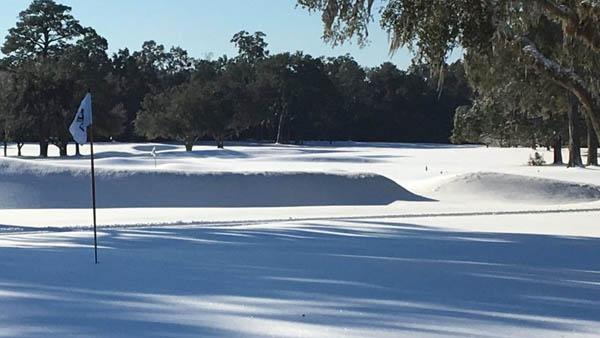 Winter has gotten off to a hot start throughout much of the eastern half of the country, putting superintendents on notice from Maine and Minnesota to as far south as Texas, Louisiana and Florida.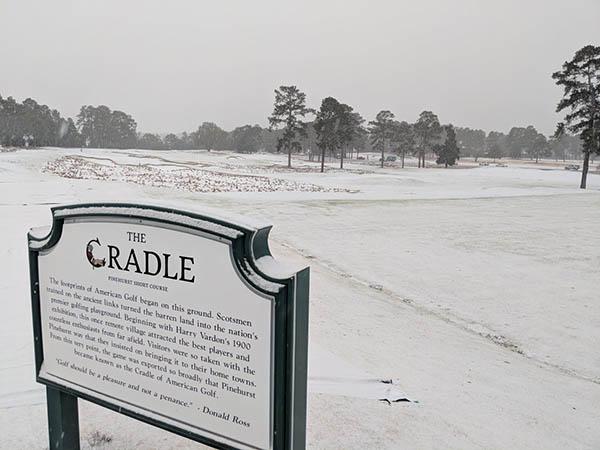 The National Weather Service recorded 3.5 inches of snow on Dec. 8 at Baton Rouge (Louisiana) Metropolitan Airport, and a coastal storm nearly a month later dumped the first measurable snow in three decades in Tallahassee, Florida, where it was colder on Jan. 4 than in Juneau, Alaska.
Also by Jan. 4, there were 5 inches of snow on the ground at the Clemson University's Pee Dee Research and Education Center in Florence, South Carolina, where Bruce Martin, Ph.D., conducts his research.
Prolonged cold throughout the Southeast has helped ease Bermudagrass into dormancy, making the cold a little more tolerable for superintendents there. Bermuda can withstand temperatures in the high teens to low 20s for a week or so, according to Martin, so many superintendents there have had covers out already.
"It's been cold here since Christmas, so the Bermuda is good and dormant," Martin said. "If it had been like last year, where we had green turf at this time, and then we got hit with this Arctic blast, that would have been bad news."
For those who don't have covers, the
USGA Green Section
says pine straw can be quite effective at protecting Bermudagrass from the effects of winter.
Superintendents into the northern tier of the transition zone who are managing Bermudagrass might have a harder time, Martin said.
"Covers are fine and dandy," Martin said. "But, if temperatures are in the single digits for five or six days, I don't know."
Gregg Munshaw, Ph.D., at the University of Kentucky noted soil temperatures of 30 degrees 2 inches below the surface at the A.J. Powell Research Center in Lexington. Temperatures like that probably won't kill rhizomes, but air temperatures could damage stolons. He suggests pulling a few samples now and placing them in a window with direct sun exposure to test their survival rate. He also suggests caution with pre-emergent herbicide applications in the spring.
Even in the Midwest and Mid-Atlantic, December doesn't usually mean large amounts of snow accumulation or severely cold temperatures. But late fall and early winter have brought near-record snowfall and freezing temperatures to many areas, and an early season storm dumped more than a foot of snow Thursday in the Northeast.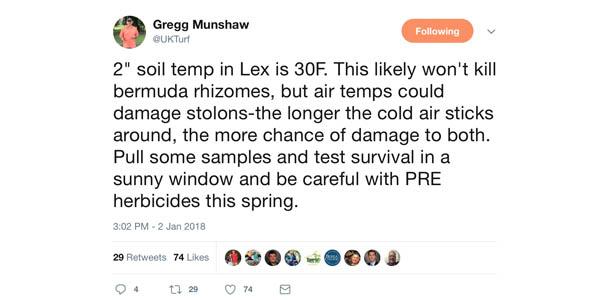 Snowfall totals from Detroit to Toledo to Pittsburgh to Philadelphia were well above the historic average in December. A total of 22.5 inches was recorded in December in Detroit, nearly twice the historic average of 12 inches. And Philadelphia tied a record when the overnight low on New Year's Eve slipped to minus-9 degrees Fahrenheit. From New Year's Eve to Jan. 2, the overnight low in Toledo was minus-2, minus-3 and minus-6, respectively and are expected to approach minus-10 over the weekend, according to the National Weather Service. The Pittsburgh area, on average, receives about 8 inches of snow in December. In 2017, that number climbed to 14 inches.
Superintendents in northern states concerned about how these conditions might affect putting greens come spring shouldn't be worried just yet, says a leading expert on winter damage on cool-season turf.
"Snow is great. Even though it's cold, it's good insulation against these cold temperatures," said Kevin Frank, Ph.D., of Michigan State University.
"With as cold as it is, and the next couple days it's supposed to be even colder, there should be nothing going on under there."
Poa can survive under snow and permeable ice layers for 30-45 days, Frank says. Even with the two-week extended forecast calling for temperatures much colder than normal in the eastern U.S., there is little cause for concern just yet, Frank says.
"If you have any concerns about Poa greens, go out in next week or so and see what's under there. If there's snow and no ice, you're fine to let it ride until we get a melt in January, which we typically do," Frank said. "If you dig down and find crunchy ice, it still might not be impermeable. The only concern is if you dig down and find solid ice."
Superintendents managing bentgrass greens are more likely to have to deal with a broken water heater or furnace than winter damage, Frank said.. 
"Bentgrass will be OK for 90 to 120 days," he said. "If we don't get rid of it by then, we have much bigger problems on our hands."