In the high-stakes game of major championship golf, Rick Tegtmeier, CGCS, never has been a player. But if he didn't put a chip onto the table at least once in his career, Tegtmeier didn't want to spend the rest of his life asking himself "what if?"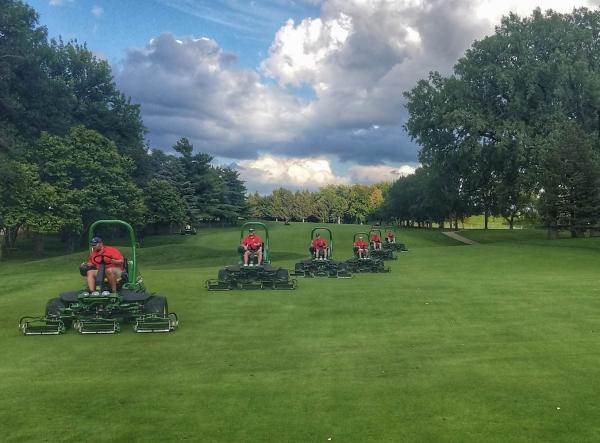 In his one trip to the table, Tegtmeier hit the mother lode, delivering to the LPGA a golf course that was in nearly flawless condition and provided a stern test of player skill in what many are calling one of the best Solheim Cup championships ever played.
"When the opportunity came, it scared the (expletive deleted) out of me," said Tegtmeier, director of grounds at Des Moines Golf and Country Club, in West Des Moines, Iowa.
"It's always something I wanted to do. I thought to myself 'can Rick Tegtmeier do this?' I've had a lot of sleepless nights wondering if I could pull this off."
Turns out, Tegtmeier was worried over nothing. And that is because he has 36 freshly renovated holes and what he called a "rock star" team that planned for every possible contingency.
That team included North and South course superintendents Nate Tegtmeier and Tim Sims, respectively, DMGCC's staff of about 45 and dozens of volunteers from golf courses around Iowa and throughout the region, many of whom had Iowa ties.
One of the most important jobs of the week was blowing clippings from fairways after a fleet of borrowed fairway mowers arrived sans buckets.
In that group was Doug Krantz, general manager of D&K Products, a Des Moines-based supplier of turfcare products.
It's always something I wanted to do. . . . I've had a lot of sleepless nights wondering if I could pull this off."
Krantz, according to his Apple Watch, walked 87 miles throughout the week - just blowing clippings. 
Aaron Porter also logged some time with a backpack blower. The superintendent at Fargo Country Club in North Dakota, Porter also is a former North Course superintendent at Des Moines Golf and Country Club.
"Rick, Nate, and Tim have a finely tuned machine, as it always was," Porter said.
"(They) and the rest of the crew deserve all the credit on this one. They deserve to be proud as the course, the amenities, and the food they served us all week were first class. "There is no doubt in my mind that Rick Tegtmeier is one of the best in the game."
Tegtmeier wanted to ensure that the event helped shine a spotlight on his colleagues as well as his staff.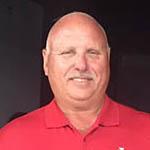 "I really wanted this to be an Iowa pride event," said Tegtmeier. "Iowa guys really don't get a chance to do majors, or big golf tournaments. To have something like that here and have so many guys from Iowa volunteer; that was way cool."
Mission accomplished.
The Solheim Cup was played on DMGCC's original 18 holes, which comprises a hybrid mix of holes from the club's recently renovated North and South courses. Beginning in 2013, the club closed and refurbished nine holes per year after a master plan developed by Pete Dye and Tim Liddy. The renovations were announced before the club secured the Solheim Cup.
"People think we did this for the Solheim Cup. We did this for our membership," Tegtmeier said. 
"It was tough on the crew, Tim and Nate through the whole thing. And, it was tough on the membership to close nine holes a year for four years. 
"The Solheim Cup is three days. What we did for the members is for a lifetime."


That doesn't mean the LPGA and the U.S. and European teams didn't benefit from Dye and Liddy's handiwork. They certainly did.
Attendance of 124,464 at the event, won by the U.S. team 16.5-11.5, set a new Solheim Cup record. Merchandise sales and infrastructure build out - concessions and souvenir tents, hospitality pavilions, grandstands - also established new LPGA records. That, according to the LPGA, included 250,000 square feet of flooring, 200,000 square feet of structure, bleacher seats to accomodate 1,200 people, 1 mile of fence and 1.5 miles of railing. The 7.3 million people who watched at home on TV, according to the Golf Channel, were the most since the 2014 U.S. Women's Open at Pinehurst No. 2.
None delivered more than Tegtmeier's army of staff and volunteers that included Doug Ruffridge, Fargo's Porter and Steve Cook, the host superintendent of the 2004 Ryder Cup Matches and 2008 PGA Championship at Oakland Hills Country Club in Bloomfield Hills, Michigan.
He drove up here every day and was always on time. It wrenches your heart that these guys are there for you."
Andy Johnson, an assistant under Tegtmeier during their days together at Elmcrest Country Club in Cedar Rapids who is now out of the industry, took a week off from his job at a Seattle-area hospital to help his former boss.
Ruffridge, a retired superintendent from a nine-hole facility in Pocahontas, Iowa, drove 140 miles one way from Sunday to Sunday to be part of the event.
"He drove up here every day and was always on time," Tegtmeier said. "It wrenches your heart that these guys are there for you."
For the past nine years, Porter has been the superintendent at Fargo Country Club in North Dakota. Before that, he was the North Course superintendent at DMGCC under Tegtmeier from 2001 to 2008. He and his 11-year-old son, Roman, worked the event for six days, mowing fairways and blowing clippings. The trip back to DMGCC was a welcome homecoming.
"I put more work and time into DMGCC than any other course I've been at now just next to my current job of nine years at FCC," Porter said. "I wanted to see the changes to the course with the renovation, and I wanted to experience working on the other end of the spectrum of setting up a major tournament where I can watch and absorb everything that goes into it. "It has always been a goal to host an event at a high level and to experience it for the first time at DMGCC was priceless."