Last year's
Solheim Cup
at
Des Moines Golf and Country Club
was as uplifting a story as golf has seen in a long time. Camaraderie displayed between teams, patriotism and pride in country and, as was the case in 2017, in state.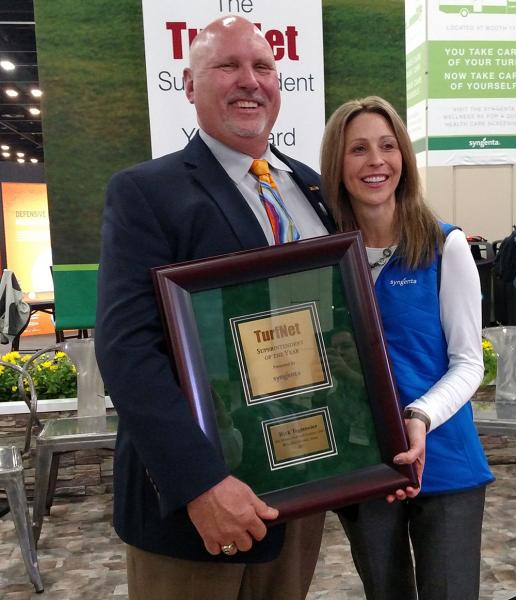 The event that pits the best women players from Europe and the United States was a special moment for Iowans both on and off the golf course. It was a professional championship the likes of which Iowans and not seen before, at least within the borders of their own state. It also was the kind of tournament that Iowa superintendents don't get a chance to even volunteer for, unless they venture outside the state.
Rick Tegtmeier
, CGCS, made sure that changed in 2017, when he
opened the door for Iowa superintendents
to get their hands dirty preparing for the Solheim Cup, and it's one of the reasons why he was named the winner of the
2017 TurfNet Superintendent of the Year Award, presented by Syngenta
.
Professional golf, even at its highest level, is about much more than who wins. It is about helping those in need through charitable donations.
To that end, nine worthy causes will share $250,000 in charitable contributions from Des Moines Golf and Country Club, the West Des Moines country club announced last week. The money comes from profits the club made by hosting the tournament last August. 
The club said its overall donations tied to the Solheim Cup totaled more than $400,000 and that it was fulfilling a promise to donate 50 percent of its profits from the event that attracted more than 120,000 spectators who watched the U.S. top Europe, 16.5-11.5.
Beneficiaries include Iowa Court Appointed Special Advocates, ISISERETTES Drill & Drum Corp, DMGCC Educational Foundation, Boys and Girls Club of Central Iowa, Children & Family Urban Movement, Children's Cancer Connection, Iowa Homeless Youth Centers, Youth Emergency Services & Shelter and the First Tee of Central Iowa.
"The success of the 2017 Solheim Cup," said DMGCC president Gregg Carlson, "was in large part due to the incredible way Iowans embraced and supported our efforts to host the prestigious golf tournament."