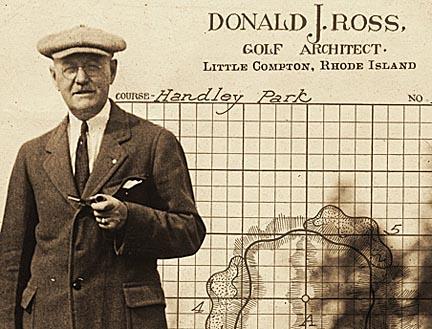 When it comes to golf course architecture, few if any course designers have left an imprint as longstanding as that of Donald Ross. His name is attached either as the architect of record or for restoration efforts to as many as 400 golf courses.
Golfweek, TurfNet's sister property, is offering Ross fans, or those interested in knowing more about his contributions to the game, a three-day symposium at the home of one his most renowned creations - Pinehurst No. 2. The event will showcase the accomplishments of Ross as well educate attendees on how to implement classic architectural concepts into restoration and renovation work.
Donald Ross and the Art of Golf Architecture Restoration is scheduled for Nov. 10-12 at Pinehurst Resort in North Carolina.
Scheduled speakers include Golfweek's Bradley Klein,; architects Tom Fazio, Rees Jones, Scott Pool and Ron Pritchard; Bob Farren, CGCS, director of golf course maintenance and grounds at Pinehurst; Pete Garvey of Idle Hour Country Club in Lexington, Ky.; Jim Mrva of Monroe Golf Club in Rochester, N.Y.; Larry Hirsch of Golf Property Analysts; and Paul Wold, former green chairman from the Country Club of Rochester (N.Y.).
The event includes a round of golf on the Pinehurst No. 2 layout.