In just four seasons at Highlands Falls Country Club, Aaron Brown has made a big impact with his colleagues and his members.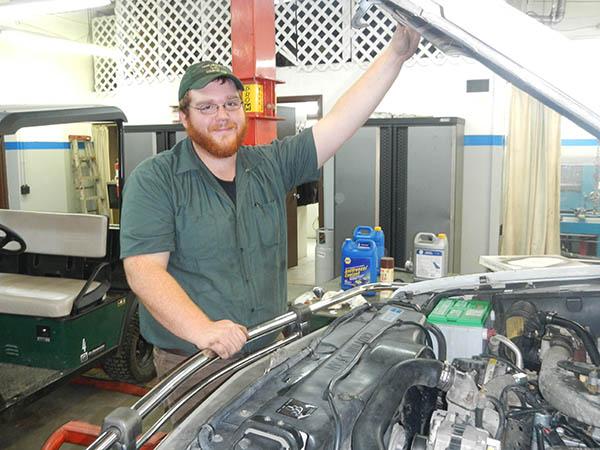 Located in the mountains of western North Carolina, Highlands Falls is embedded in a highly competitive market where well-heeled players have a lot of choices when picking what typically is their second or third club. 
He maintains reels with a razor's edge, keeps an aging equipment fleet on the move, shops for replacement parts like he is spending his own money and even helps members with their personal vehicles.
"Aaron has a passion for the golf course maintenance industry," said Fred Gehrisch, CGCS at Highlands Falls. "He is always concerned with making sure all equipment is in the best order and that it is ready to perform at a minute's notice."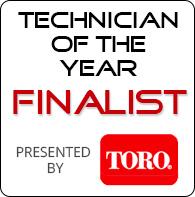 For the many contributions he has made in such a short time to the turf operation at Highlands Falls, Brown has been named one of three finalists for the 
TurfNet Technician of the Year Award, presented by The Toro Co
.. 
"He cares for the membership and his fellow employees with respect and dignity and is the best technician in the business," Gehrisch said in his nomination. "He is a great asset to the club and the industry."
When Brown started at Highlands Falls in July 2013, Gehrisch nearly was at the end of his rope.
Twice that summer two different candidates who had accepted the position called just days before their scheduled start date to tell Gehrisch they had changed their minds.
"I think what it was is they knew we work over here," Gehrisch said. "We don't just change oil and filters.
"My wife told me it was a sign that I'd find the right person. Of course, I didn't believe her."
As it turned out, he should have listened to her, because out of the blue, Brown, called to see if the position had been filled.
With experience at two other clubs in the area, Brown is certified through the Equipment and Engine Training Council and is a graduate of a diesel mechanic training program.
"He likes working outside on the golf course more than he likes working inside on trucks," Gehrisch said. 
He is able to keep an aging fleet of rolling stock on the golf course, which has its good and bad sides. Equipment stays operational, but Brown keeps it in such good shape that Gehrisch cannot justify replacing some of it.
"A lot of our equipment is older and Aaron spends a lot of time making sure that this equipment runs as if it were new," Gehrisch said. "Because of his efforts, we have been able to defer several large equipment purchases, which has benefitted the club and allowed it to focus on other priorities. He has completely renovated many pieces of equipment to like-new condition."
All that training and experience had made the 26-year-old Brown a gifted mechanic. Still, there is more to being an exceptional equipment manager than turning a wrench.
A lot of our equipment is older and Aaron spends a lot of time making sure that this equipment runs as if it were new."
Gehrisch confesses to being obsessed with providing members at Highland Falls with perfect playing conditions. He also admits that Brown has him beat when it comes to being preoccupied with quality of cut.
"He looks at those reels every day. There are days I tell him they're fine and not to waste his time with them," Gehrisch said. "He goes over them anyway because he wants them to be perfect.
"He understands the agronomics behind what we do. He knows we need sand, he knows what that does to a reel, and he knows that a sharp reel reduces disease pressure and increases playability."
Even when something does break down, Brown exhibits a mix of calmness with a sense of urgency.
"If there was one thing about him that stands out, it is his determination to succeed and to please others," Gehrisch said. "He doesn't get upset or excited if equipment breaks down. He gets more upset because he knows what he does is part of a team and if something breaks down, it slows us down."
The winner will receive the Golden Wrench Award and a weeklong training session at Toro's Service Training University at the company's headquarters in Bloomington, Minnesota.
Criteria on which nominees are judged include: crisis management; effective budgeting; environmental awareness; helping to further and promote the careers of colleagues and employees; interpersonal communications; inventory management and cost control; overall condition and dependability of rolling stock; shop safety; and work ethic.
Previous winners are (2016) Kris Bryan, Pikewood National Golf Club, Morgantown, WV; (2015) Robert Smith, Merion Golf Club, Ardmore, PA; (2014) Lee Medeiros, Timber Creek and Sierra Pines Golf Courses, Roseville, CA; (2013) Brian Sjögren, Corral de Tierra Country Club, Corral de Tierra, CA; (2012) Kevin Bauer, Prairie Bluff Golf Club, Crest Hill, IL; (2011) Jim Kilgallon, The Connecticut Golf Club, Easton, CT; (2010) Herb Berg, Oakmont (PA) Country Club; (2009) Doug Johnson, TPC at Las Colinas, Irving, TX; (2007) Jim Stuart, Stone Mountain (GA) Golf Club; (2006) Fred Peck, Fox Hollow and The Homestead, Lakewood, CO; (2005) Jesus Olivas, Heritage Highlands at Dove Mountain, Marana, AZ; (2004) Henry Heinz, Kalamazoo (MI) Country Club; (2003) Eric Kulaas, Marriott Vinoy Renaissance Resort, Sarasota, FL.
There was no award in 2008.