We've heard of some clandestine meeting places to interview job candidates, but a hospital room has to take the cake.
Odd as it might seem, that's exactly where Mark Fuller was hunkered down when he hired Bob Fedge, for the second time, in 2013.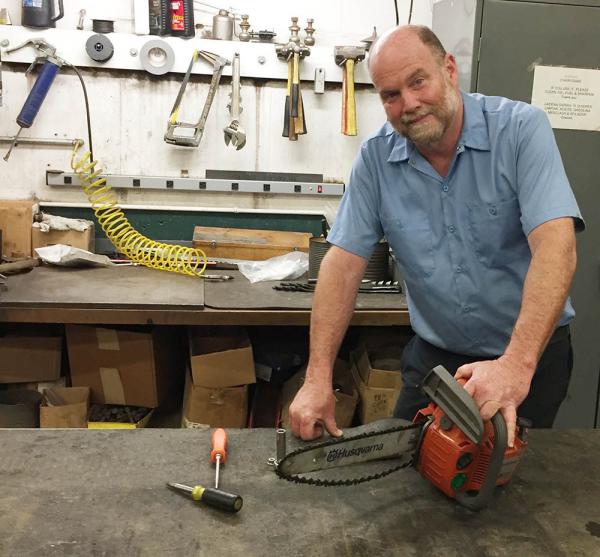 Fuller was in the hospital for a couple weeks recovering from a ruptured Dieulafoy lesion when he contacted Fedge about an opening for the position of equipment manager at The Connecticut Golf Club.
The two had worked together previously at Longshore Golf Course in Westport, Connecticut and the Quechee Club in Vermont, so when Fuller needed to hire a new equipment tech, he knew exactly where to start.
"I knew he was hunting and was available, and I needed somebody," Fuller said. "I hired him right from the hospital."
Almost before Fuller made it home from the hospital, Fedge implemented a preventive maintenance program that reduced repair expenses over a four-year period by 51 percent, from $66,636 to $33,337 in 2017. 
"This was accomplished despite the fact that we have not kept up with our annual equipment replacement plan," Fuller said. "Through his repair efforts we have been able to extend the life of the club's equipment as well. He is truly a 'Mr. Fix It.' "
Fedge has been named one of three finalists for the
2018 TurfNet Technician of the Year Award, presented by Toro
.
The winner will receive the Golden Wrench Award and a spot in Toro's Service Training University at the company's headquarters in Bloomington, Minnesota.
He keeps the equipment in such good shape that we've lost the opportunity to buy new pieces. He's become his own worst enemy."
Criteria on which nominees are judged include: crisis management; effective budgeting; environmental awareness; helping to further and promote the careers of colleagues and employees; interpersonal communications; inventory management and cost control; overall condition and dependability of rolling stock; shop safety; and work ethic.
Fedge is not just a skilled mechanic.
"He has a strong understanding of anything having to do with plumbing, mechanicals, electrical or hydraulics," Fuller said. "His talents have saved the club from using outside services for repairs from equipment to building repairs."
But it's on the golf course where he makes his hay.
"His responsibilities include maintaining two pump houses, irrigation electrical needs, range equipment maintenance and repairs, recycled water wash area for equipment and communication equipment service and repairs," Fuller said.
"Where he's really saved us money is repairing large pieces of equipment."
His repair skills have helped extend the life of aging pieces of equipment that otherwise might need replacing or at least the help of an outside service technician. That includes replacing the electronic gears and welding a cracked arm on an aging excavator.
"We have a 1965 wood chipper, and the club will never invest in a new one because he keeps it in such good shape," Fuller said. 
"He looks at repairing things as a challenge and he does it."
Recently, Fuller's request for a new fairway mower to replace a 2005 unit with 3,500 hours was denied because Fedge has kept the aging and oft-used piece of equipment in top shape.
"He keeps the equipment in such good shape that we've lost the opportunity to buy new pieces," Fuller said. "He's become his own worst enemy."
Previous winners include (2017) Tony Nunes, Chicago Golf Club, Wheaton, IL; (2016) Kris Bryan, Pikewood National Golf Club, Morgantown, WV; (2015) Robert Smith, Merion Golf Club, Ardmore, PA; (2014) Lee Medeiros, Timber Creek and Sierra Pines Golf Courses, Roseville, CA; (2013) Brian Sjögren, Corral de Tierra Country Club, Corral de Tierra, CA; (2012) Kevin Bauer, Prairie Bluff Golf Club, Crest Hill, IL; (2011) Jim Kilgallon, The Connecticut Golf Club, Easton, CT; (2010) Herb Berg, Oakmont (PA) Country Club; (2009) Doug Johnson, TPC at Las Colinas, Irving, TX; (2007) Jim Stuart, Stone Mountain (GA) Golf Club; (2006) Fred Peck, Fox Hollow and The Homestead, Lakewood, CO; (2005) Jesus Olivas, Heritage Highlands at Dove Mountain, Marana, AZ; (2004) Henry Heinz, Kalamazoo (MI) Country Club; (2003) Eric Kulaas, Marriott Vinoy Renaissance Resort, Sarasota, FL.