There are maintenance shops that carry a lot of inventory, and then there is Saucon Valley Country Club.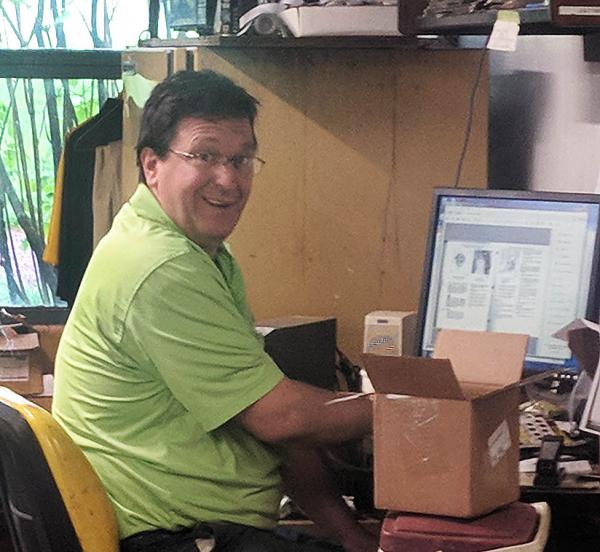 With hundreds of pieces of equipment in two shops, Dave Stofanak keeps pretty busy at this 60-hole facility in Bethlehem, Pennsylvania.
"The sheer size of this operation is the most glaring difference. We have 850 acres, 60 holes, 120 golf carts, tennis, a full-service country club and 39 club vehicles all under his responsibility," said Saucon Valley superintendent Jim Roney. "When it just comes to repairs and schedules, he's always prioritizing things so nothing slips through the cracks.
"It's not just golf, and it's not just a fleet of greensmowers. It's four fleets of greensmowers."
Stofanak's ability to see past the doors of the maintenance shop also set him apart, Roney says.
"As superintendents, we want to beat the crap out of the grass and produce the best conditions. In the process, we beat the crap out of the equipment," Roney said. 
"It's a joy to work with him. He sees the big picture. We communicate well with each other, I tell him what I want, and he tells me how we can get there."
One might think an operation the size of Saucon Valley would have a virtually unlimited budget, but anyone operating under that assumption would be incorrect.
"One of his greatest attributes is his ability to manage the budget," Roney said. 
"That's the biggest thing we talk about. You'd think we have unlimited resources, but that's not the case. The economy in the Lehigh Valley is strong, but this is not Philadelphia or New York. He is never over budget, and that would not be possible except for his vision of how equipment is supposed to operate and how it is supposed to be maintained."
Those are among the reasons that Stofanak has been named a finalist for the 
2018 TurfNet Technician of the Year Award, presented by Toro
.
The winner will receive the Golden Wrench Award and a spot in Toro's Service Training University at the company's headquarters in Bloomington, Minnesota.
We communicate well with each other, I tell him what I want, and he tells me how we can get there."
Criteria on which nominees are judged include: crisis management; effective budgeting; environmental awareness; helping to further and promote the careers of colleagues and employees; interpersonal communications; inventory management and cost control; overall condition and dependability of rolling stock; shop safety; and work ethic.
Stofanak has plenty of experience maintaining Saucon Valley's equipment. He's been doing it since Roney was in the seventh grade.
During that time, Saucon Valley has hosted the 1990 U.S. Senior Open, 2000 U.S. Senior Open, 2009 U.S. Women's Open and the 2014 U.S. Mid-Amateur Championship. The Senior Open will return to the Lehigh Valley in 2022, and rest assured, Roney says, Stofanak will be there to make sure it goes off without a hitch.
"Along with these championships comes a whole other level of challenges," Roney said. "Whether it is identifying areas of need and coordinating loaner equipment with our distributors and local superintendents, or the challenge of doubling your fleet and servicing both morning and evening throughout the championship."
One of Stofanak's most admirable attributes, Roney says, is his ability to stay calm under the most demanding of circumstances. 
His ability to fabricate tools and come up with quick solutions on the fly are top notch. When Roney bought new core collectors for aerification days, they quickly noticed the units were rubbing against the tires of the aerifier. Stofanak quickly fixed that problem.
"That's the way it was sold. We would have gone through tires left and right," Roney said. "Dave said 'give me an hour, and I'll come up with something.' He welded on a spacer and the problem was solved. The next day he had five machines done and we were ready to go."
Previous winners include (2017) Tony Nunes, Chicago Golf Club, Wheaton, IL; (2016) Kris Bryan, Pikewood National Golf Club, Morgantown, WV; (2015) Robert Smith, Merion Golf Club, Ardmore, PA; (2014) Lee Medeiros, Timber Creek and Sierra Pines Golf Courses, Roseville, CA; (2013) Brian Sjögren, Corral de Tierra Country Club, Corral de Tierra, CA; (2012) Kevin Bauer, Prairie Bluff Golf Club, Crest Hill, IL; (2011) Jim Kilgallon, The Connecticut Golf Club, Easton, CT; (2010) Herb Berg, Oakmont (PA) Country Club; (2009) Doug Johnson, TPC at Las Colinas, Irving, TX; (2007) Jim Stuart, Stone Mountain (GA) Golf Club; (2006) Fred Peck, Fox Hollow and The Homestead, Lakewood, CO; (2005) Jesus Olivas, Heritage Highlands at Dove Mountain, Marana, AZ; (2004) Henry Heinz, Kalamazoo (MI) Country Club; (2003) Eric Kulaas, Marriott Vinoy Renaissance Resort, Sarasota, FL.