Terry Libbert survived four superintendents at Old Marsh Golf Club. Don't think for a minute that fact has been lost on any of them.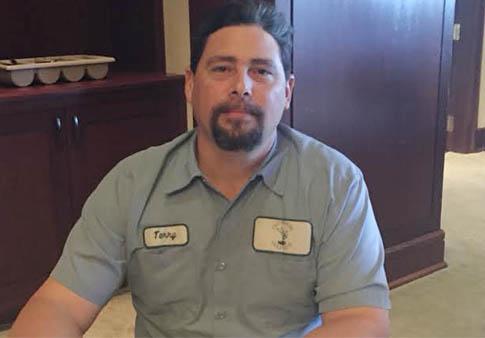 Libbert, who was hired at Old Marsh in 2000, was nominated for the
2018 TurfNet Technician of the Year Award, presented by Toro
, by all four of the superintendents he worked for at the course in Palm Beach Gardens.
Because of the impact he has had at Old Marsh over such a long period of time under numerous supervisors, Libbert has been named one of three finalists for this year's award.
The winner will receive the Golden Wrench Award and a spot in Toro's Service Training University at the company's headquarters in Bloomington, Minnesota.
Criteria on which nominees are judged include: crisis management; effective budgeting; environmental awareness; helping to further and promote the careers of colleagues and employees; interpersonal communications; inventory management and cost control; overall condition and dependability of rolling stock; shop safety; and work ethic.
"It's not often when you can have your equipment manager be as passionate about the golf course as much as the golf course superintendent," wrote former Old Marsh superintendent Jim Colo, who now is at Naples National Golf Club. "Terry Libbert is that individual."
His dedication to the club and willingness to do what was necessary to help provide the best playing conditions for its members made an immediate impact on former Old Marsh head greenkeeper Steve Ehrbar, when he hired Libbert nearly two decades ago.
"When interviewing Terry several years ago for the position of equipment manager at Old Marsh Golf Club, I asked him how he felt about topdressing greens weekly and the damage it causes to mowers, he said 'if that's what it takes to provide great putting surfaces for the members and guests, we'll handle it,' " said Ehrbar, now superintendent at Jupiter Hills in nearby Melbourne. "Right then I told him, 'you're hired.' "
It's not often when you can have your equipment manager be as passionate about the golf course as much as the golf course superintendent. Terry Libbert is that individual."
Libbert has lasted as long as he has not only because of his passion but in part because of his ability to repair atypical pieces of equipment, including excavators and bulldozers, and helping his bosses manage water issues in an extremely sensitive environment that is closely monitored by the South Florida Water Management District as well as local and county water officials.
"Terry Libbert has been with Old Marsh Golf Club for over 15 years, working with four different superintendents and every manufacturer of equipment," said Old Marsh superintendent Tony Nysse. "He's gone through two renovations and taken on maintenance for the homeowners association along the way. Terry is a staple of knowledge in regards to historical value and an overall knowledge of machines, engines, cars and pumps. Terry is, without hesitation, the glue that keeps both operations moving in the right direction." 
He has fabricated many inventions since Steve Ehrbar, now the superintendent at Jupiter Hills in Tequesta, hired him nearly two decades ago.
His inventions include custom-sized brushing attachments welded to the back of traditional leaf rakes to simplify grooming fairway, and he rides the course nearly everyday to make sure all equipment is working properly and that what he sends out produces the desired conditions, said Al Clements, a former Old Marsh superintendent who today manages the turf at Pablo Creek Golf Club in Jacksonville.
"I've had the privilege to work with many great technicians in my career, and Terry Libbert is one of the best in the business," Clements said. "He is a true team player who is not only passionate about his trade, but genuinely cares about the staff and the club."
Previous winners include (2017) Tony Nunes, Chicago Golf Club, Wheaton, IL; (2016) Kris Bryan, Pikewood National Golf Club, Morgantown, WV; (2015) Robert Smith, Merion Golf Club, Ardmore, PA; (2014) Lee Medeiros, Timber Creek and Sierra Pines Golf Courses, Roseville, CA; (2013) Brian Sjögren, Corral de Tierra Country Club, Corral de Tierra, CA; (2012) Kevin Bauer, Prairie Bluff Golf Club, Crest Hill, IL; (2011) Jim Kilgallon, The Connecticut Golf Club, Easton, CT; (2010) Herb Berg, Oakmont (PA) Country Club; (2009) Doug Johnson, TPC at Las Colinas, Irving, TX; (2007) Jim Stuart, Stone Mountain (GA) Golf Club; (2006) Fred Peck, Fox Hollow and The Homestead, Lakewood, CO; (2005) Jesus Olivas, Heritage Highlands at Dove Mountain, Marana, AZ; (2004) Henry Heinz, Kalamazoo (MI) Country Club; (2003) Eric Kulaas, Marriott Vinoy Renaissance Resort, Sarasota, FL.