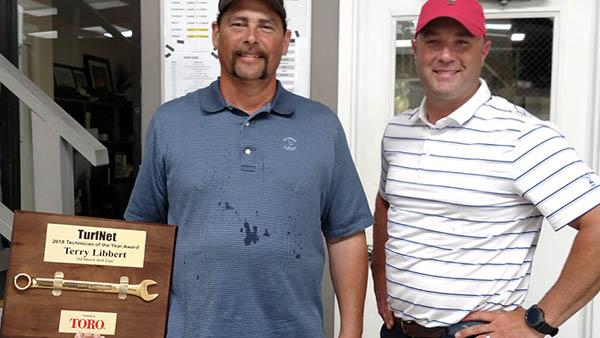 Talk about your bittersweet moments.
When Tony Nysse, superintendent at Old Marsh Golf Club, called in Terry Libbert to inform him he had been named a finalist for the TurfNet 2018 Technician of the Year Awards, presented by Toro, the longtime mechanic at the club in Palm Beach Gardens was coming in anyway.
Libbert, who was hired more than 18 years ago at this 1987 Pete Dye design, was giving his notice after accepting a job as equipment manager at Michael Jordan's Grove XXIII that is being built 10 miles up U.S. 1 in Hobe Sound.
"It was a bittersweet moment," Libbert said. "I was grateful for the recognition, but it was 'oops, I'm on my way out the door.' "
Even a change of jobs was not enough to sway TurfNet's panel of judges who named Libbert the winner of this year's Golden Wrench Award.
Other finalists for the award were Dave Stofanak of Saucon Valley Country Club in Bethlehem, Pennsylvania, and Bob Fedge of The Connecticut Golf Club in Easton.
As the winner, Libbert receives the Golden Wrench Award and a spot in next year's Toro Service Training University at the company's headquarters in Bloomington, Minnesota, courtesy of Hector Turf, the local Toro distributor based in Deerfield Beach.
Criteria on which candidates are judged include: crisis management; effective budgeting; environmental awareness; helping to further and promote the careers of colleagues and employees; interpersonal communications; inventory management and cost control; overall condition and dependability of rolling stock; shop safety; and work ethic.
Previous winners include (2017) Tony Nunes, Chicago Golf Club, Wheaton, IL; (2016) Kris Bryan, Pikewood National Golf Club, Morgantown, WV; (2015) Robert Smith, Merion Golf Club, Ardmore, PA; (2014) Lee Medeiros, Timber Creek and Sierra Pines Golf Courses, Roseville, CA; (2013) Brian Sjögren, Corral de Tierra Country Club, Corral de Tierra, CA; (2012) Kevin Bauer, Prairie Bluff Golf Club, Crest Hill, IL; (2011) Jim Kilgallon, The Connecticut Golf Club, Easton, CT; (2010) Herb Berg, Oakmont (PA) Country Club; (2009) Doug Johnson, TPC at Las Colinas, Irving, TX; (2007) Jim Stuart, Stone Mountain (GA) Golf Club; (2006) Fred Peck, Fox Hollow and The Homestead, Lakewood, CO; (2005) Jesus Olivas, Heritage Highlands at Dove Mountain, Marana, AZ; (2004) Henry Heinz, Kalamazoo (MI) Country Club; (2003) Eric Kulaas, Marriott Vinoy Renaissance Resort, Sarasota, FL.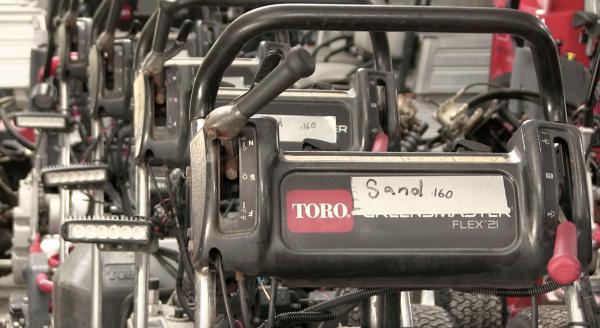 In 18 years, Libbert had mastered all of those traits. He was nominated not only by Nysse, but by the three other superintendents he has outlasted at Old Marsh, including Jim Colo, now at Naples National, Al Clements of Pablo Creek in Jacksonville, and Jupiter Hills's Steve Ehrbar, who hired him.
"To find out every superintendent who had been here, including Tony and all the predecessors all wanted to get in on that was really uplifting," Libbert said. "I had always felt that they respected what I'd done as their mechanic. But that they were interested in participating (in the nomination process) was uplifting."
He is a master at maintaining sharp reels, preventive maintenance and fabricating tools to fit specific needs.
When the course was renovated two years ago, Nysse needed groomers for Old Marsh's TifEagle greens, and once he and Nysse nailed down the exact specifications that were needed, Libbert built a custom set of brushes for all the walkmowers within a matter of days.
"We have stiff brooms and softer-bristle brooms," Nysse said. "He saved us a few thousand dollars right there."
During Libbert's time at Old Marsh, it changed hands from an owner to a member-owned club, but Libbert who outlasted so much, always was more than just a hired hand.
"As long as he's worked here is kind of unheard of," Nysse said.
"The respect he's earned by management, HR, members, colleagues and former superintendents is unique. They don't look at him as a guy who fixes stuff. The members know him by name, and they value him as a person. That's cool for an equipment tech to be looked at that way. He will be missed."
As for Michael Jordan and his nearby project?
"They're getting a heckuva tech who is much more than a technician," Nysse said. "They're getting a really good person."