Jorge Croda, CGCS, and Rick Tegtmeier, CGCS MG, come from two vastly different worlds.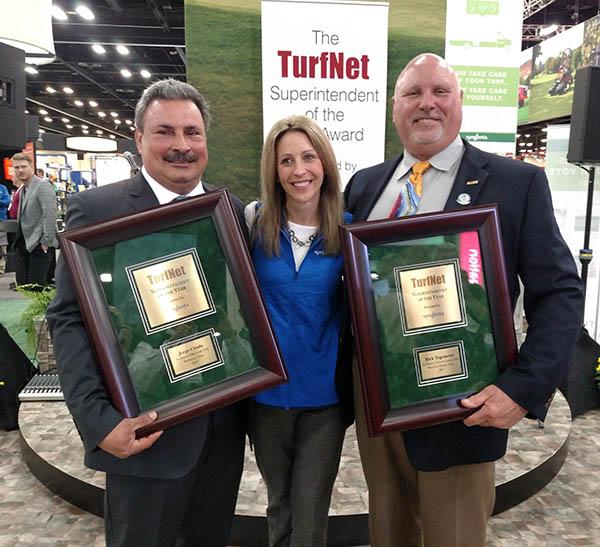 Tegtmeier grew up in the Norman Rockwell-esque Midwest, while Croda left his native Mexico to make a better life for himself and his family.
Due to a first-time tie in the judges' scoring, both were named 
2017 TurfNet Superintendent of the Year
in a presentation in the 
Syngenta
 booth at GIS. 2017 was the tenth year of award sponsorship by Syngenta.
Though their stories are forever intertwined, the circumstances that brought Croda and Tegtmeier together couldn't be more different.
Tegtmeier, director of grounds at Des Moines Golf and Country Club in Iowa, was recognized not just for staging a virtually flawless venue for the 2017 Solheim Cup. He also won acclaim for the four years of hard work and preparation leading up to the event and, most importantly, how he used the event to help others, including fellow superintendents throughout Iowa and colleagues around the country who had once worked for or with Tegtmeier.
Croda, superintendent at Southern Oaks Golf Club in Burleson, Texas, has a reputation that is more grass-roots.
He has been applauded by Southern Oaks members for the manner in which he revived their course. Once an "eyesore" and an "embarrassment" as well as a threat to home values, according to some of the members there, the course now is rated by some among the best courses in the Fort Worth area.
"Jorge Croda is exceptional in possessing all of the talents required. Recently, I marveled at the quality of product he creates as I 'secret shopped' 20 golf courses in the Dallas metroplex. His facility was clearly the finest," wrote industrial strategist and marketing guru J.J. Keegan.
But it wasn't always that way. 
"The change from where it was then to where it is today speaks to Mr. Croda's dedication and passion in forming a team that was committed to excellence based on fulfilling the vision of a new owner." 
Croda and Tegtmeier were chosen from a field of finalists that also included Mark Hoban of Rivermont Golf Club in Johns Creek, Georgia, Chris Ortmeier of the Champions Club in Houston and Josh Pope of the Old White Course at The Greenbrier in White Sulphur Springs, West Virginia.
Croda and Tegtmeier each receive a trip for two on the annual TurfNet golf trip to Ireland, courtesy of Syngenta.
Croda began rebuilding distressed golf courses in his native Mexico, and through a management company he started has had a hand in about 20 improvement projects south of the border.
Renovating golf courses represents only a slice of what Croda gives back to the community. And, it is among the least significant of his accomplishments. His passion for helping others symbolize what service is all about.
Like everything he touches, Croda's goal is to make it better, whether it is playing conditions on a golf course or the lifeskills of his employees who him produce those conditions.
"My job is to try to make people better," Croda said. 
The consummate ambassador for golf, Croda speaks at chapter, state, national and international events; lobbies elected officials on behalf of the golf industry; and is active on his North Texas chapter board - all in an effort to promote the superintendent profession to those in and outside the golf industry. 
Even that doesn't compare to what he does for members of his team, junior golfers and his neighbors in the Fort Worth area.
A certified First Tee coach, Croda is passionate about working to grow the game and instilling in young golfers the values the on which the game is built.
"We can make good choices, or we can make bad choices," he said. "I want to help them make good choices."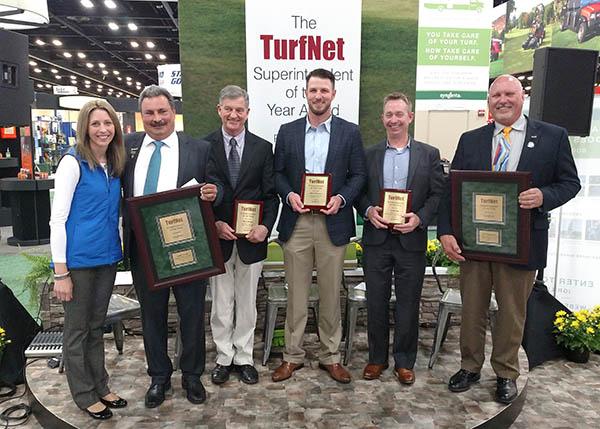 Among the jobs Croda is most passionate is that of mentor to members of his team. He provides for them computer classes, training in English language and more.
"I am trying to bring more opportunities to them," he said. "They're in the United States; they need to be able to speak English. 
"My goal is to train people to be able to leave for better jobs elsewhere if they choose."
Like Croda, Tegtmeier was singled out because of how his actions affected others.
When it was revealed that Des Moines Golf and Country Club had received the 2017 Solheim Cup, the club already was hip deep in developing a master plan and working toward a four-year-long renovation of the 36-hole DMGCC under the direction of architects Pat Dye and Tim Liddy. 
Tegtmeier immediately saw the Solheim Cup as an opportunity to fill a gap for other Iowa superintendents. 
Iowa is home to an annual Champions Tour's Principal Charity Classic, but otherwise is without a major professional franchise or event. 
Tegtmeier wanted to prove to the world that Iowa superintendents were more than capable of producing a venue that rivaled anything in professional championship golf, so he opened the door for volunteers to any Iowa greenkeeper who wanted to help him prove his point. He also extended that invitation to former colleagues now scattered around the country.
In all, 87 volunteers, all with ties to Tegtmeier, showed up to work. The flawless conditions, large crowds and patriotism turned the Solheim Cup into an experience that almost was surreal.
"I wanted to use this as a stepping stone to show what other superintendents in Iowa could do," Tegtmeier said. "I told them if they wanted to work a major event this was their chance.
"They stepped up."
Their work resulted in more than two-dozen nominations on Tegtmeier's behalf, including one from Team USA Solheim Cup captain Juli Inkster.
Two other nominations - one from 2006 Masters champion and Iowa native Zach Johnson and one from Iowa secretary of agriculture Bill Northey - supported Tegtmeier for the award because of what his work did for the people of Iowa as a source of pride for their home and as an economic driver for the local economy.
"Rick's exceptional management has allowed the Des Moines Golf and Country Club and the state of Iowa to gain international attention as they hosted the Solheim Cup," Northey wrote in his nomination. "This put Des Moines on the map and provided other great economic benefits to Des Moines and the state."