Some things are just meant to be.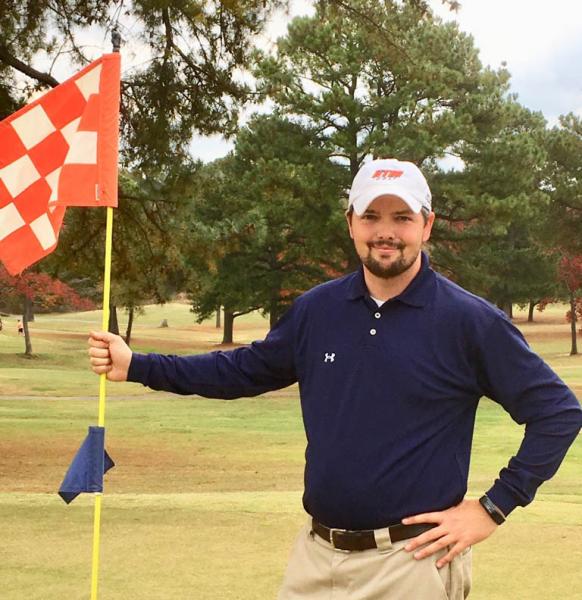 Since he can remember, Steven Scott has been good at two things: growing grass and business acumen.
Although he tried his hand at business school, he eventually melded his two passions into a single purpose, running the rural northwestern Tennessee golf course where he worked and played as a kid.
After he quit business school at the University of Memphis and graduated from the University of Tennessee at Martin's golf course and landscape management program, Scott, became the operator and superintendent at Persimmon Hills Golf Course in Sharon, Tennessee.
A 2007 graduate of UT-Martin and the owner of Scott Golf Management, the 33-year-old Scott has held the management contract at Persimmon Hills since 2012.
"I'm the general manager, the superintendent, the chef, the mechanic and the plumber," Scott said. "That's probably not as uncommon as you think at some of these smaller courses."
Scott tripped into a career in golf. As a youngster growing up in Martin, he wanted to follow in the footsteps of his older brother, who was working with the city parks and rec department during the summer helping maintaining ballfields. 
"I like growing grass, fertilizing and mowing," Scott said. "I applied to work Martin Parks and Recreation maintaining ballfields in high school. That's what my brother did, and that's what I wanted to do, but they turned me down."
Gary Smith, a retired superintendent from Illinois, and his wife had just bought Persimmon Hills, so Scott went there and asked for a job. Nearly 20 years later, Persimmon Hills is one of the only employers he's ever had. Persimmon Hills is the only course in the Martin area, which is home to 11,000 people. It also is the only course in all of Wheatley County (population 35,000), but it's not the only course in the area. Obion County to the west and Gibson County to the south together have seven other courses spanning a three-county area with a population of about 100,000. Scott is defying the odds of the golf economy and thriving because of just one thing.
"We sell the golf course on conditioning. That's how we differentiate ourselves," Scott said. "As long as we are the best-conditioned course in the area, we're going to draw golfers, and get people from 40 to 50 miles away."
Although Persimmon Hills is a small budget property in a rural area, Scott keeps up with the latest trends in turf management. He doesn't attend national conventions. No budget room for that. He does make the short drive each year to the Nashville area for the Tennessee Turfgrass Association annual show and stays connected to colleagues around the country through avenues such as TurfNet, Twitter and Facebook.
"The good thing about these diff forums, we have access, in rural America at these little courses with farmers running them, to more information that we would have never known about before, especially the guys who never join an association or talk to anybody from another club. At the same time, you have to embrace that. If I go to a conference, I can sit for hours and maybe get one thing I can use. I can spend 15 minutes on the Internet to get what I need and get back to work."
Among the people he follows online for advice is Rick Tegtmeier, CGCS at Des Moines Golf and Country Club in West Des Moines, Iowa, site of this year's Solheim Cup.
"I've never met Mr. Tegtmeier, and even though he's in Iowa and I'm in Tennessee, I can take one or two things he is doing and apply it at my golf course," Scott said.
Combining computer knowledge, a knack for business and a love for growing grass has been a natural fit for Scott. Upon graduating from Westview High School in Martin, he had earned an academic scholarship to Memphis to study management information systems. Summer jobs on the golf course, however, soon had him rethinking his future. He wanted to drop out of Memphis to attend Horry Georgetown in South Carolina. But his parents intervened and convinced him that if he was giving up a free ride to college, he needed to stay home and attend UT-Martin.
"The first summer in college, I worked at Olive Branch Country Club in Olive Branch, Mississippi. The next summer, I came home, took some classes at UT-Martin and worked at Persimmon. That's when I had an epiphany," Scott said. "I liked working on the golf course and decided I didn't want to be behind a desk the rest of my life.
"My parents told me that UT-Martin had just started a turf program. I was dead set on Horry Georgetown, but they weren't too thrilled about that since I had a full ride to Memphis."
With that background, he was destined to be a boss, not an employee.
"I've worked at a seed company and a garden center, but I'd never been my own boss," he said. "In this day and age, there's not a ton of stability in the golf business. If things collapse, it's on me, not because my boss mismanaged something. And I'm not going to lay myself off because we're hurting."