In many ways, Sophia Vinzenz is a lot like most children her age.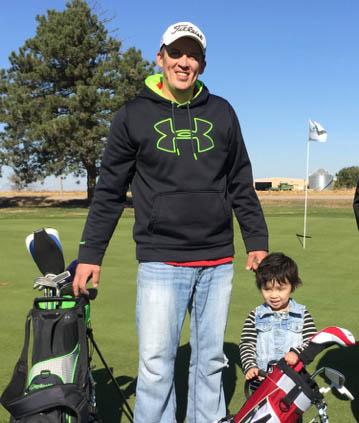 Growing up in smalltown Kearney, Nebraska, 3.5-year-old Sophia likes to go to the park and the petting zoo and play with her friends. Those are good things.
In other ways, Sophia is totally unique among her peers.
She likes going to the doctor. After all, she's seen a lot of them. That's not a good thing.
Diagnosed at 21 months of age with stage 4 neuroblastoma, a cruel form of cancer that attacks the nervous system primarily in young children, Sophia has endured things no child should go through. So have her mother, Jazmin, and father, Jeremy, the superintendent of Wood River Golf Course.
While Sophia endured round after round of chemotherapy and radiation, surgery and stem cell transplants, her parents suffered through tremendous hardship, as well, most of which has centered on the unknown and wondering whether their daughter would see her second birthday.
"When the doctor told us it was cancer, the first thing we asked was how much longer did she have to live," Jazmin said. "All we knew about cancer was people dying, then the doctor said it was curable. It was a roller coaster. It was one good day, then one bad day."
Lately, there have been more good days than bad. After a year-and-a-half of treatments and driving 2.5 hours one way to get to them, Sophia, who will celebrate her fourth birthday on Oct. 28, was declared cancer free in January.
"We're in a good spot right now," said Jeremy. "There's always the chance it could come back.
"She's happy and healthy now. We'll take what we can get."
There wasn't always cause for such optimism in the Vinzenz home.
Their life of ups and downs all started with a bump that appeared on Sophia's neck in June 2015. Mom and dad dismissed it as a bug bite, or something equally benign. Sophia's doctor was a bit more concerned.
"They measured it and told us if it gets bigger to come back right away," Jazmin said. 
Three weeks later, a CAT scan during a follow-up visit revealed more, and they were referred to Children's Hospital and Medical Center in Omaha, 2.5 hours away. There, Sophia underwent another CAT scan, an ultrasound and a biopsy confirmed their worst fears.
Predictably, their emotions ran the gamut.
"At first, I blamed God, wondering why would he do this to a kid," Jazmin said. 
"Later, I accepted it and realized we had to have faith that she would get better. But it was still difficult, because it's your child and you feel helpless. As parents, all we could do was hold her and tell her everything was going to be alright."
The next year-and-a-half meant a lot of visits to the doctor. A stem cell transplant sapped Sophia of any energy, and kept her virtually bedridden in Omaha for nearly a month. She had to remain in Omaha for an additional three weeks as a precautionary measure. 
"She did great. She was always laughing and happy," Jeremy said."The stem cell transplant was hard on her, but through the chemo she was always happy."
At one point, her treatment and recovery plan included driving 2.5 hours each way to the children's hospital in Omaha - every day for five weeks.
That caused some undue stress at home.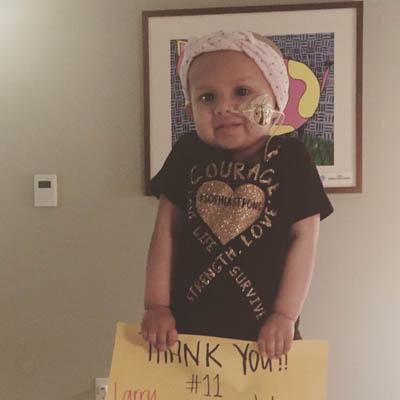 Jazmin had been enrolled in classes at Central Community College in Hastings to become a dental hygienist. After Sophia's diagnosis, she had to drop out to take care of her daughter.
Meanwhile, Jeremy, who was Ryan Smith's assistant at Gibbon Valley View Golf Course when Sophia was diagnosed, had just been named the head superintendent at municipal Wood River during the winter offseason, and the long drives back and forth to Omaha eventually fell on his wife's shoulders.
"I went to the first few (visits in Omaha), but I had just started a new job and nothing was getting done on the golf course," Jeremy said. 
"My wife wasn't very happy. The new job was tough on our family situation. It had been a dream of mine for 10 years to be a superintendent, so when the opportunity came up I had to take it. I don't have a college education and I only have a few years of experience. I knew this opportunity wasn't going to come up again for a while."
In January, less barely two months after her third birthday, Sophia was given a clean slate.
Fortunately, her age prevents her from remembering too much about her experience. For her parents, however, the lessons remain fresh in their minds.
"We don't take our time together for granted. We don't know how much time we have with her, or something could happen to one of us," she said. "It's definitely brought us closer."
Jeremy echoed those sentiments.
"We were good at taking things for granted. We don't do that anymore," he said. "You expect things to always go right because you try to live right and be a good person. Even if you do that, bad things can still happen."
A few good things can happen, as well.