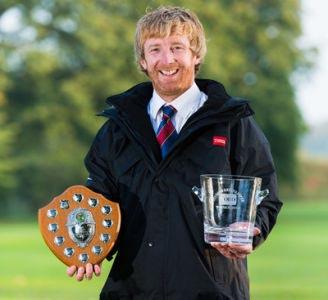 It's been a good week for Kevin O'Neill.
A student at Oaklands College in Hertfordshire, England and the deputy head greenkeeper as Muswell Hill Golf Club in North London, O'Neill recently was named
Toro's Student Greenkeeper of the Year
. He learned of winning the award just days before he was scheduled to head to Scotland to volunteer at this year's
Ryder Cup Matches
at Gleneagles.
As the winner, O'Neill receives a trip to the University of Massachusetts where he will take part in a six-week training session as well as a trip to next year's
Golf Industry Show
in San Antonio, courtesy of
Toro
.
He was chosen by a panel of judges from a field of six finalists that included: Andy Foulds, Wimbledon Park Golf Club and Merrist Wood College; Aaron Bowen, Ipswich Golf Club and Easton Otley College; Daire Higgins, St Andrews Links and SRUC Elmwood College; Wesley Lenihan, Ealing Golf Club and Plumpton College; and Thomas Freeman, Kingsdown Golf Club and Myerscough College. The competition was held in cooperation with the
British and International Golf Greenkeepers' Association
.
Part of the selection process was a two-day exam and interview process.
The procedure for the final was refreshed this year to include a discussion panel, a multiple-choice test, an essay question and a presentation by the candidates prior to interview.
The finalists were asked their views on varied topics in the industry including the public perception of greenkeeping, data collection, heights of cut, the use of organic products in turf management and education.
Day two of the final began bright and early with the six sitting a multiple-choice test on various aspects of greenkeeping, then answering an essay question.
"I'm very proud, I put a lot of work into this," O'Neill said. "The final was an amazing experience. I don't think there was much between the six of us."
O'Neill began his greenkeeping career at Gleneagles before stints at Charlton Athletic and Barnet football clubs. He joined Muswell Hill in 2008.