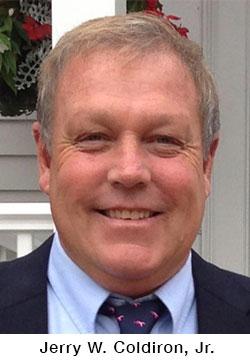 The TurfNet community and the turfgrass world at large were shocked Thanksgiving morning to learn of the death of Jerry Coldiron, Jr., CGCS, of cardiac arrest the previous evening, November 21.
Coldiron, 60, was a native of Kentucky and an alumnus of Eastern Kentucky University with a BS in horticulture and turfgrass management. He spent his entire 25-year superintendent career with Boone County (KY) Parks & Recreation, retiring in 2006 as director of golf course maintenance for Boone Links and Lassing Pointe Golf Courses. He never forgot his Kentucky roots; following UK sports was a favorite pastime.
After retirement from active golf course management, Jerry and his wife Susan relocated to Boca Raton, FL, so Jerry could embark on a second career in sales with Hector Turf of Deerfield Beach, FL. As long-time fans of Jimmy Buffett's music and lifestyle, Jerry and Susan's move to Florida and Jerry's new sales territory covering the Caribbean islands for Toro and Club Car was a perfect match. When he had to wear a necktie, the knot was usually loose; Jerry's favorite attire was shorts and a Life is Good t-shirt.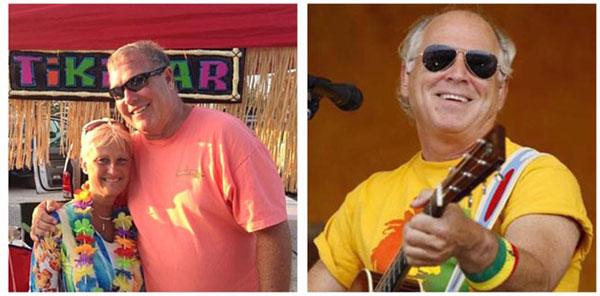 Jerry and Susan's adopted South Florida "Jimmy Buffett lifestyle" suited them well.
Jerry was a long-time active TurfNet member, joining in 1996 when online discussion and communication was in its infancy. He actively participated in the Forum, contributing over 400 posts to various turf- and non-turf related discussions. Our Beer & Pretzels Gala was a highlight of Jerry's year, providing a platform where he could work the crowd, grinning, laughing, bear-hugging and backslapping friends old and new.
"Jerry embodied the true TurfNet spirit of sharing, caring, compassion and camaraderie," said Peter McCormick, TurfNet founder. "He was a real pillar of our community, to coin a phrase. Always humble, Jerry loved to have fun and pump others up, encouraging everyone to live life to the fullest and enjoy every day. Over the years he became one of my very best friends. I still can't get my head around this."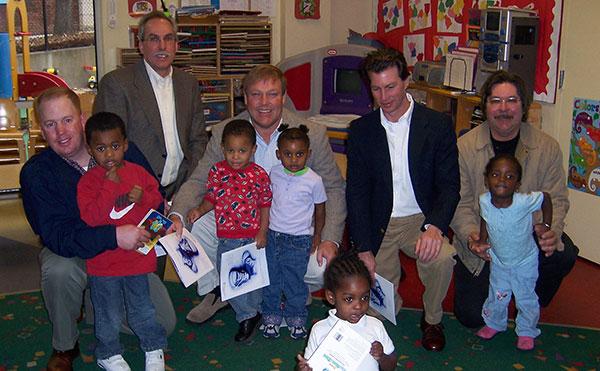 A TurfNet contingent visiting the Atlanta Children's Shelter in 2006 to present a donation check from a fund-raiser. Jerry was right in the center of it.
Above all else a family man, Jerry and Susan were married for 36 years and raised three sons, Josh, Jake and Jared. Josh and wife Natalie had Jerry's first grandchild, Ellie Taylor, last year. All now live in Florida.
Jake, Susan, Josh, Jerry and Jared at Josh's wedding to Natalie in October, 2015.
Jerry was very active on social media (Jerry Coldiron on Facebook and @CaribeTurfman on Twitter), his posts chronicling his many adventures and sporting events attended with Susan and the boys. Sunrises, sunsets and family were favorite topics, with #blessed, #laFamilie, #floridays, #PayItForward and #EmbraceLife his often-used hashtags.

The family has set up a tribute website (jerrycoldironembracelife.us) and established a fund to continue Jerry's legacy of positivity and embracing all life has to offer. The fund (and ultimately a foundation) will fund one or more awards to be given annually to recognize an individual or individuals within the golf turf industry who live lives of positivity, caring, sharing and compassion for others... or who are experiencing personal hardship due to illness, natural events or job loss (not to compete with Wee One)... or who do something special for the natural world (a special thing to Jerry).
Alternatively, donations can be made to United for Puerto Rico Hurricane Relief or St. Joan of Arc Catholic Church. Details for each are at Jerry Coldiron Embrace Life!
Jerry's obituary can be found here.
A funeral mass will be held at 12:30 PM on Saturday, December 2nd at St. Joan of Arc Catholic Church in Boca Raton, FL. A Celebration of Life will follow the mass at the Mercy Center at St. Joan of Arc Catholic Church. All are welcome to attend and celebrate Jerry's life.