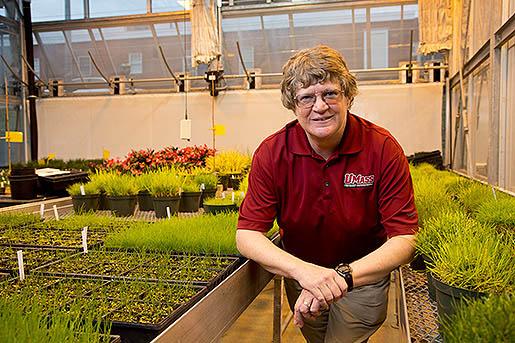 For nearly 35 years, Pat Vittum, Ph.D., has been a leading voice in insect pest control on managed turf. A professor at the University of Massachusetts Stockbridge School of Agriculture, she has authored some of the most widely regarded books on insects and how to get rid of them and is a regular speaker on the topic at conferences all around the country.
For her decades of service to the turfgrass industry and to the many students she has taught at UMass, Vittum recently was named the recipient of the 2015 USGA Green Section Award. She will receive the award, which is given annually since 1961 for "distinguished service to the game of golf through his or her work with turfgrass," Feb. 7, 2015, at the USGA Annual Meeting in New York City.
Vittum has conducted significant research on the biology and management of turfgrass insects and the effectiveness of biological-control methods. A recognized industry leader, she is a widely sought-after resource for practical information about turfgrass pests.
"Dr. Vittum has the unique ability to be a hands-on researcher who can effectively communicate her work with practical advice for the field practitioner," said Kimberly Erusha, Ph.D., managing director of the USGA Green Section. "Her contributions to the study of turfgrass insects have helped to establish industry standards and best management practices. We are proud to recognize her accomplishments and celebrate her legacy."
A native of western New York, Vittum earned her undergraduate degree in chemistry from The College of Wooster (Ohio). She earned her master's and doctorate degrees at Cornell University, where she worked with Haruo Tashiro, Ph.D., an international expert in turf insect biology. Vittum also served on the USGA Turfgrass and Environmental Research Committee from 2002 to 2008.
Vittum joined the faculty of the University of Massachusetts Amherst in 1980, becoming a professor in 2000. She teaches classes on the pesticides use, insect identification and integrated pest management. She was recognized with the Excellence in Teaching Award by the Entomological Society of America, Eastern Branch in 2004.
"Pat is an exemplary faculty member and a true leader," said Mary Owen, turf specialist and turf program coordinator at the University of Massachusetts Extension. "She has dedicated her career to advance the professionalism and competence of golf course superintendents and staff, with protection of the environment as a high priority."
Vittum's research has been published in several well-respected industry journals and publications. She is the principal author of the second edition of "Turfgrass Insects of the United States and Canada," (Comstock) which is widely regarded as the leading publication on turf entomology. She also co-authored the "IPM Handbook for Golf Courses," (Wiley).
"When Dr. Erusha called to tell me about this honor, I was overwhelmed," said Dr. Vittum. "The list of previous honorees includes so many giants of the turf management world, including people from academia, USGA Green Section directors, and top-shelf golf course superintendents. I am honored and humbled to be joining their ranks as a recipient of the distinguished service award. This is the highest award to which I could aspire, and it is an incredible affirmation of the studies I have conducted as a turf entomologist and the years I have spent as an educator."