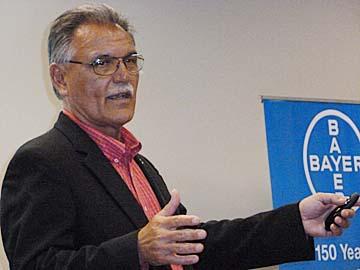 Bob Farren fancies himself in much the same light as Harvey Keitel's character Winston Wolf in the movie Pulp Fiction, albeit without the mob connections.
Like Wolf, who in the 1994 Quentin Tarantino movie has a reputation as someone others can rely on to help solve their problems, Farren is known by his colleagues at Pinehurst Resort as someone who can handle just about any extenuating circumstance that arises at the eight-course property, regardless of how mundane or extraordinary it might be. And Farren, director of grounds and golf course maintenance at the eight-course facility, believes other superintendents and assistants would be well advised to do the same.
"Position yourself every day, with every question from any department that comes to you as a resource person. Be the go-to person at your facility," Farren told attendees at this year's Green Start Academy, an educational event for assistant superintendents. No matter what happens, if a car runs into something in the parking lot, whatever it might be, position yourself as one of the first people they call if something needs to be done. The way to do that is to be accommodating. You typically have the most resources and people available to you at any given time. It's just a matter of redirecting resources or changing schedules to become that go-to person.
"If they have to land a helicopter on the golf course, I want them to have to call me to figure out how we do it."
In its eighth year, Green Start is conducted by Bayer Environmental Science and John Deere Golf at their facilities near Raleigh, N.C. The event includes career management advice by some of the game's most successful superintendents while also providing a behind-the-scenes look at Bayer's operation in Cary, as well as Deere's manufacturing center in nearby Fuquay-Varina.
It's one of at least two such educational events taking place each autumn that is aimed at tomorrow's generation of superintendents.
Across the country, the Northern California Golf Association has been helping educate assistants from some of the West Coast's most revered golf courses for 13 years.
The NCGA event features advice from industry professionals, researchers and golf course superintendents such as Manny Sousa, who along with Tom Huesgen of Frontier Golf, gave a guided tour of the renovation of Poppy Hills Golf Course and some of the challenges associated with that project.
For Kyle Butler, assistant superintendent at Carmel Valley Ranch, this year was his sixth trip to the NCGA event. His superintendent, Andy Magnasco, also is a two-time NCGA attendee.
"Andy is a new superintendent himself, so he knows what it takes to get to that point," Butler said. "He knows it is important for assistants to continue their education, and I appreciate that."
Economic conditions that have resulted in the closing of hundreds of courses in recent years (a net loss of more than 500 since 2006 according to the National Golf Foundation), taking advantage of educational opportunities is critical, said Pat Finlen, CGCS, of the Olympic Club in San Francisco.
Finlen has been at Olympic for 12 years. He was named director of golf in February and recently was named interim general manager for the 9,000-member club.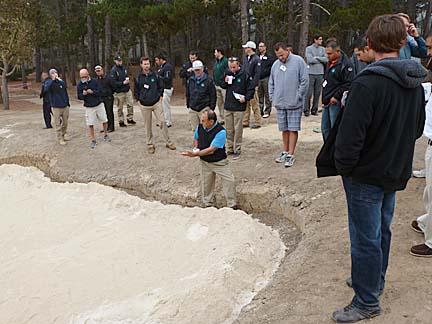 "Your tenure is as an assistant is much longer than when I got into the business," Finlen told a group of assistants at Green Start. "When I started, the average was two years to become a head superintendent. Now, it's more like five, six or even seven years."
Finlen, who also sent three of his assistants to the NCGA educational event, told Green Start attendees to do what they must to set themselves apart from their peers in order to stand out when sending out resumes for superintendent positions.
He suggested volunteering for as much extra responsibility as possible, substituting for others during committee meetings when possible and getting comfortable with the budgeting process.
Matt Muhlenbruch, one of Finlen's former assistants recently was named grow-in superintendent for the renovation at Poppy Hills Golf Course in Pebble Beach, Calif. And he was chosen to move on, Finlen said, because he had set himself apart from other applicants.
"He got an MBA. It took him two years to do it, but he stood out from the rest of the people who applied," Finlen said. "Do something that makes you stand out from the crowd."
The NCGA event typically is frequented by dozens of assistants working at courses along the Monterey Peninsula and San Francisco Bay areas. Leonard Carrera, however, came all the way from Hacienda Golf Club in La Habra Heights near Los Angeles, where he has worked for almost two years under superintendent Rafael Barajas, CGCS. 
"I'm fortunate to have a boss who values networking and attending meetings," Carrera said. "I'm eager to learn, meet new faces and take advantage of opportunities to further my education and my career."
Dylan MacMaster, assistant to Steve Cook, CGCS at Oakland Hill Country Club in Michigan, said he took to heart messages by Finlen, Farren and Chris Condon of Tetherow Golf Club in Bend, Ore., all of whom stressed the importance of interdepartmental communications and doing all the extra things that set one apart from the pack when seeking to advance to the next level in their careers.
"Anything you can do to separate yourself in this kind of environment," MacMaster said, "you need to do." 
The secret, Farren said, to setting yourself apart, is keeping an open mind and a positive attitude.
"Wake up each day and see how many people you can impact and be a resource for," Farren said. "I think if you do that, it will take you a long way."