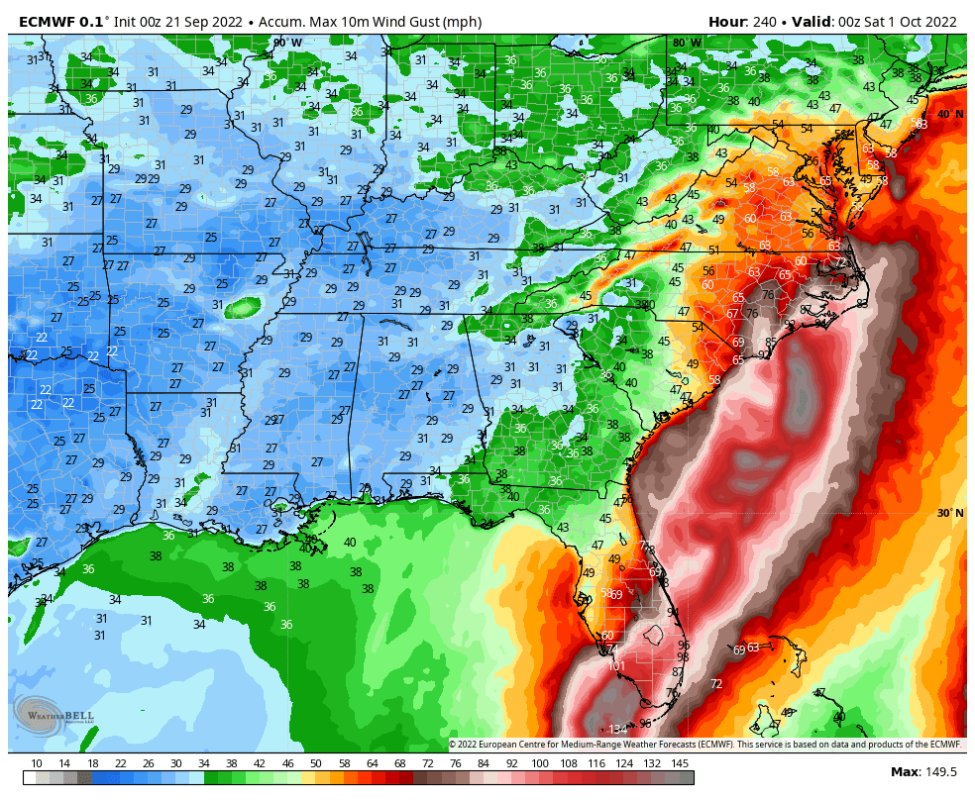 Hurricane Fiona, at the time of this writing, might be bearing down on Bermuda, but that is not the natural disaster that golf course superintendents along the Gulf Coast and up the Eastern Seaboard should be concerned about.
Another tropical depression brewing in the Atlantic that could reach the Gulf Coast by late next week is the real cause for concern, says meteorologist Garrett Bastardi of Turf Threat Tracker.
Bastardi said most of the models he has been monitoring have the storm headed for South Florida and/or the Gulf Coast then likely taking a turn northward following the Appalachian range or the East Coast, or somewhere in between.
"It's early," Bastardi said. "But rarely have we seen this much agreement between the major models."
The unnamed disturbance in the eastern Atlantic could be a tropical storm by the weekend and should be in the western Caribbean by early next week. Most models, Bastardi said, predict eventual Category 4 status. The predicted path includes a likely landfall in South Florida or along the Gulf Coast between the Florida Panhandle and New Orleans, Bastardi said.
"Looking at the conditions, there is no reason it cannot be a Category 3," he said. "By the time it gets into the western Caribbean, it could develop into a Category 4 or 5."
With water temperatures in the 80s throughout the Gulf, conditions in the Caribbean and Gulf of Mexico are perfect for a storm to blow up, Bastardi said. 
With water temperatures in the 80s throughout the Gulf, conditions in the Caribbean and Gulf of Mexico are perfect for a storm to blow up...
Randy Smith, superintendent at Audubon Park Golf Club in New Orleans, still remembers Hurricane Ida that made landfall in Lafourche Parish in South Louisiana last Aug. 29, 16 years to the day from Hurricane Katrina's landfall 40 miles away in Buras. 
Eventually Ida, which brought storm surge up to 14 feet, made its way north, dumping rain and toppling trees across New Orleans. The storm was the second-most-damaging hurricane in Louisiana history, second only to Katrina.
"Bite your tongue," Smith said when asked about the storm in the eastern Atlantic.
Smith monitors storm tracks, but doesn't begin to sweat until he hears landfall nearby is imminent in three to five days.
"We think about hurricanes all year, because there is so much at stake," Smith said. 
"It's troubling, because it adds more to the plate that I don't need to deal with yet. I have too many other things to do this far out."
When a hurricane is imminent, Smith begins several days in advance to drain some, but not all, of four ponds on the property that also is a flood plain for the surrounding residential neighborhood.

Audubon is located across St. Charles Avenue from Tulane and Loyola universities in Audubon Park in New Orleans' historic Uptown district. The park also includes Audubon Zoo, and all three fall under the Audubon Nature Institute umbrella.
Because the golf course is part of a not-for-profit entity, heavy tree work after hurricanes is handled by FEMA. Removing debris from the fairways and greens is the most immediate concern for Smith after hurricanes.
"We had two weeks of clean-up just to get the golf course playable," he said. "Last year, I used a Buffalo blower to remove debris. It blew it all into piles off the golf course that we still had to remove, but it was off the golf course and we could start mowing again."
The blower is now part of the hurricane plan at Audubon.
"Over the winter, we rehashed our program and looked at what worked, what didn't work and what we need to change to make it better," he said. 
Ida knocked out power last summer for eight days at City Park Golf Course in New Orleans. 
"They were telling people not to come back to the city," said Ryan McCavitt, the former City Park superintendent who recently started a new job at Tchefuncte Country Club across Lake Pontchartrain from New Orleans. "There was no electricity, no gas, no food."
Because of those challenges, gas, generators and electrical cords are at the top of McCavitt's preparedness list.
"Then you hope it's enough to power your satellite boxes," he said. 
Among the many challenges when staff go home or evacuate is if and when they will return.
So far, it has been a slow hurricane season. Until Hurricane Danielle formed on Sept. 1, there hadn't been a named storm in the Atlantic since July. Weather experts are still predicting an active stretch run of the hurricane season that officially ends Nov. 30.
"As bad as they can be, I never let these storms get me down," Smith said. "They're just part of our life down here."