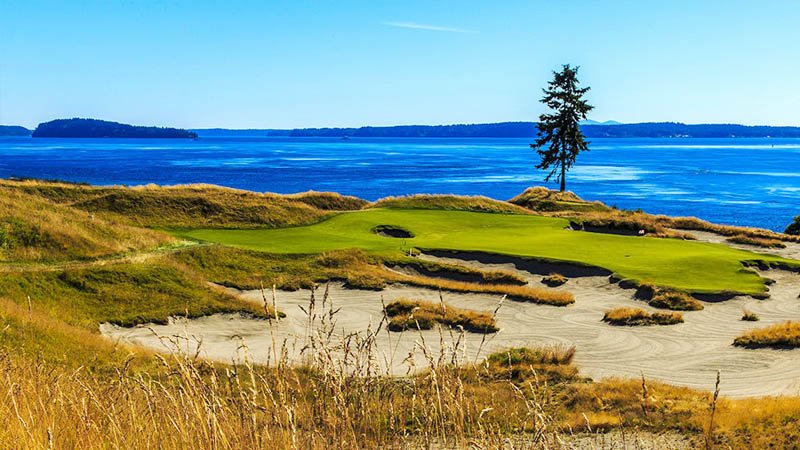 Dictionary.com defines evolution as "a process of formation, growth or development." Using that description, evolution is a natural progression for any living thing, including a golf course.
The municipal course in University Place, Washington that was the site of the 2015 U.S. Open closed Monday for a five-month greens renovation that will include regrassing the fine fescue putting surfaces with Poa annua, the dominant turf type in the Pacific Northwest.
"In the old greens, it's fine fescue and Colonial bentgrass, and now you have Poa, so you have three grasses. You can have three to 10 different grasses in there because of the different stages of Poa," said Eric Johnson, director of agronomy at Chambers Bay. "Visually, it looks (expletive deleted) right out of the gate because you see all these different grasses, so it must be bad. I think a lot of it's perception, and rightfully so when you get up above and see all this mottled look, so it's gotta be bad. I think that's part of the push to resod; it's so uniform. 
"In the Northwest, everything is pretty much Poa. The only thing that's not Poa is a brand new green."
At 11-12 years of age, the greens at Chambers Bay no longer are new.
Chambers Bay opened a decade ago with fine fescue greens, but thanks to warm, dry weather in the run-up to the U.S. Open, Poa began to invade the putting surfaces and dominated headlines during the tournament.
The 2007 Robert Trent Jones Junior design was supposed to be the site of next year's U.S. Four-Ball Championship, but the city that owns the course abandoned those plans last year in favor of installing new greens. 
Four putting surfaces, Nos. 7, 10 and 13 and the practice green, were regrassed with Poa last October. Conditions are so favorable, it prompted the current greens renovation.
Ridgetop Golf of Gig Harbor and Desert Green Turf in Moses Lake will get started Saturday fraise mowing 5 acres of fine fescue, Colonial bent and various types of annual bluegrass.
It came to not wanting to wait for 10 to 15 years for a complete takeover of annual bluegrass. It was an easier decision to jump 10 years ahead by resodding.
There had been discussions about letting the Poa take over naturally, but that is a lengthy process and still does not result in a mono stand.
"It came to not wanting to wait for 10 to 15 years for a complete takeover of annual bluegrass. It was an easier decision to jump 10 years ahead by resodding," Johnson said.
"A lot of the annual bluegrass that does come in is the coarse annual type that reverts to the perennial type Poa, and that's not real desirable. It's coarse and nasty looking."
Johnson established a 2-acre nursery on site using sod from Bos Sod in Abbotsford, British Columbia.
"He can clear his field, and we can take the harvest from that," Johnson said. "Once we tap him dry, we'll harvest here for the balance."
Feedback on the four renovated greens has been positive.
"The people I have talked to have been nothing but positive about the Poa annua greens that they've played," said Larry Gilhuly, USGA agronomist, in a news release from Chambers Bay. "Players think the greens are spectacular. They're firm. They have good pace."
The course is scheduled to reopen in March, and the USGA will bring the Four-Ball back in 2021.
"With all the tournaments coming up, we thought it would be better to accelerate the process by resodding. This way, we don't get that mottled look. It's a uniform look. By that standard, it's a no-brainer to resod," Johnson said. 
"We'll keep growing it as much as we can over the winter and using all the tools in our toolbox, including covers. We're shooting for a March opening. The Farmer's Almanac says it's supposed to be a warm, wet winter. That can be good, and it can be bad. As long as we don't get any long cold spells, we should be able to keep everything on schedule."