Activity keeps the inevitable homesickness at bay...
Posted 25 August 2017 · 1,892 views
My time in Ireland started this past May and while the people, experiences, and culture have been amazing, there are times where it gets a little difficult and I miss my family and friends. Sometimes seeing status updates from my friends and events I'm unable to attend makes me homesick. Up until recently I haven't had much time to think about this too much because I've kept busy with my job at The Island; working different golf tournaments; and attending the ultimate: the 146th Open Championship. But now that things have slowed down a bit, I need to have something to look forward to and take my mind off of home. Recently that was meeting up with my cousin, Ali, in Dublin.
Sometimes seeing status updates from my friends and events I'm unable to attend makes me homesick...
Ali has been traveling around Europe for almost a month and came into town on Saturday and Sunday. On Saturday the weather was, again, a typical day -- sunny, cloudy, little rainy, and then sunny again. For an adventure, we decided on the Bray Head cliff walk. Its a 7 km (4.35 miles) mile hike from Bray to Greystones in County Wicklow.  It is a stunning coastal path that is well maintained and features plenty of wildlife and once-in-a-lifetime views of the Irish Sea. Once you arrive and admire the amazing scenery, if you are too tired to return the way you came, you can take the DART from Greystones all the way to the City Centre. The public transportation in Ireland is fantastic. The DART (which is what the city light rail system is called) runs almost everywhere and includes beautiful views.

Bray Head cliff walk in Co.Wicklow.
On Sunday, we decided to visit the remarkable Gaiety Theatre in downtown Dublin for one of the biggest shows to come out of Ireland: Riverdance. It is unlike anything I have ever seen before. It was an exciting mix of traditional Irish dance and fantastic music, which intertwined the Irish folk band Planxty with a rock rhythm section of electric bass and drums and a four-piece horn section.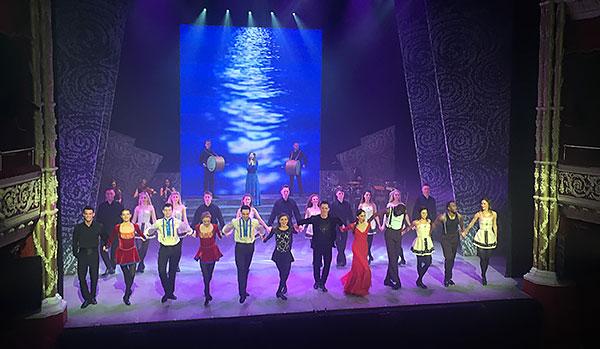 Riverdance at the Gaiety Theatre in downtown Dublin
Riverdance was first performed during the seven-minute interval of the 1994 Eurovision Song Contest at the Point Theatre in Dublin on April 30th 1994. The performance was transmitted to an estimated 300 million viewers worldwide and earned a standing ovation from the packed theatre of 4,000 people. The performance is often considered the most well known interval act in Eurovision Song Contest history.
Following phenomenal success in Dublin and London in 1995, Riverdance traveled to the United States for the first time in March 1996. On March 13th the show opened at the legendary Radio City Music Hall for the first of eight sold-out performances over five days. Riverdance continues to be performed all over the world, in a diminished format and in smaller venues. Current productions are geared towards smaller theatres, whereas past productions have been performed in large theatres and arenas.
I know that missing home is normal, and traveling has pushed me out of my comfort zone...
I know that missing home is normal, and traveling has pushed me out of my comfort zone.. Some days I feel lonely, sad, and overwhelmed but knowing this and expecting it has helped. Ive been lucky to keep busy with work thus far and have learned that during my down times to plan something fun, tour around and visit the local venues. But I have to say seeing my cousin Ali was a lot of fun and has renewed my excitement of being over here. Thanks Ali! It was great spending time with you. I now look forward to my parents, sister and her fiancé coming at the end of August. We have tours planned and a drive up the coast. I cant wait.