Golfers today have grown accustomed to playing on quality turf and are willing to pay higher greens fees to play on tour-quality greens. Chemical Rescue is one method widely used by greenkeepers and golf course managers in the UK and Ireland on links, heathland and parkland courses.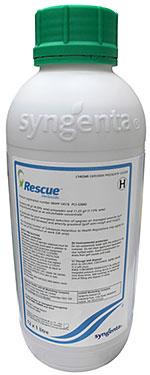 Rescue is a selective herbicide from Syngenta that attacks ryegrass in greens, tees, fairways, approaches, and roughs. In the past turf managers would have to remove ryegrass through hand-weeding or re-turfing areas. Rescue attacks the ryegrass and other coarse grass weeds like Yorkshire Fog and Purple Moor-grass but leaves the finer grasses unaffected.
The main reason greenkeepers want to remove ryegrass from their course is to achieve the most uniform turf surface possible. Using Rescue helps to achieve this creating a more consistent ball roll. It also gives a cleaner finish when mowed.  Removing unwanted ryegrass from out-of-play areas allows wildflowers and biodiversity to thrive.
The way Rescue herbicide works is that when sprayed the chemical pinoxaden targets specific enzymes within ryegrass that are responsible for cell division and shuts those down to instantly stop growth.
The Island Golf Club uses this product approximately twice a year -- once in the early spring months to minimize summer growth and again in the late summer, early fall months. Our last spray was at the beginning of August. The Island uses about 1 liter per hectare on their greens and the same amount for their approaches.
The Island has been using this Rescue regimen for about 3 years now in alignment with industry approved codes and practices. The final product on the greens is a smoother surface improving the playability and the appearance of the course.