End of Year Thanks, Handwritten to You
---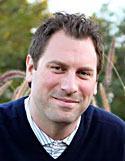 This past week I have been working on getting end of year notes to clients and friends in the industry ready to send out, and I wanted to do something similar for all of you Turfnetters reading this blog.
It has been great to write these past couple of months and I hope that it has assisted you in your career. I am really honored to be associated with TurfNet and special thanks to Peter for all his efforts in the industry.
It would be easy just to type out some thanks to you guys, but after my article about the impact of a handwritten note (read here), I figured I should practice what I preach. I mean part of the article did say:
In a world where so much communication is merely utilitarian, these simple acts of investment, remembrance, gratitude, and appreciation can show the people who matter to your life and business that they are important to you."
So, heres my stab at crafting a handwritten note to all those who read this blog. Although, it has been digitized as an image so you could all actually view it but you get the intention...

Just in case you cant make out my superb penmanship:
"Thanks to all on TurfNet who take time to read The Interchange. I hope we have provided some helpful information and look forward to lots of new topics in 2014. TurfNet is the best community in the industry and I am honored to be associated with it, and all of you!"
I wish you all the best and a successful season of turf maintenance ahead.
Happy Holidays,
Matt
As we get set to launch with new topics in 2014, please contact me if you have any requests for specific advice or tutorials on communication, technology, and/or career materials. We would be happy to add it to our list.