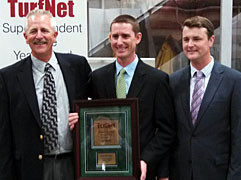 It did not take very long for Dan Meersman to make an imprint at The Philadelphia Cricket Club.

In less than four years at the Cricket, Meersman has, in the words of general manager Tim Muessle "single-handedly turned around a dying golf course."

He also has taken training, education, professional development fiscal awareness to previously unseen heights. Not that any of that should be a surprise for someone who manages a 65-man crew, 45 holes of golf, 33 tennis courts (22 grass, nine clay, two indoor), two paddle tennis courts and a soccer field all spanning two campuses.

For the manner in which he has gone above and beyond to serve golfing clientele, colleagues and employees, Dan Meersman has been named the winner of the 2012 TurfNet Superintendent of the Year Award, presented by Syngenta.

The center of Meersman's management style is customer service, according to a former employee.

"For him, it was all about producing the wow factor for members," said Henry "Skip" Heinz, who was the equipment manager at the Cricket from 2009-12. "On cold days, we used to make coffee in the shop and run it out to members who were playing golf.

"He's the most detail-oriented person I know. If you worked for Dan and you were out and saw a piece of trash on the course, you picked it up. I've taken that philosophy with me to other places I've worked."

The 13th annual award is presented to a superintendent who excels at one or more of the following: labor-management, maximizing budget limitations, educating and advancing the careers of colleagues and assistants, negotiating with government agencies, preparing for tournaments under unusual circumstances, service to golf clientele, upgrading or renovating the course, dealing with extreme or emergency conditions.

Meersman was selected by a panel of judges from a list of 10 finalists that also included Chad Decker of Hollytree Country Club, Tyler, Texas; Greg Gavelek of Longbow Golf Club, Mesa, Ariz.,; Rocco Greco, En-Joie Golf Course, Endicott, N.Y.; Matt Kregel, The Club at Strawberry Creek, Kenosha, Wis.; Chad Montgomery, Naples Heritage Golf and Country Club, Naples, Fla.; Andy Morris, Country Club of Peoria, Peoria Heights, Ill.; Rich Taylor, Sahalee Country Club, Sammamish, Wash.; Dan Tolson, 3 Creek Ranch, Jackson, Wyo.; and Curtis Tyrrell of Medinah (Ill.) Country Club.
 
Comprising the judging panel are Shawn Potter and Stephanie Schwenke of Syngenta; Peter McCormick, Jon Kiger and John Reitman of TurfNet; last year's winner Paul Carter, CGCS, of The Bear Trace at Harrison Bay in Harrison, Tenn.; Cal Roth of the PGA Tour; Chris Hartwiger of the USGA Green Section; Tom Stine of Golf Datatech; Jon Scott of Nicklaus Design; Mike McCullough of the Monterey (Calif.) Regional Water Pollution Control Agency; Frank Rossi, Ph.D., of Cornell University; Tim Moraghan of Aspire Golf; Dave Wilber of Sierra Pacific Turf Supply; Larry Hirsh of Golf Property Analysts; and Bradley Klein, Ph.D., of Golfweek.
 
Previous winners of the award include Paul Carter, The Bear Trace at Harrison Bay (Tenn.), 2011; Thomas Bastis, California Golf Club of San Francisco (Calif.), 2010; Anthony Williams, Stone Mountain Golf Club (Ga.), 2009, Sam MacKenzie, Olympia Fields Country Club (Ill.), 2008; John Zimmers, Oakmont Country Club (Pa.), 2007; Scott Ramsay, Golf Course at Yale (Conn.), 2006; Mark Burchfield, Victoria Club (Calif.), 2005; Stuart Leventhal, Interlachen Country Club (Fla.), 2004; Paul Voykin, Briawood Country Club (Ill.), 2003; Jeff Burgess, Seven Lakes Country Club (Ontario), 2002; Kip Tyler, Salem Country Club (Mass), 2001; Kent McCutcheon, Las Vegas Paiute Resort (Nev.), 2000.
 
Meersman comes from a long line of superintendents that include brother, Jason, of The Patterson Club in Fairfield, Conn., and father, Mike, of Cerbat Cliffs Golf Course in Kingman, Ariz, both of whom were on hand when he won the award. He also has a grandfather and uncle who were superintendents. With that sort of pedigree, Meersman also has become an accomplished inventor.

Shortly after he was hired in 2009, Meersman went to work on the bunkers of PCC's Militia Hill course, which suffered from subpar construction methods when the course was built in 2001-02, Muessle said. Meersman rebuilt the bunkers and installed liners that he developed and patented. Those permeable, porous asphalt liners have worked so well they were installed on the St. Martins course at PCC and will be used later this year when the club's original Tillinghast design goes under the knife immediately after the U.S. Open at crosstown Merion Golf Club.

"He's a pretty unique guy. He's developed all his own processes and methods," said Muessle. "As a general manager, it's tough keeping up with him. By the time I know what he's doing, he's on to the next thing."

 "As a general manager, it's tough keeping up with him. By the time I know what he's doing, he's on to the next thing."
Heinz, the 2004 TurfNet Technician of the Year Award winner while at Kalamazoo Country Club in Michigan, has had the fortune of working for many accomplished superintendents, including John Fulling at Kalamazoo, Lou Conzelman at Tiburon Golf Club in Florida and currently under Eric Greytok at Belfair Plantation in Bluffton, S.C. He remembers Meersman as a driven manager who never took "no" for an answer, but who also had an unbending dedication to his employees.

"If you give your all to him, then he'll give his all to you," Heinz said. "But he could tell pretty early if you didn't have what it took to succeed. And if you didn't have it, then you usually didn't last long. Working for him was tough. It was like the difference between entering the Navy, or entering the Marines. I mean, that's how tough he is."