Posted 16 May 2013 · 269 views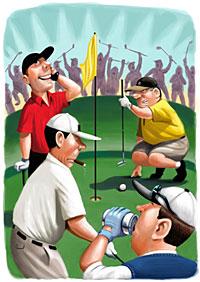 Golf has changed.  The ball is different.  It stays in the air much longer than ever before.  Grooming standards have changed.  Golfer expectations have changed.
The golfer's equipment is highly advanced, as is the equipment used to prepare the course for play.
The game is infuriatingly slow now.  In the time we once played 36 holes, it's a struggle to get in 18.
Perhaps the one area that hasn't changed is in the way we interact with golfers on the course--maybe that's the weak link.
Here At The Rock, we have implemented "Golf Course Patrol" to bring our on-course communication methods up to modern standards.  You know, up to the level of the average internet exchange of ideas.
Here's how we do it: