The Course Set Paradox...
---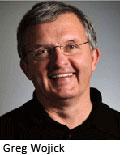 Many golf course workers can now be thankful
that setting up the course is over for the season (not so for the sun belt guys and gals). Course set-up is that recurring job that golfers can easily understand but it can also become a tedious chore for the worker routinely assigned to this hugely important duty. Day after day this set of chores is expected to be done with perfection lest the superintendent will hear about it. If a violation with course set-up is consequential enough and not detected in time by a staff member, (i.e. hole location on a slight slope) golfers may never forget it!
Lets take a look at just some of the detail of a comprehensive daily course set routine:
Clean and set up tee markers (for all sets of tees)
Fill divots with seed/soil from previous day
Fill divot boxes
Empty broken tee containers
Pick up any trash on course, around buildings
Set up the practice area tee/position locations
Check club cleaning units/towels
Check practice area signage
Check practice ball supply
Check on course restroom facilities
Set hole locations on the practice green(s)
Check the ball washer fluid and towels (if you have them) at each location
Clean and reposition benches on tees, at the practice area too
Check ropes, stakes, scatter mechanisms
Clean plaques on tees, in the fairways
Check and reposition signage
Decide on where to position hole locations on each green
Repair a few ball marks
Check bunker rake placement
Empty garbage receptacles
Check on divot containers for caddies, in divot-concentrated areas of fairways, in golf carts
Making note of and communicating weeping sprinklers or sprinkler heads stuck on
Repairing damage from overnight animal burrowing
Golfers will comment with some degree of authority about most all of the items on this list of daily chores (most often hole location) and many have specific thoughts about how the work should be done.  As an example, many golfers feel that the tee marker locations should deliver variability but also end up with an overall yardage about the same as what the scorecard indicates.  Additionally, golfers typically want each par three hole to play at different yardages so that the same club (i.e. 7-iron) is not used for each of the par three holes.  This requires that tee marker location combined with hole location be in the correct synchrony.  Seems easy enough but just try explaining that to the recruit who you hope is competent enough to handle the course set duties.  
Well-trained assistant superintendents oftentimes get the course set assignments but because of the increasing demands on assistants (spraying, fertilizing, watering, etc) I have seen staff other than assistants performing course set on most all of the courses I visit. More specifically I have noticed that many of the workers are foreign language speaking who may or may not have command of the English language, which adds to the challenges of perfect daily set up.
Have you ever been notified about a ball washer that is dry or a rope that is drooping?  Has a worker ever inadvertently left tee markers in the same place or forgot to change a hole location?  How about the cart arrow sign pointing in the wrong direction or the Snickers bar wrapper blowing across a fairway?  Criticism is sure to follow these mis-deeds much sooner than would a fertilizer spill or a spray skip.
The myriad golfer gadgets that are now commonplace with golfers should give us a strong clue in the quest for daily course set perfection.  Golfers love their gadgets!  Yardage plaques can now easily be checked by golfers range finders (and caddies).  Other yardage markers like the 150, 100, etc can be critiqued with accuracy.  Smart phones can actually detect the slope on greens and also can have daily hole locations pre-set on an app (our own
ezPins system
does this) that golfers can see before and during their round of golf.  With all the complexity that overall course presentation entails, specific course set up remains the most often criticized part of what the golfer can confidently discuss with turf pros. Superintendents should never minimize course set.  Similar to setting up a restaurant for fine dining, the slightest indication that something is 'off' can start a downward spiral of course comments.
Similar to setting up a restaurant for fine dining, the slightest indication that something is 'off' can start a downward spiral of course comments...
I know a few supers that will set the course themselves each day to avoid issues.  I know one superintendent who sprays a small dot on the tees and greens each morning to help his staff with the decisions about where to place markers or holes.  Everyone has their own procedures for course set and most don't let the uninitiated ever perform the task without proper guidance and experience.  I have found that the weary and glazed-over worker who is asked, because of his/her sense of doing things well, day after day to set the course eventually learns to avoid risk.  This risk avoidance becomes manifested with hole locations in similar spots time after time.  It also shows up with tee marker locations in the middle of each tee.  Ironically, by trying to avoid risk of criticism, the worker creates a noticeable sameness to the course set up.  Sameness of set-up leads to criticism.  There is the paradox!
Consider this as a New Year's resolution or simply as a holiday gift to yourself and your staff: create a set of SOPs (standard operating procedures) for course set up.  This document of procedures can be distributed to your green chairman and his committee, to the golf staff and caddie group if you have a caddie program.  In the SOPs detail, the reasoning as to how the hole locations are selected and how each worker is trained with the responsibility of setting pins. This doc should be clear and approved by the chairman and committee.  Additionally, an automated computer system for selecting hole locations is a very realistic, affordable solution to hole location nightmares, with more courses opting for this all the time. I can provide more details on how this works great for all parties involved -- green committees, pros and superintendents -- from direct experience at clubs I have consulted at in the past year. Just contact me directly if interested. 
Perfection in course set up rarely happens each and every day throughout the entire year, but when the occasional mishap occurs, communication with respect to procedures can go a long way towards understanding.  And maybe with this extra effort more workers can be properly and confidently trained to set the course.