Mid-winter jolts of energy, and paths less taken...
---
Back in the day when Daughter B was in the college application mode, envelopes in the mail were opened with a combination of anticipation, excitement and trepidation.  Unlike many of her peers who threw a dozen or more applications against the wall hoping that at least one of choice would stick, she had applied to a mere four or five.
When the letter arrived from Middlebury College here in Vermont, the opening yielded a somewhat confusing result: "We are pleased to offer you a place in the Middlebury College Class of 2008.5, commencing February 1, 2005."  Okay...
After a bit of research, we discovered that Middlebury accepts 20% of its freshman class as "Febs", reporting in February instead of September to fill the dorm spaces vacated by juniors leaving for their semester abroad. Makes sense. And it gives the Febs the fall semester off for adventure.
DB was excited to accept and enroll in February.
We assumed that the college deemed her qualifications not quite good enough to be accepted for September, but they would take her for February.  Quite a bit later we discovered our assumption was incorrect. Quite the opposite, in fact.
Turns out that the admissions people earmark certain applicants -- the movers and shakers, class presidents, newspaper editors and the like -- for admission in February to give the snow-laden campus a mid-winter jolt of energy. A week prior to most of campus returning from J-term, Febs arrive for orientation to a rowdy and raucous welcome from a group of prior year Febs.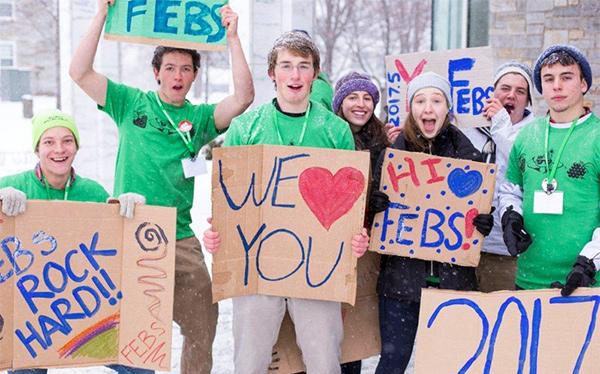 Sophomore Febs welcoming the new freshman group at Middlebury College.
Matters on the home front prevailed this year and I didn't make it to GIS... but I worked the show via social media and couldn't help but feel a similar mid-winter energy emanating from Orlando. Most of the attendees had had a few months off to come down off of last season, kick back and regroup. The palpable jolt of energy from GIS obviously recharged many to do battle again in the spring.


I am usually too busy when attending the show to pay much attention to the education sessions, but the vantage point "from away" gave me new insight this year. Kudos and high fives to GCSAA (yep, I'm saying that) for injecting new energy with the Lightning Round Learning sessions on Tuesday morning. A smorgasbord of presenters  (11 total, moderated by the always entertaining Dr. Frank Wong) had five minutes each to present a maximum of 20 slides that automatically advanced every 15 seconds. Hey, I got charged up and I wasn't even there!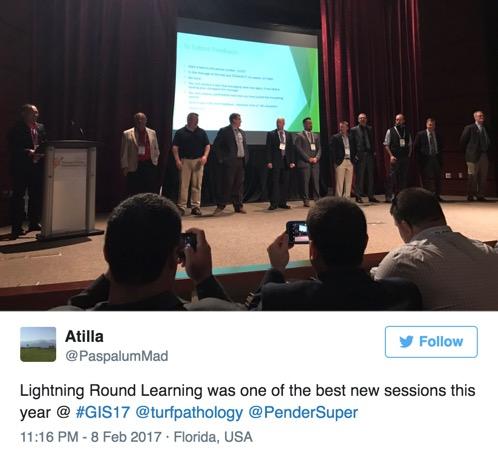 Really, how many multi-hour-long presentations of charts and research stuff can one tolerate without going brain dead? The Lightning Round thing is EXACTLY what GIS needs to reinvent and reenergize itself.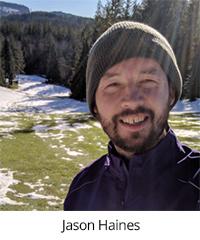 I was also tickled to see some "alternative" (in a good way, as opposed to "alternative facts") presenters on the docket. Witness Jason Haines, a progressive "think without a box" superintendent from a small, low budget club in coastal British Columbia.  I have watched Jason's Turf Hacker blog and occasionally selected a post for our Turf Blog Aggregator. I also follow him as @PenderSuper on Twitter, and simply get a kick out of his no-fear, old-school-be-damned, question-everything, who-cares-what-others-think approach to minimalist turf management. Hey, he rides his bike to work as well.
This was Jason's first GIS, traveling on GCSAA's nickel. I can picture his head just about exploding from trying to get his bearings and make sense of the scope and scale of the conference and show, sort of like a kid from the sticks walking onto the streets of Manhattan. But more kudos and high fives to him for making the trip, sharing his experiences and proselytizing his ideas on fertility, disease management and fiscal responsibility for others to evaluate.
Jason presented on a variety of topics, including a panel discussion with Chris Tritabaugh and Matt Crowther on low input turf management; a Lightning Round spot on why he loves his job at Pender Harbour Golf Club; a four-hour seminar with Larry Stowell of PACE Turf on his MLSN fertility regimen, and a presentation on digital job boards. From what I could see, all were well received and Jason made a lot of new friends at GIS.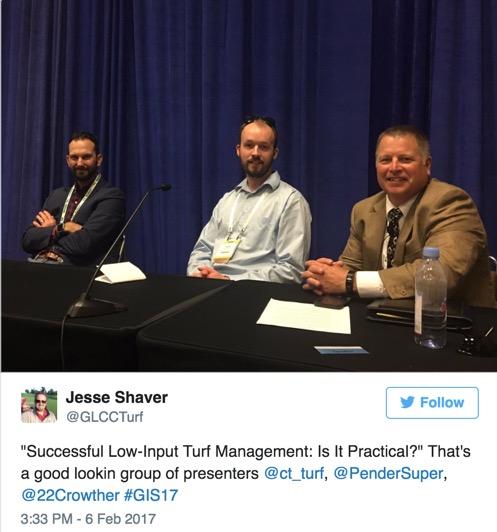 "For a greenkeeper from a 9 hole course that most people have probably never heard of it was mind blowing to be presenting my thoughts and experience to those who I have looked up to my entire career." -- Jason Haines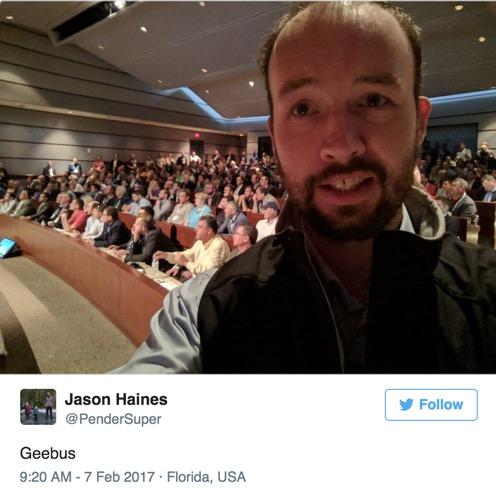 Promulgating alternative thought is not the type of thing that GIS education has been known for in the past... but it is precisely what is needed to propel golf turf management forward in this "contracting" golf climate... and to give superintendents something to chew on as they return home to tackle whatever another golf season throws at them.