Jackson served industry as a superintendent and communicator

For much of his career in golf, Joel Jackson almost seemed more like a media type than an industry insider.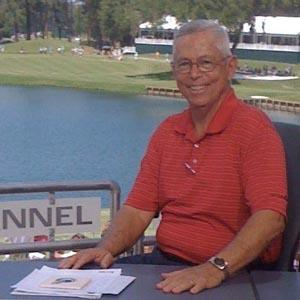 As director of communications for the Florida GCSA for almost 15 years and editor of its magazine for 25, Jackson was by default the face of the association. 
Although his face and name are synonymous with trends relevant to turfgrass managers throughout Florida and the Southeast, many might forget that Jackson had a long career as a superintendent, too.
Jackson's five-decade career in golf also included 20 years as a superintendent for Disney Golf and three years at Orlando's posh Isleworth community. Jackson, who turns 75 in November, all but gave up golf cold turkey in 2015 when he and his wife, Susan, left the sun and fun of Central Florida for the sun and fun of Southern California in 2015. He's met plenty of folks who congregate regularly at nearby Balboa Golf Course, but despite urging from his wife, he can't muster the desire to join them.
"I played at chapter meetings. I'd stay and play after work at disney," said Jackson, who once played to a 10 handicap. "I'll go to the driving range at Balboa. Should I play? Yes. No. Yes. No. I just don't have the motivation.
"I exercise at a track. It's 3.1 miles out back. I don't try to hit 10,000 steps a day, or anything like that. I know I need to get back out and play golf. Mentally and physically, I know it's a good thing to do."
After all, it wasn't a retirement spent on the golf course that drew the Jacksons to SoCal, anyway. The reason they ventured west was to be close to their daughter, Jennifer, who works as a producer in the film industry.
When he's not hobnobbing with Hollywood insiders, Jackson spends time doing what he does best - meeting people, building new relationships and making new friends. And when you live in urban metro Los Angeles, there are a lot of places within walking distance where he can do that.
As much as he understands the place of effective communication for today's golf course superintendent, Jackson is a bit of a throwback, too.
He doesn't have a formal turf degree, and instead learned just about everything he needed to know on the job or in a seminar.
A native of Tampa, Jackson joined the Coast Guard after college. When he left the service, he earned a master's degree in geology from the University of South Florida, and spent some time early in his career teaching science in Apopka, a northwestern suburb of Orlando.
Teaching never scratched Jackson's itch, and he bopped around several clubs throughout Central and South Florida, picking up the trade before finally landing with Disney in 1977. 
We had bentgrass at Isleworth. That's where I was introduced to white patch. I'd never heard of that before."
After 14 years of tending the turf at Disney's Lake Buena Vista Course and helping prep for an annual PGA Tour event, Jackson left Disney when some guy in Orlando named Arnold Palmer convinced him to manage cool-season grass at Isleworth.
"We had bentgrass at Isleworth," Jackson said. "That's where I was introduced to white patch. I'd never heard of that before."
He returned to Disney three years later in 1991, taking over the reins at Osprey Ridge and finished out a 20-year career for the company in 1997.
It was during his years as a professional communicator where many in the industry had the chance to meet Jackson.
He began editing the Florida Green for the Florida GCSA in 1990 and was the association's director of communications from 1998 until he retired two years ago. He wrote, took photographs and even sketched his own editorial cartoons.
"Joel was the glue that held the association together and made it stronger," said Darren Davis, CGCS at Olde Florida Golf Club in Naples. "He kept us moving forward at all times. Having been a golf course superintendent, the editor of the Florida Green and a past president of the FGCSA, prior to becoming a full-time paid staff member, Joel had the knowledge and past history that enabled success. Joel was an icon in Florida and the association. His personality, his work ethic and his passion made him successful. It was a joy to work with Joel and he is missed in Florida."