Tuesday: Carnoustie and the BIGGA Central Scotland meeting
On Tuesday eight members of our group stayed in St. Andrews as they had been drawn from the ballot to play the Old Course. The remaining ten of us rode about 45 minutes to Carnoustie Golf Links, which will host The Open Championship in July 2018. We were anxious to hear about the plans for the course and the event from our hosts Sandy Reid and Craig Boath.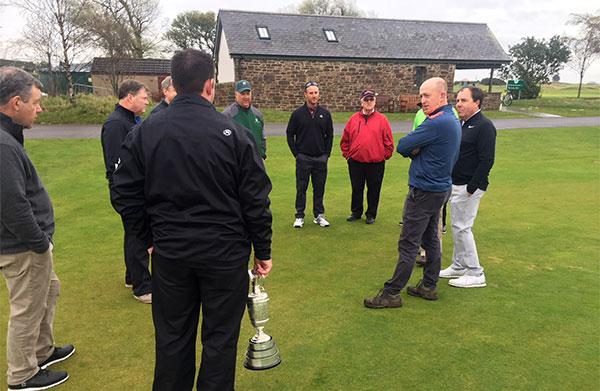 Craig Boath (foreground, holding Claret Jug) and Sandy Reid (right in blue sweater) explain some of the projects on the Championship Course in preparation  for hosting of  the 147th Open Championship in July 2018.
The Championship Course was closed for the week for maintenance but we could see plenty of it (and the work being done) as we played Carnoustie's Burnside Course.
As a special part of our visit to Carnoustie they made a rare exception and took their Claret Jug out of the display case for some photo opportunities. I suggested to Craig Boath that the "buy in" for having your photo taken with the Claret Jug was a donation to the BIGGA Benevolent Fund. We raised 150£ or approximately $200 to help UK greenkeepers in need.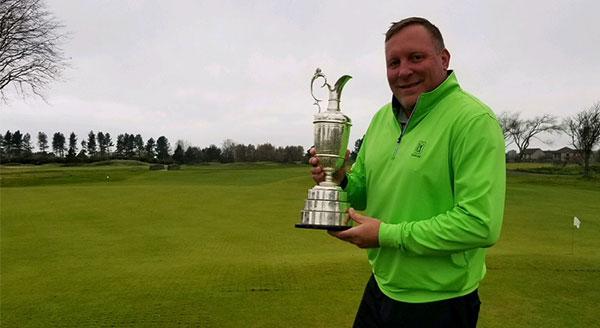 The inimitable John Brauer (Sandtrapper, Flexxcape) with the Claret Jug.
The Burnside Course was a fun day on a relatively flat, shorter course. Many in our group commented that it was a perfect fit after two or three days of playing in St. Andrews.
Doug Middleton of Ocean Organics hosted a light lunch in the historic Carnoustie Golf Club after the round. The club dates to 1842.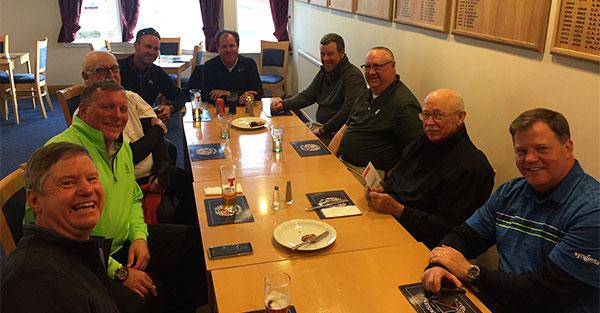 Doug Middleton hosted lunch at the historic Carnoustie Golf Club - established in 1842.
On our way back from Carnoustie we stopped at Elmwood College for the BIGGA Central Scotland chapter education meeting. The meeting was arranged by Gordon Moir of St. Andrews Links. After my brief introduction to TurfNet, Michigan States Kevin Frank gave a presentation on Technology and Golf Maintenance.
It was an honor sharing the stage with Kevin and great fun meeting other local superintendents. We look forward to longer visits with them at the BTME conference at Harrogate, England, in January.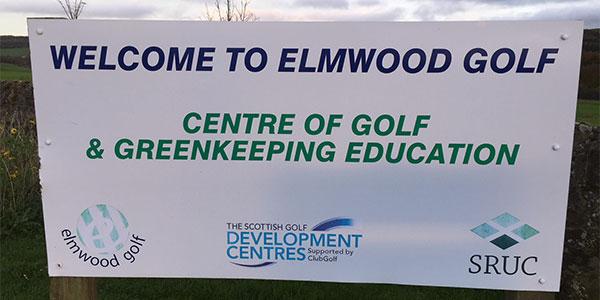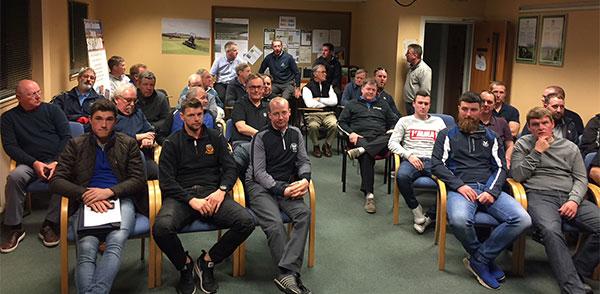 The combined TurfNet/BIGGA Central Scotland Chapter meeting.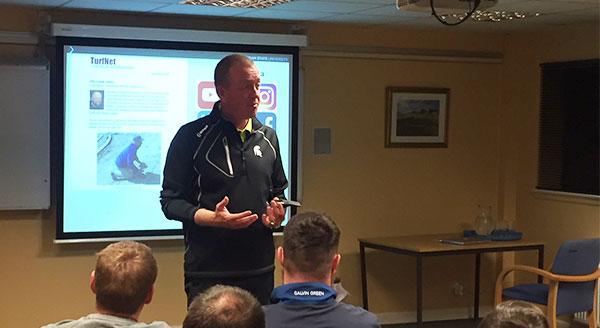 Kevin Frank presenting on Technology and Golf Course Maintenance.