Sunday Evening NFL Playoff Viewing, and Monday Education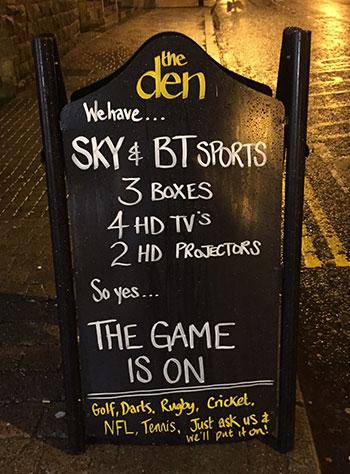 After a full day of education at the Queens Suite in the Harrogate Conference Center, the TurfNet group met for dinner and drinks at an Italian restaurant near our apartments.
Being five hours ahead of the US can make it challenging to watch American football. The second game (Vikings/Eagles) started at nearly midnight. A bar called The Den served as TurfNet Viewing HQ as it did last year. Penn State's Mike Fidanza and other Americans in town for BTME also found their way to The Den.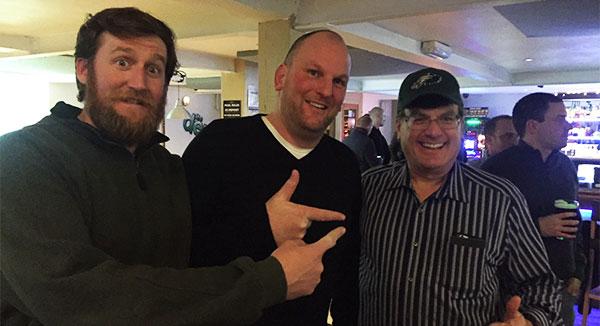 Brian Moore and Alan FitzGerald with Penn State's Dr. Mike Fidanza.
Despite the late night out, the TurfNet group met for breakfast just up the street from our apartments at Starling Independent Coffee Shop and Brew Pub. The Starling opened an hour early at 8 AM to accommodate our group and the presentation of our BIGGA membership kits by a BIGGA staffer. We were delighted that BIGGA CEO Jim Croxton and BIGGA Chairman Les Howkins arrived to do the honors.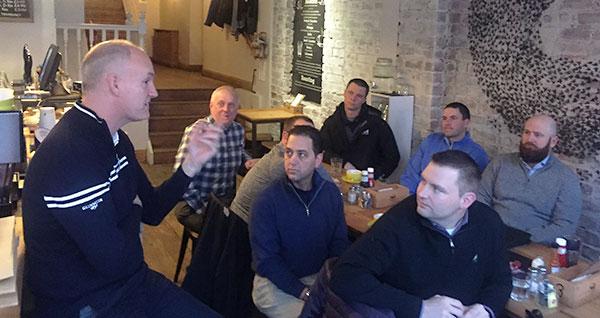 BIGGA CEO Jim Croxton meeting with the TurfNet group over breakfast.
They were keen to point out that all services to BIGGA members were available to us, even as International members. Jim shared his vision for the conference week just started and the year ahead, emphasizing BIGGAs mission to encourage members to take better care of their mental health.
Breakfast was served efficiently and by 8:45 we were headed to Monday's education sessions. The largest session that day was the Turf Managers Conference in the Majestic Hotel. This all day conference features six speakers (about an hour + each) and a lunch break at the midway point. The sessions are usually mixed 50% technical talk and 50% business and personal well-being topics.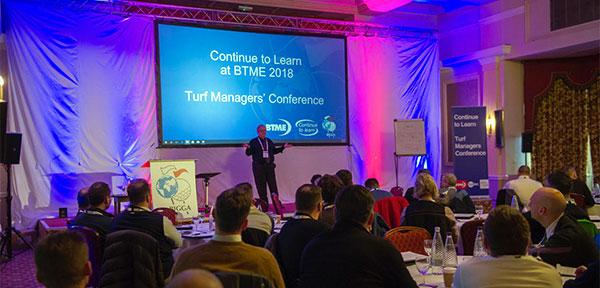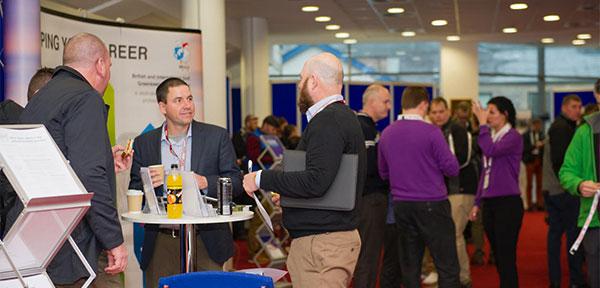 Scott Bordner chats it up with other TN group members during a break in the education.
By Monday we could also observe the load-in of large equipment for the trade show that started Tuesday.