Southern boy off to Denmark!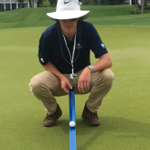 Welcome to the life of Parker Stancil! I am a 19-year-old turf student at Horry Georgetown Technical College in Myrtle Beach, SC. With the exception of living in Florida for one summer, South Carolina has been home to me for my entire life. I'm very proud to be southern, but this summer I'm going Danish!
I am no stranger to golf course maintenance. Since the age of 16, I have volunteered at six professional golf tournaments and I've worked on four golf courses prior to this summer's TurfNet internship in Kerteminde, Denmark
A month after I turned 16, I relocated to Lake Wales, FL to install an HDPE system at Mountain Lake Country Club before my junior year in high school. Working in Florida opened my eyes to a career path that I really enjoyed, so I continued working on golf courses every year after that. The next three courses were Grande Dunes Members Club, Secession Golf Club, and Myrtle Beach National, all in South Carolina.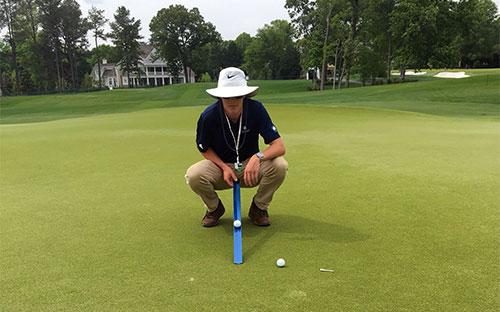 Just last week I volunteered for the Wells Fargo Championship at Quail Hollow in Charlotte, NC, stimping greens (above) and testing green firmness (below).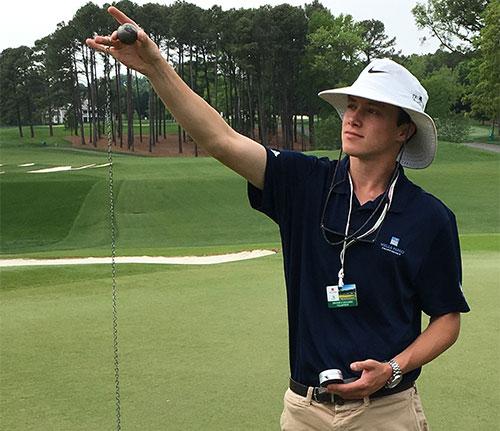 I also volunteered this year at the Mitsubishi Electric Classic at TPC Sugarloaf in Georgia (below).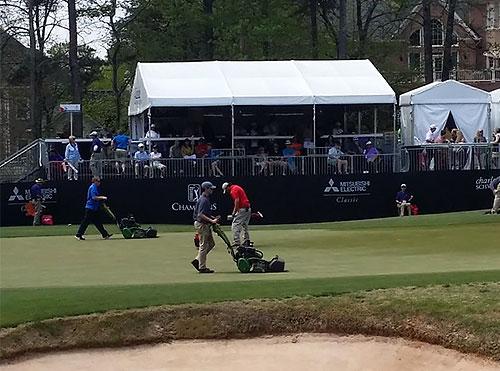 After a quick one-day trip to New York City in late March to obtain my Danish work visa, on May 11th I flew from Washington, DC to Copenhagen to begin my internship at Great Northern Golf Club, a Jack Nicklaus design located in Kerteminde, Denmark. Kerteminde is about 80 miles west of Copenhagen via train and bus.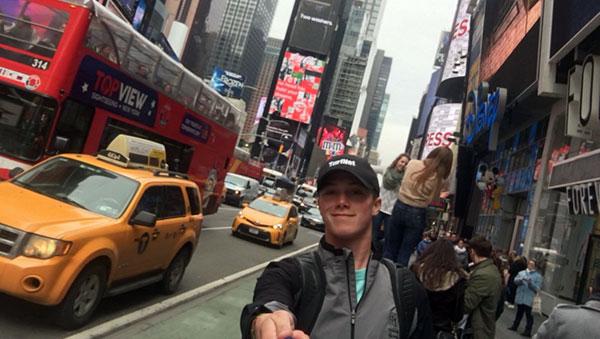 My first step out of my comfort zone: a solo trip to NYC to obtain a Danish work visa.
Other than a family trip to Mexico, this is my first experience out of the USA. Initially I was nervous to leave home, but my fellow crew members at Great Northern have been very welcoming. Some of the guys from Scotland drove me around to show me the town and give me a chance to buy groceries and other items to settle in.
Aidan OHara, veteran golf course superintendent, runs the operations here at Great Northern. I'm very excited to absorb every bit of his experience and wisdom that I can.
Aidan has told me how this summer is going to be focused on thatch control. Now in his fourth year here, he inherited an organic mat layer that was a few inches thick. We will be putting a lot of effort into removing this thatch layer from the A4 bentgrass greens.
As the sun rises here at 5:00 each morning, the work begins early. Time to get going!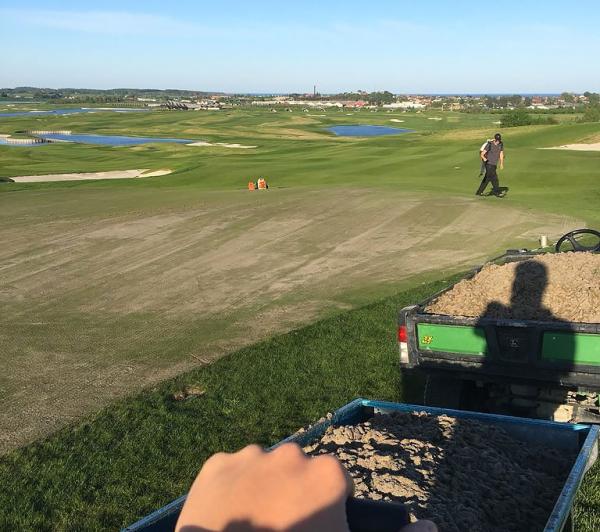 Thatch attack! My first day at Great Northern was spent with the aeration crew.
Editor's Note: Parker's internship this year is partially funded by a grant from the Turf and Ornamental Communicators Association (TOCA) and Bayer Crop Science. Parker wasn't able to attend the annual TOCA meeting in early May but sent along the following comments to thank TOCA, TurfNet and Bayer for their support.