Aidan O'Hara: World Cup Experience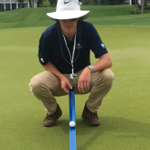 The World Cup is one of the biggest sporting events there is. Whether you're a European "football" fan or an American "soccer" fan, chances are that you're looking forward to The World Cup... one of the most watched events worldwide. 

My mentor/superintendent this summer, Aidan O'Hara, supervised the construction and renovation of football pitches that were done for the 2010 FIFA World Cup in Johannesburg and Pretoria, South Africa.
There was a panic with 22 Team Base Camps (football pitches that the teams practice at) being prepared too slowly, so Aidan was hired to take control of the situation 100 days before the World Cup.
These pitches were contaminated with Kikuyu grass, which is a very dense and competitive turfgrass.
Fun fact: The warm-season Kikuyu turfgrass can produce herbicidal secretions to successfully out-compete surrounding turfgrasses.
After enjoying his experiences with the 2010 FIFA World Cup, Aidan decided to do the same kind of work for the UEFA Euro 2016. He worked on an Austrian team base camp that was falling behind schedule, only 8 weeks before the event.
Aidan turned all the failed turf around with lots of hard work and attention. Not only did he supervise these pitches, he also did some of the labor himself. He did fertilizer applications, mowing, and more to give his best effort to the pitches. 
Aidan really enjoyed the sports-turf work, so he said, "A football pitch is just a small rectangular fairway, so I enjoyed the step away from the golf side." The perennial ryegrass pitches were mowed at 25mm so were nothing Aidan wasn't familiar with. 

Aidan told me, "The newer pitches weren't quite ready they would wear easily in the high traffic spots like penalty kicks and so on." 
With years of golf course work and World Cup experience under his belt, Aidan has easily impressed me with the wisdom that I've seen working first-hand with him. He was listed as one of The 50 Most Influential People in Irish Golf. 
Both Nick Faldo and Tiger Woods have shown great interest in Aidan's work. In 1993, the Irish Open was held at Mt. Juliet, Aidans course at the time, and after experiencing how the putting surfaces rolled, Nick Faldo said "[Aidans greens] are the best I've played on in Europe this year."