Side trip to St. Andrews before the Scottish Open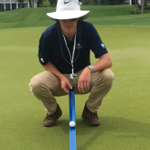 A little golf trip never hurt anyone. Since my TurfNet internship this summer includes an opportunity to volunteer at the Scottish Open at Gullane Golf Club, my parents decided to fly  to Scotland to visit me, have a short vacation and enjoy a little golf as well. They met me in St. Andrews the weekend before the Open.

I arrived in St. Andrews on Friday night and got a chance to play the Old Course on Saturday morning, before my parents' arrival. This was made possible by Gordon Moir, the Director of Greenkeeping at St. Andrews, who guided me through the ballot/waitlist process there.
My round at the Old Course, which was built in 1552, was my favorite round of golf, ever. I was paired with three new friends, John Conway, Hicks Layton and Billy Teichman, and shot an 85... which I was quite content with after not playing golf for a good while. The entire course, greens to tees, has crazy undulations that can take your ball to just about anywhere, even when you don't expect it.




My parents arrived on Saturday, and we had a nice meal at Forgan's, a "local knowledge" recommendation from a friend and co-worker at Great Northern in Denmark.

On Sunday morning I played the New Course with my step-father. The New Course is a Tom Morris design that was built in 1895. 


St. Andrews is an amazing little town on the coast of the North Sea and is home to the truest links golf there is. Many hole locations have views of the North Sea, but a lot of views are blocked by the big dunes the course is built on. 

Playing the Old and New Course at St. Andrews was a dream come true, and it couldn't have been done without the help of Mr. Gordon Moir, TOCA, TurfNet, Bayer, and my parents.