Scottish Open: Experience of a lifetime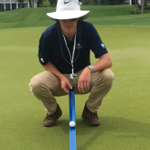 I had worked six professional tournaments before adding the recent Scottish Open as number 7. Of them, the Scottish is definitely at the top of my list. 
The event was held at Gullane (pronounced Gull'-in) Golf Club on the southern shore of the Firth of Forth in East Lothian, on the east coast of Scotland.  Planted right along the North Sea, the golf course sat upon cliffs overhanging beautiful native landscapes and rocky shores. Gullane Golf Club is home to great links golf, great people, and breathtaking views.


Many of the tournaments I've worked have been really high energy events, so I'm always really pumped up before our shifts that usually take place around 5am. The Scottish Open didn't quite have the same crazy energy, however.
Every morning I was assigned to mow fairways with Kevin from the greenkeepers crew.

In the evenings, I was either put on the divot crew, or did a different special job. One evening, I helped the crew replace the light and loose sand in bunkers with sand that compacted easier to withstand the crazy Scottish winds.


Another job I did was pulling Ragwort, also known as Stinking Willie, from native areas. This needed to be done for aesthetic and safety purposes. Ragwort control is necessary because wild animals' digestive systems can't break down the weed.

At night I would hang out with my new friends. Everyone had a good sense of humor, and they were all very kind. 


 Come the end of the tournament, I wasn't ready to go home or aching to be in my own bed. The relationships I had started with the other volunteers and crew members made me enjoy this tournament so much. Even after I returned to Denmark, some of the crew members, Kevin West and Liam Nicholson, have been on video chat with me for a good laugh and to catch up. 
After a great week with everyone, I hated to have to leave. Hopefully I can make it back to Gullane another year for another tournament!