Next-Gen Range Maintenance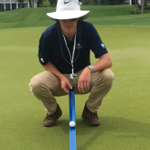 It's safe to say that majority of golf courses around the world have a driving range on property, and this is responsibility for the greenkeeping staff and proshop staff to maintain.
It's very common for the clubhouse/proshop workers to collect the range balls to be reused and allow the greenkeepers to maintain the turf on the range. Here at Great Northern Golf Club, we have a high-tech GPS-based robotic system that can do both!
I met up with our club Head Pro, Søren Hansen, to take a look at the part of the system that sits inside our driving-range/proshop facility. 

Søren joined the European tour in 1997 and proceeded to win 3 events. He was included in the top 50 professional golfers in the Official World Golf Rankings and was labeled as the best Danish Golfer in 2007… and he's our Head Pro!

Søren has lots of work to do including giving lessons, proshop business, and more, so he and the other workers don't have too much time to spare to pick range balls. Therefore, the ball collection system is a perfect fit for Great Northern.
Several companies were contracted to put together the mowing and range ball collection system using robots, underground piping, and vacuum systems to handle the aggravating job of driving a cart up and down the range and getting smacked with range balls hit by golfers!
The interior portion of the system includes the vacuum, a pump for the vacuum, a collection tray for hand-picked balls, the computer system, and the big steel container that feeds the balls to pipes to be dispersed to the outside ball machines.




BelRobotics makes the Bigmow and Ballpicker electric-powered robots that are programmed to mow the rough of the range and collect the balls to be dumped into the designated collection pits. These robots have a width of a meter and can really get the job done!

At these pits, the collection robots can empty their loads of around 250 balls and grab a quick charge to keep moving throughout the day. The mowing robots aren't programmed to go to a collection pit, therefore they have their own charging stations off to the side of the pit.
Buried around the perimeter of our 5-acre driving range, lies a cable 30cm under the surface so the robots can sense where they are needed to mow or collect.

Even though the robots aren't too big, with a couple working at a time, they can cover the 5 acres in a little over 24 hours. 5 acres is a lot of ground to cover for a tiny robot, however, the robot can cover the whole area on one full charge.
If your driving range aggravates you with the ball picking and extra mowing, take a look at going high-tech!